Electronics
---
On this page you will find a wide range of Tuners, Metronomes, Tuner/Metronome Combination, Pickups and Transducers, Pre-Amps, and Combo Amplifiers and more!
---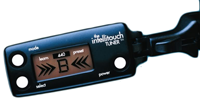 Intellitouch PT-30
Clip-on, vibration sensing chromatic tuner.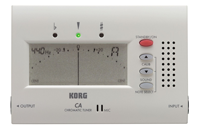 Korg CA-40
The new standard for compact, chromatic tuners from Korg. A great value from the top brand in electronic tuners.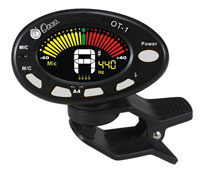 Oasis OT-1
Clip-on, vibration sensing, chromatic tuner with bright, easy to read display. Budget priced.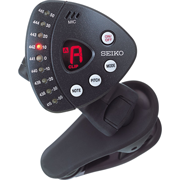 Seiko STX1
Seiko's chromatic clip-on tuner. Adjustable clip and U-joint to position as needed. Senses the vibration directly from the instrument, instead of from the air, for better function in noisy environments.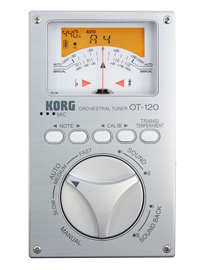 Korg OT-120
Full featured, professional model. Features include; real VU meter, built-in speaker, sound-back tone matching, different temperament modes, chromatic operation, backlit display, and more.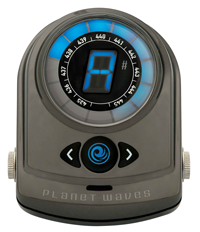 Planet Waves Tru-Strobe
Made by D'Addario. This chromatic tuner offers the display of strobe tuners, for accurate tuning. Very compact.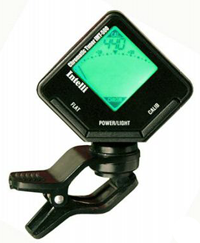 Intel IMT-500
Budget priced, clip-on, vibration sensing chromatic tuner with bright backlit display.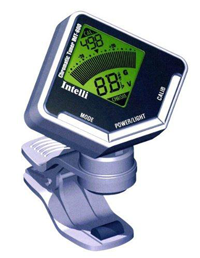 Intelli IMT-600
Clip-on, vibration sensing chromatic tuner with bright backlit display. Similar to the IMT-500, but with extra modes for limiting tuning function to a Guitar or Violin exclusively.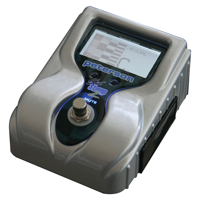 Peterson StroboStomp 2
Compact Strobe tuner from the leader in Strobe tuning technology.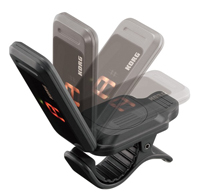 Korg Pitch Clip
Simple, convenient clip-on style chromatic tuner New compact, lightweight and discreet design Clear, bright, and easy-to-read LED display Display reverse assures easy viewing when mounted on either side of the headstock Reliable, highly-stable clip design Auto Power-Off extends battery life.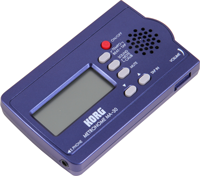 Korg MA-30
Korg's compact, budget-priced metronome. Auto-off when idle to save batteries.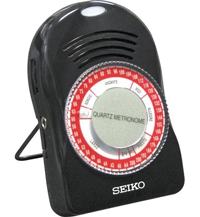 Seiko SQ50V
Classic functionality, with a rotary dial to set the tempo quickly.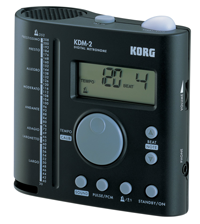 Korg KDM-2
Resonance chamber acoustically enhances the speaker output. Much louder than other metronomes. Has Volume control, and beat subdivision features. 3 sounds to choose from; metallic, wood-block, and high tone. This is the metronome we recommend most for features. It's not compact, or low priced, but it is the best overall value.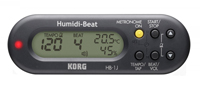 Korg Humidi-Beat
Portable, full-featured metronome provides enhanced rhythm training for every instrumentalist. The built-in thermometer, humidity detector, and clock provide an easy way to care for the instrument by monitoring conditions inside the case during storage, moving, etc. Tempo can be set using traditional Pendulum Steps, Full Steps, or Tap Tempo. Beat Mode offers from 0 to 9 Beats, plus 5 Patterns to practice any style of music. Convenient memory backup function recalls the users favorite settings. Battery-saving auto-power off function. Available in either Black or White.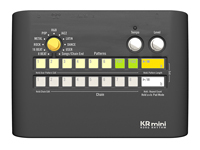 Korg Rhythm Machine
Easy and simple design; just select a rhythm pattern and press the play button Chain function lets you arrange your favorite rhythm patterns and fill-ins to create complete songs Optional foot switch lets you control fill-in/start/stop hands-free Tap the 16 pads for finger drumming or recording your own performances Built-in speaker with 2W output helps you jam anywhere without the need for an additional monitor Headphone/speaker jack for quite practice or connection to an external monitoring system Two-way power; use the AC adaptor or batteries (AA alkaline batteries x 3)
Combination Tuner/Metronome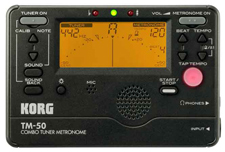 Korg TM-50
Loaded with features, for a low price. Large, backlit display, tap tempo input, chromatic tuner, beat subdivision are some of the features. The best part is that you can use both the Tuner and Metronome functions, AT THE SAME TIME!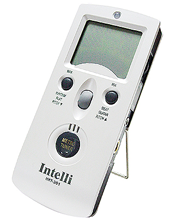 Intelli IMT-301
Larger display, easier tempo input wheel, and has thermometer/hygrometer features.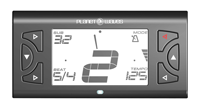 Planet Waves
Made by D'Addario. Combo tuner/metronome with ultra compact design.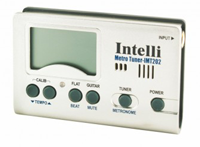 Intelli IMT-202
Chromatic Tuner with Metronome at an affordable price.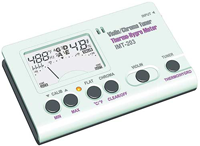 Intelli IMT-203
Like the 202, but has a hygrometer function to tell you the relative humidity of the surrounding air.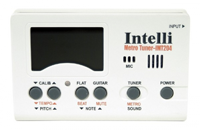 Intelli IMT-204
Like the other 200 series products, but has a pitch-pipe sound back feature.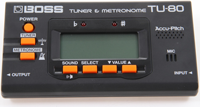 Boss TU-80
Combo tuner/metronome from this trusted brand.
Tuner and Metronome Accessories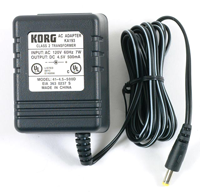 Korg AC Power Supply
For OT-120 and other Korg products with optional AC power.

Signal-Flex Microphone
Most tuners, and tuner/metronome combo units have a 1/4 inch input for a microphone like this. This will add the function of a clip-on tuner, to other tuners, so you can tune in a noisy environment.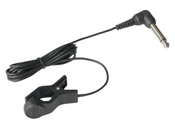 Korg Contact Mic
Like the Signal-Flex, but made by Korg. Vibration sensing, to allow tuning in noisy environments. Works with any tuner that has a 1/4 inch input jack.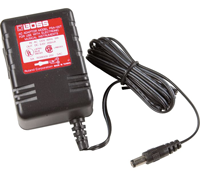 Boss AC Power
For DB-90 and other Boss products with AC power connector.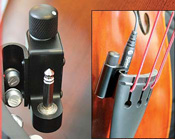 Realist Docking Station
The Docking station is an accessory that adds volume control functionality to Realist Bass pickups.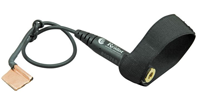 Realist for Cello
Designed by Ned Steinburger and David Gage. Since introduction, these products have been preferred by many working professionals for the natural tone, ease of installation and moderate price. Can be installed by the player. Fits under the C string side of the bridge. Cable not included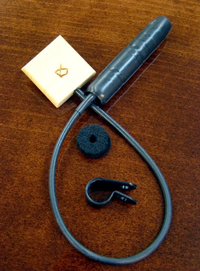 Revolution Solo II Bass Transducer
This installs in the slot of the bridge and offers a strong core to the natural tone this pickup produces.