Electronics Tuners Metronomes
---
On this page you will find a wide range of Tuners, Metronomes, Tuner/Metronome Combination, Pickups and Transducers, Pre-Amps, and Combo Amplifiers and more!
---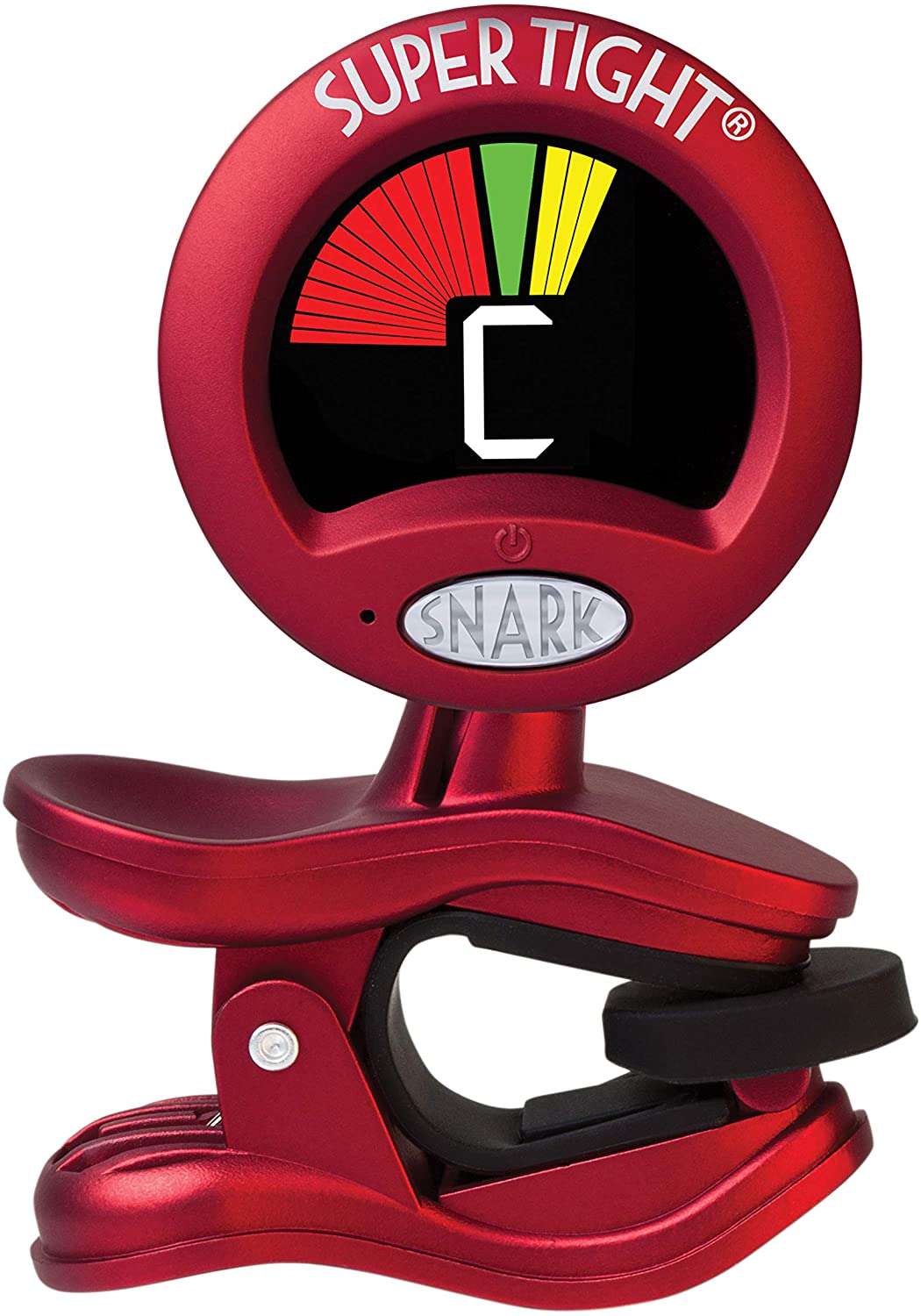 Snark ST-8 ST Chromatic All Instrument Tuner Red
A clip-on tuner that has a high-sensitivity vibration sensor and a full-color display that rotates 360°. This update to the original SN-8 tuner boasts a faster and more accurate tuning chip with a higher-definition display. It can be used to tune any instrument for applications such as rehearsals, recordings, live stage, theater, and more. The Snark ST-8 tuner features a stay-put clip, a tap tempo metronome, and it has pitch calibration from 415 to 466 Hz. The tuner features an extended frequency range and is compatible with all instruments.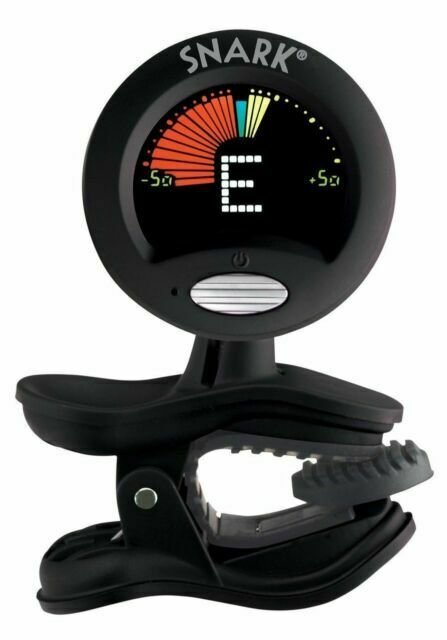 Snark SN-5X Guitar, Bass and Violin Tuner Black
The new and improved Snark SN5X model includes faster processing chip, enhanced accuracy, and new high definition screen that can be read from any angle. Full Color Display. Features frequency range tailored to guitar and bass. Tuner can be used on front of back of headstock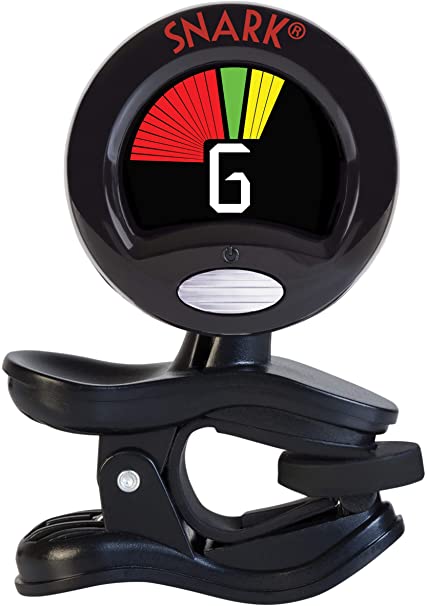 Snark SN-6X Ukulele Tuner Black
The #1 selling tuner is now available for ukulele! Complete with full-color display that rotates 360°, clip that will stay put, and a frequency range tailored specifically for ukuleles. Utilizing a high-sensitivity vibration sensor, this tuner can be used in noisy and quiet environments, to ensure your ukulele is in tune every time. This tuner is chromatic.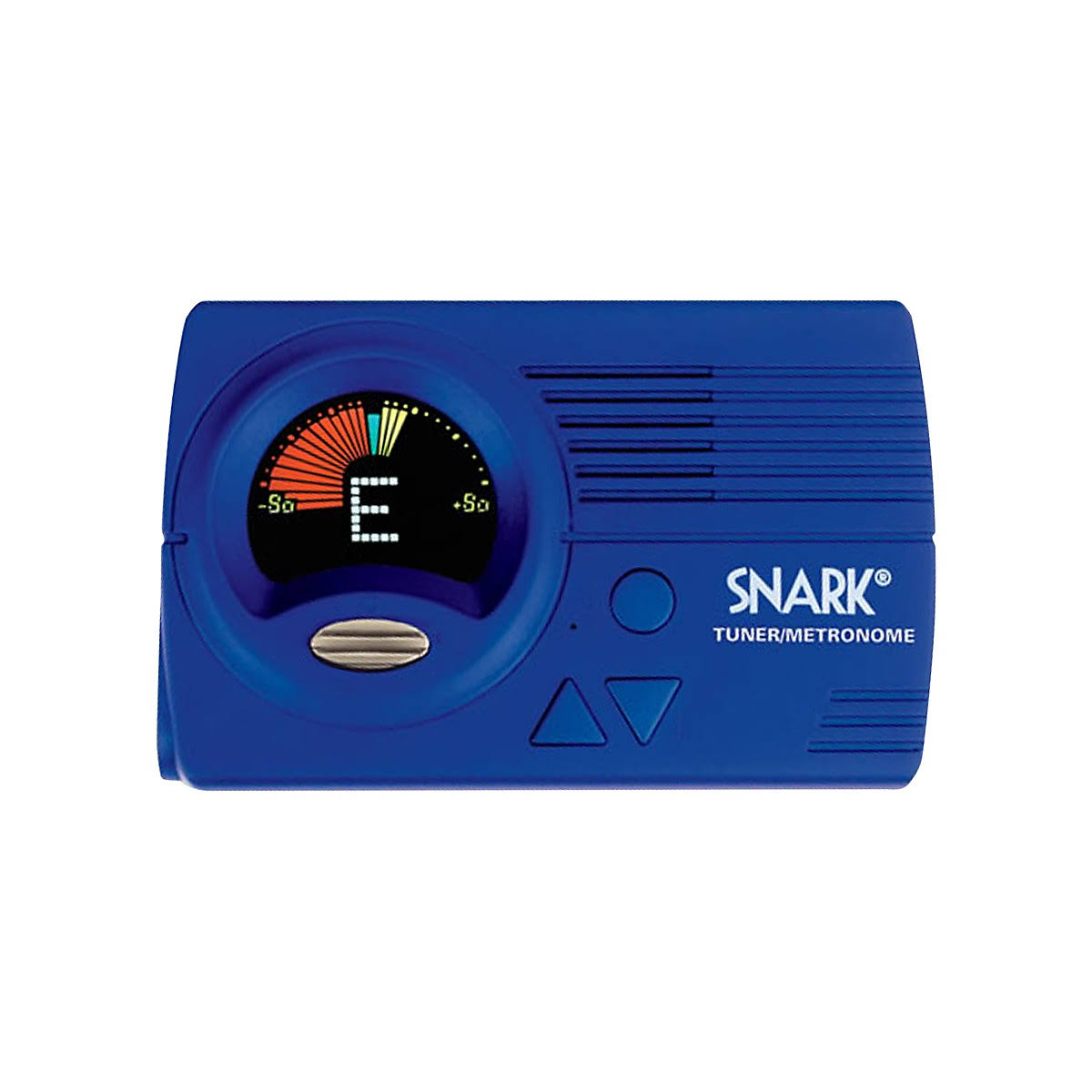 Snark SN3 Table Top Guitar and Bass Tuner
Tune your guitar with the Snark SN-3 Chromatic Guitar Tuner. Its easy-to-read color LCD clearly shows when your notes are sharp, flat, or in tune. A chromatic pitch pipe function is also on-board for reference. The SN-3 is optimized for accurately analyzing guitar frequencies and can be used with acoustic and electric guitars via the internal microphone or 1/4" input jack. Additional functionality includes a visual metronome with tap-tempo. Once the tempo is set, the heart-shaped LED will blink at the desired tempo.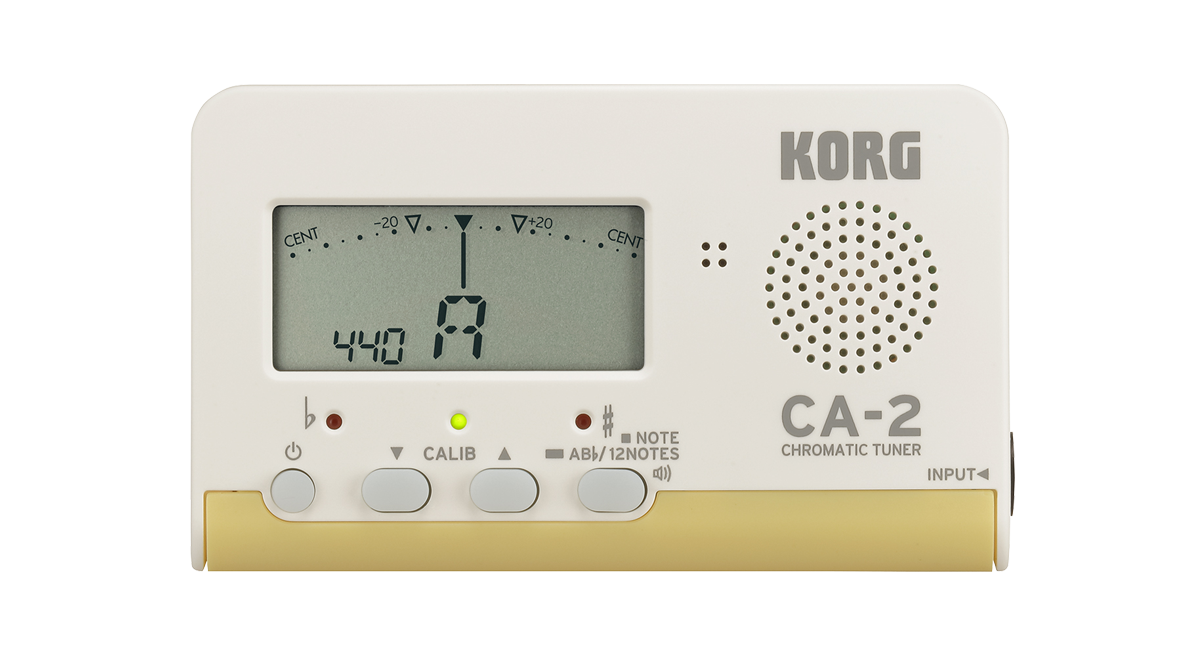 Korg CA-2 Chromatic Tuner
A large note name display for even better visibility. The ideal compact tuner for brass band or orchestra, now with a stylish new look. A needle-style meter with large high-visibility note name and string name. Tuning function suitable for a variety of instruments. Approximately 200 hours of continuous use. The calibration function (410-480 Hz) can be adjusted in 1 Hz steps.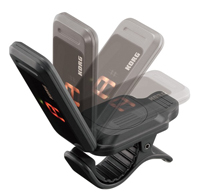 Korg Pitch Clip
Simple, convenient clip-on style chromatic tuner New compact, lightweight and discreet design Clear, bright, and easy-to-read LED display Display reverse assures easy viewing when mounted on either side of the headstock Reliable, highly-stable clip design Auto Power-Off extends battery life.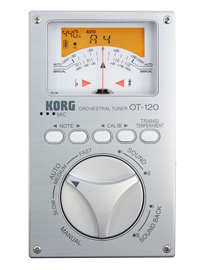 Korg OT-120
Full featured, professional model. Features include; real VU meter, built-in speaker, sound-back tone matching, different temperament modes, chromatic operation, backlit display, and more.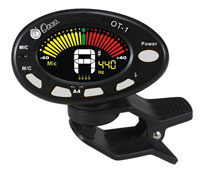 Oasis OT-1
Clip-on, vibration sensing, chromatic tuner with bright, easy to read display. Budget priced.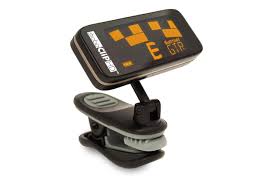 Peterson StroboClip HD Strobe Tuner
The Peterson StroboClip HD™ (SC-HD) has the same tenth-of-a-cent accuracy as all Peterson Strobe Tuners. This versatile tuner comes complete with a bright high-definition screen, over 50 Sweetened™ tunings, alternate temperaments for a vast array of string and wind instruments, and soft rubber-lined jaws to protect your instrument's finish while offering a firm grip for maximum signal tracking.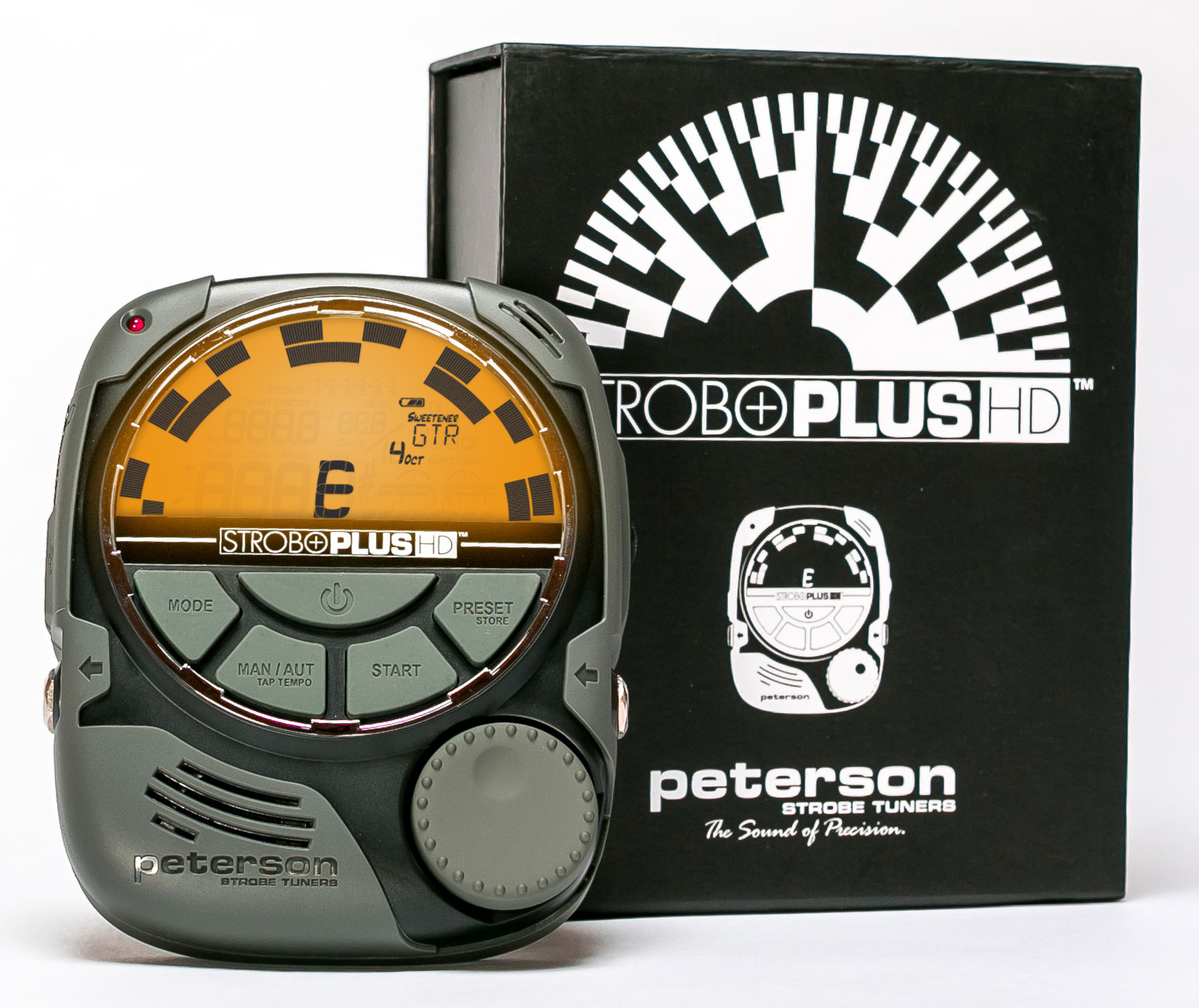 Peterson StroboPlus HD Strobe Tuner
The Peterson StroboPlus HD (is THE premier desktop digital tuner on the market! Equally as comfortable on a tech's workbench as it is in a player's guitar case, this tuner, with all of its features, is no exception to Peterson's reputation for being THE most accurate in the industry, so don't be fooled by it's small size. Gone are the days of having to carry extra batteries and tripping over power cables during a performance. This tuner is rechargeable! Features such as Auto Off, easy menu navigation, tripod mounting capability, over 90 of our Sweetened Tunings, tone generation ability via built in speaker, and a headphone output jack round out the package. The StroboPlus HD is future-proof, meaning you can update its software, and/or edit parameters via the tuner;s USB jack.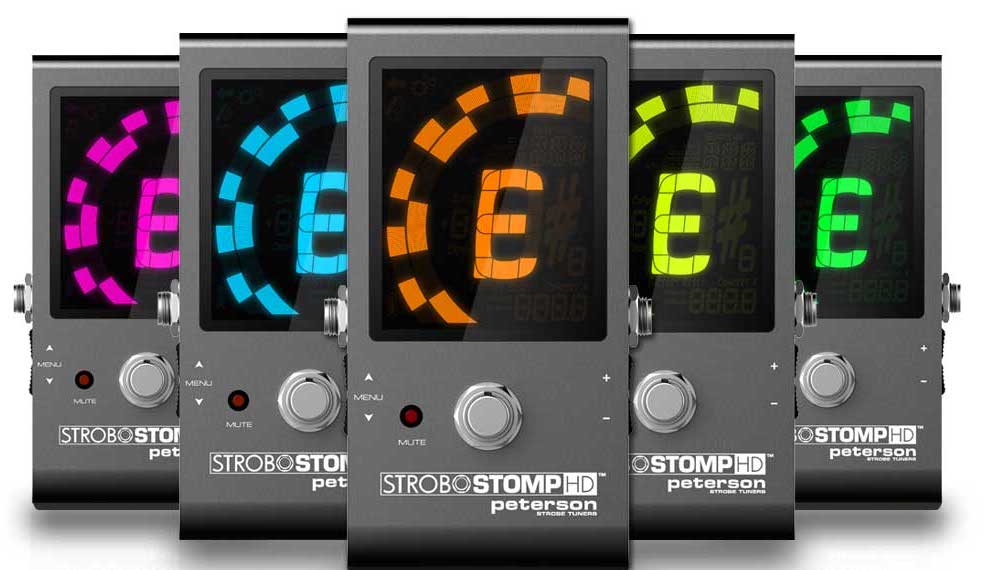 Peterson Strobo Stomp HD Strobe Tuner
HD boasts a large, high-definition LCD screen that incorporates a variable color LED backlight. User-selectable colors. The StroboStomp HD provides a 100% silent, true-bypass operation mode to keep precious tone safe, as well as eliminate the often annoying "pop" experienced when engaging such a feature in other products. Features over 100 exclusive Sweetened Tunings as well as numbered guided tuning presets for a large variety of instruments and playing styles. Sweetened Tunings are exclusive to Peterson tuning products and are designed to help correct inherent tuning issues exhibited by many instruments.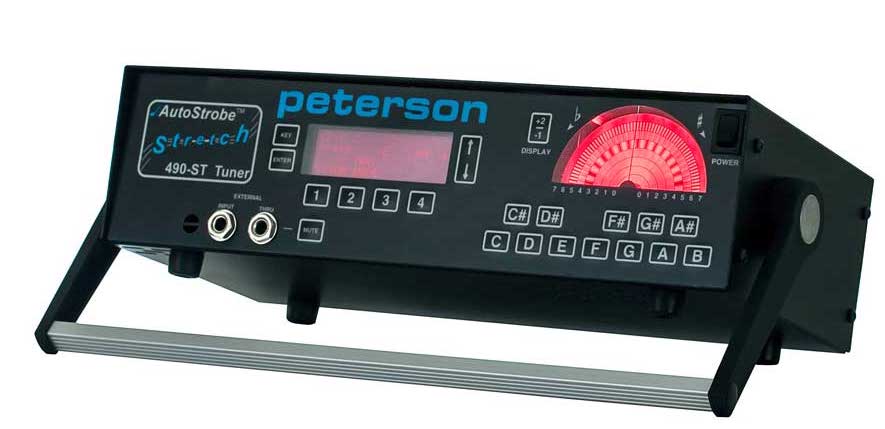 Peterson 490-ST AutoStrobe with Stretch Tuning
Capable of handling "stretched" interval tuning, this is the instrument technician's most valuable tool. The Peterson AutoStrobe 490ST offers a vast array of selectable "stretched" tuning options, including pianos of all types. Enjoy the instantaneous response times that only a Peterson can deliver and the relative tuning display of any audio source to 0.1 of a cent (1/1000 of a semitone) accuracy! With the Model 490-ST, students, technicians, and musicians of all levels can utilize automatic (hands-free) note selection for absolutely the most accurate tuning of any instrument. Key features including real-time display of intonation to improve performance and listening skills while playing as well as mutable throughputs for in-line (yet silent) tuning during performances round out the package!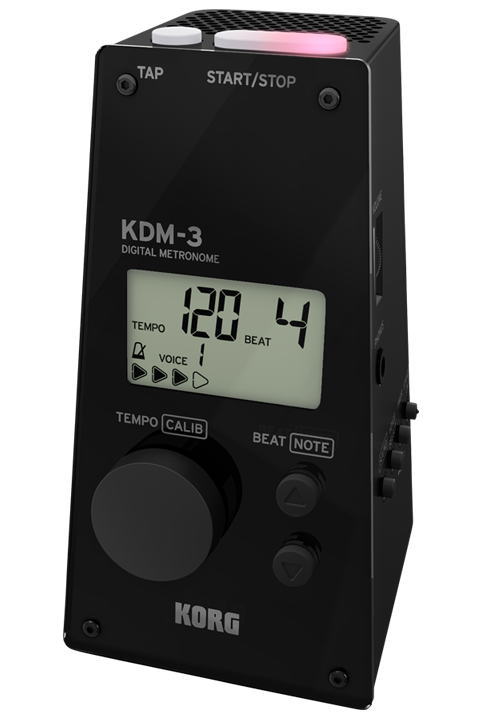 Korg KDM-3 Metronome
The KORG KDM series is renowned for its powerful volume and its clearly-audible tone. Eight metronome sounds, including a mechanical metronome sound. 19 beat patterns support songs of any genre. Sound Out mode lets you tune while listening to a reference tone. Timer mode is convenient for practicing the basics. Memory Backup function and Auto Power-Off function.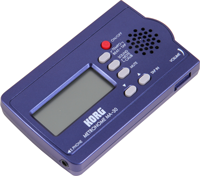 Korg MA-30
Korg's compact, budget-priced metronome. Auto-off when idle to save batteries.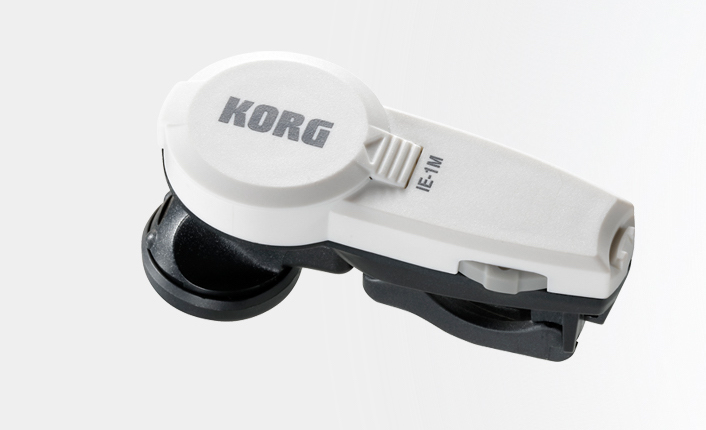 Korg IE-1M
An ultra-small in-ear metronome that fits directly in your ear, making it ideal for personal practice. You can choose from a variety of beat and rhythm variations, and while compact, it provides a full range of metronome functionality. Tempo can be adjusted smoothly using the jog switch.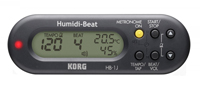 Korg Humidi-Beat
Portable, full-featured metronome provides enhanced rhythm training for every instrumentalist. The built-in thermometer, humidity detector, and clock provide an easy way to care for the instrument by monitoring conditions inside the case during storage, moving, etc. Tempo can be set using traditional Pendulum Steps, Full Steps, or Tap Tempo. Beat Mode offers from 0 to 9 Beats, plus 5 Patterns to practice any style of music. Convenient memory backup function recalls the users favorite settings. Battery-saving auto-power off function. Available in either Black or White.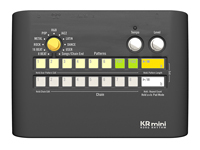 Korg Rhythm Machine
Easy and simple design; just select a rhythm pattern and press the play button Chain function lets you arrange your favorite rhythm patterns and fill-ins to create complete songs Optional foot switch lets you control fill-in/start/stop hands-free Tap the 16 pads for finger drumming or recording your own performances Built-in speaker with 2W output helps you jam anywhere without the need for an additional monitor Headphone/speaker jack for quite practice or connection to an external monitoring system Two-way power; use the AC adaptor or batteries (AA alkaline batteries x 3)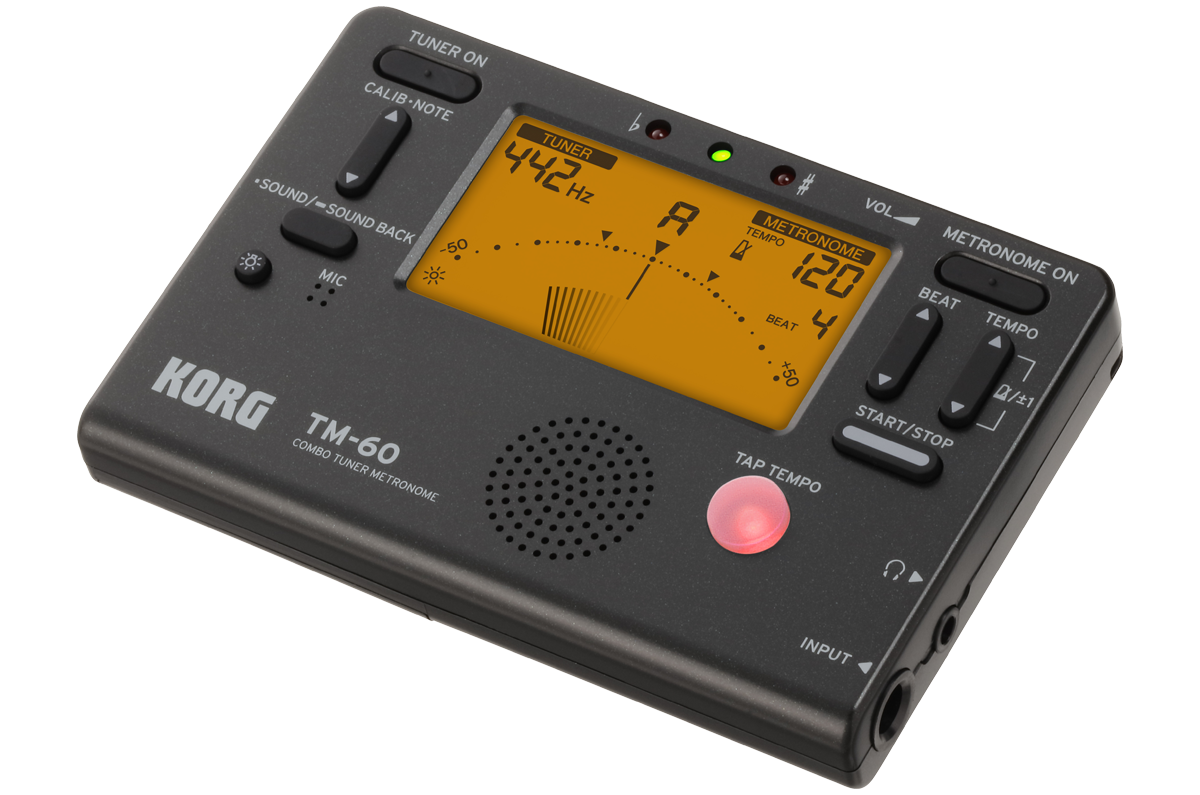 Korg TM-60
The best-selling KORG TM series, which lets you use a tuner and metronome simultaneously, has been revamped. The TM-60 is the newest model and features a larger display that can show the tuner and metronome simultaneously. The battery life has also been dramatically improved. With the all-new TM-60, you'll be able to enjoy pitch training and rhythm training without having to switch functions or be concerned with battery life.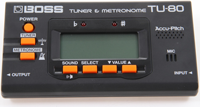 Boss TU-80
Combo tuner/metronome from this trusted brand.
Tuner and Metronome Accessories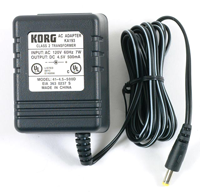 Korg AC Power Supply
For OT-120 and other Korg products with optional AC power.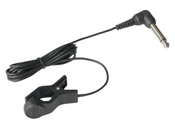 Korg Contact Mic
Like the Signal-Flex, but made by Korg. Vibration sensing, to allow tuning in noisy environments. Works with any tuner that has a 1/4 inch input jack.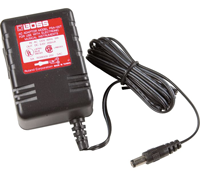 Boss AC Power
For DB-90 and other Boss products with AC power connector.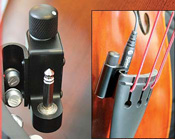 Realist Docking Station
The Docking station is an accessory that adds volume control functionality to Realist Bass pickups.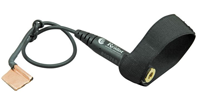 Realist for Cello
Designed by Ned Steinburger and David Gage. Since introduction, these products have been preferred by many working professionals for the natural tone, ease of installation and moderate price. Can be installed by the player. Fits under the C string side of the bridge. Cable not included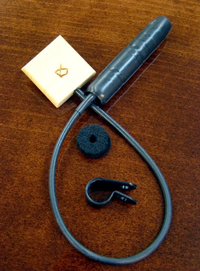 Revolution Solo II Bass Transducer
This installs in the slot of the bridge and offers a strong core to the natural tone this pickup produces.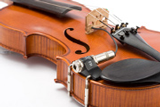 Headway
Made in the UK, and offer easy installation with professional results. The Band is an original concept which works well for players that want a simple installation and removal. These products are particularly well known for minimal feedback potential. The Bass model is not a band, but offers simple installation on the bridge.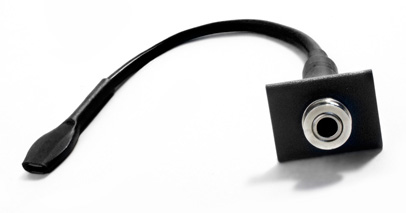 K&K Bass Max
The Bass Max is an upright bass transducer. It uses a "sandwich" design with two piezos layered together, one facing up and one down. This allows for a quick and simple wedge-mount into a bridge wing and ensures even transmission from the strings and from the body of the instrument. The Bass Max is very sturdy and has a high output signal that is balanced over the whole tone range. It is suitable for both arco and pizzicato playing styles because it transmits a broader mid frequency range. This enables the musician to change playing modes without having to adjust the amplifier. The connection jack is held in place by a special attachment clamp mounted at the A and D strings between string-holder and bridge.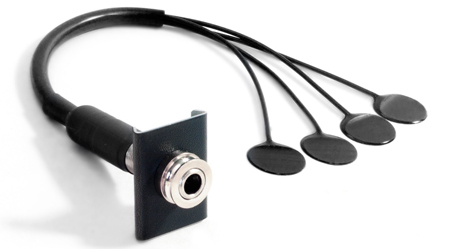 K&K Double Big Twin
The Double Big Twin is a four-head upright bass transducer developed specifically for jazz bass players. Its transmission band includes very high and very low frequencies, which makes it especially suitable for jazz bass. The high frequency translation ensures a clean amplification of the finger attack with the picked bass. The low frequency translation refers to a desired very bassy sound picture. The Double Big Twin is able to pick up each string of the upright bass separately. This results in an extraordinary balance of sound, even for pizzicato playing.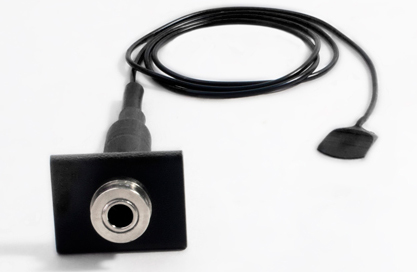 K&K Fingerboard Pickup
This specially modified single pickup is ideal for capturing fingerboard sounds. Its unique size and shape allows precise placement and a preamp allows rockabilly bass players to blend in just the right amount of slap, growl, and other fingerboard sounds to achieve the exact sound and effect they desire. We suggest you place the fingerboard pickup near the top of your fingerboard, on the reverse side. Double-sided adhesive tape for installation is included.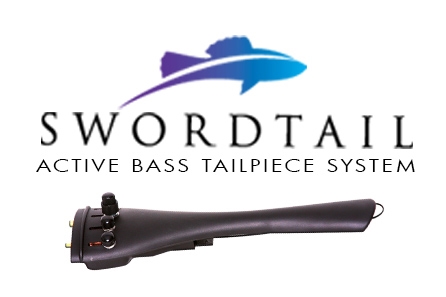 Swordtail Active Tailpiece
For Bass, a pickup system integrated with a tailpiece.