Chinrests for Violin and Viola
---
We offer a large selection of Chinrests. Our chinrests are made in India, using high quality wood and hardware. Many companies make each of the models, so you can not directly compare price and quality just by the model name. Yes, there are lower cost chinrest on the market, but they are not the same quality as we offer. For Chinrest accessories such as Strad Pad, Please visit our Miscellaneous Accessories pages. Consider ordering a few models to try, and then contact us to return. Also, consider different shoulder rests. A change in your chinrest, may necessitate an adjustment to the shoulder rest, or a different shoulder rest product. Our most recommended and popular models are the Wittner Ultra, Guarneri, and Flesch Flat models.
---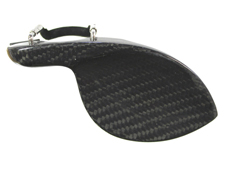 Herdim Carbon Guarneri Model
Shaped like Guarneri, but ultra light weight.

Ohrenform
Center mount, with large, deeply contoured cup, and a pronounced ridge for the jaw to anchor.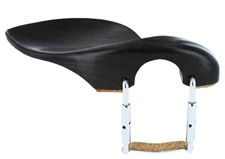 Strad
Similar to Guarneri, but with a more-rounded shape over the tailpiece.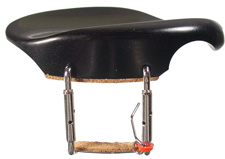 Hollywood
Side mount, high plate, with a high, sharp edge to catch the jaw.

Leipzig
Very low cup, with a slight rise near the tailpiece.

Schmidt
A tall side-mounted rest, with a steep rise over the tailpiece.

Morawetz
The high, deep edge has a smooth contour, and the cup is quite deep with a rise in the back.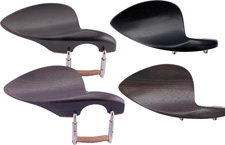 Wendling
Another slight variation of the Guarneri design. Flatter cup, with a strad-like roundness over the tailpiece.
Brandt
Very low, side-mounted plate which is flat and has a small ridge.

Extra Flat
The lowest, flattest chinrest available. Side mount.

Huberman
A low, side-mounted plate, with more depth than others of this style.

Joachim
A very low, side-mounted plate, with a deeper cup than others of similar style.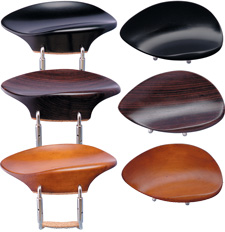 Spohr
Side mount, high plate.

Zitzman
Center mount, with a shallow, smoothly contoured cup.

Kreisler Tilted
Side mount, high plate, with slant in the other direction.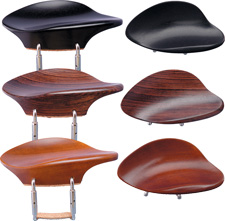 Kreisler Low
Low and flat. Mounts to the side of the tailpiece.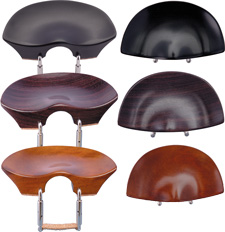 Flesch
Center mounted, with a hump over the tailpiece. No other model is anything like this shape. Models like this often make contact with the tailpiece. A luthier can carve some wood away from the under side, or additional cork material can be added to increase the clearance slightly.