Composite Double Bass Bows
---
We offer non-wood bows for every player. From basic student fiberglass, to career professional carbon composite models, you will find a perfect bow to match your needs. We are especially pleased with the success of Arcus bows for professionals. Yes, these are costly bows, but our sales indicate customers feel they are worth it.

**PLEASE NOTE**:Not every item on this page is in stock at all times. Some models we offer by special order only. Others are on back order with the vendor. Please email us to check availability of any product shown here.
---
Glasser These have been the workhorse of student/educational bows for decades. In recent years, Glasser has developed new models for intermediate students, and proficient players.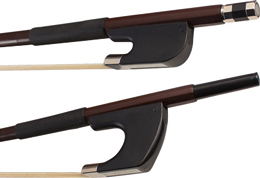 Fiberglass Model (The Original Glasser Bow)
The workhorse of school music programs and rental programs around the world.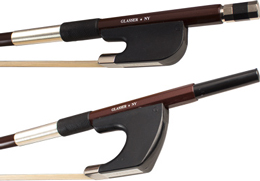 Premium Fiberglass Model
Same as the original model, but has real metal wrap and leather grip.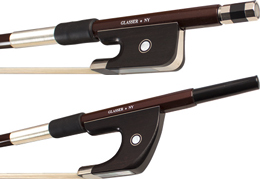 Composite Model
Step-up performance for advancing students. Real Ebony frog with Parisian Eye.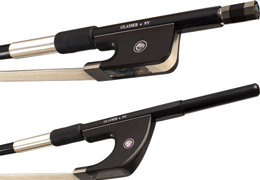 Carbon-Graphite
Made of advanced composite materials for advanced students and other serious players. Ebony frog with Parisian eye. These bows can be special ordered with particular weight and balance. Email for more information.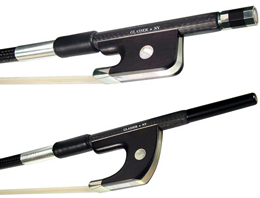 Braided Carbon Fibre
For serious players with highest performance needs. That's not just paint on the stick. You see the actual braided material used to make these bows, which is a patent-pending design. Also features aesthetics such as an elegant head, Ebony frog with oversized pearl eye with ring, and nickel/silver head plate.
Eastman High value bows made in China.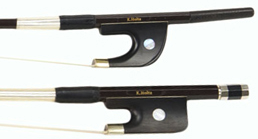 Holtz Fiberglass
This is the bow we prefer for our rental fleet. Full lined, Ebony frog.
Core Select Range of high value composite bows made in China for the industry-leading US distributor.
Arcus Professional level bows made in Switzerland. Some of these models have matched the performance characteristics of the finest wood bows. Other models have surpassed what wood can do. Testimonials from customers that have purchased Arcus bows is overwhelmingly positive. In the words of one Cellist that owns an Arcus bow, "I feel like I'm cheating when I play this bow". The materials used don't just allow Arcus to create bows with a wonderful sound and perfect playing properties. They can also adjust the resiliency, the weight and the balance with much more freedom and precision than with conventional materials. The complex texture of the carbon fibres still gives each bow its individual character and tonal beauty.