Cellos for Beginning Students
---
What is the most important aspect of a beginner instrument? The simple answer is playability. Young people should not be discouraged by an instrument that is difficult or impossible to manage, or they risk losing interest and choose to quit playing. Teachers understand this all-too-well. They see instruments every day that are not adequate for the needs of the player. You WILL find cheaper instruments on the internet. We have seen these products in our workshop because customers bring them in for service. These instruments always require more work that is worth spending. A teacher that is a friend of our shop, calls these things "instrument-shaped objects" because they are not truly musical instruments. You will not find such a Cello on our website. Our standard setup is what is usually recommended for a beginning player. The DeLuxe setup offers upgraded strings, bridge, and other fittings. If it's an outfit that you are considering, the DeLuxe setup also includes a step up choices of case and bow. Contact us by email for expert assistance in selecting these items to complete your outfit.

**PLEASE NOTE**:Not every item on this page is in stock at all times. Some models we offer by special order only. Others are on back order with the vendor. Please email us to check availability of any product shown here.
---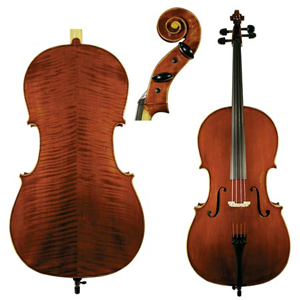 Johannes Kohr K500
A sweetheart model among many violin shops as their choice for entry level, fully carved model. The making of these instruments has been continuously improved over the years. You will find it difficult to locate another Cello that competes as favorably as the K500. The wood is beautiful and the varnish is very deep and rich for an instrument in this price range.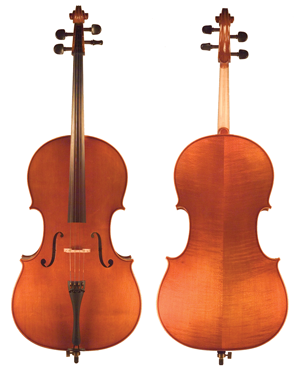 Segue Concertino
A hand finished instruments from the Segue line as entry level quality instruments. Solid wood, carved construction. These modern Chinese made instruments are popular for beginning students, rental programs, and school music programs around the country. They feature a high level of Spruce, Ebony and Maple for their price.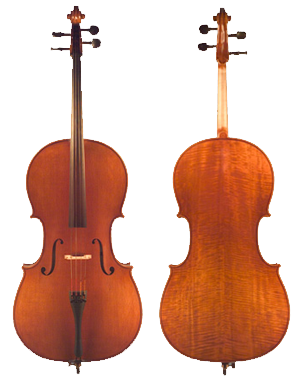 Segue Concertino Plus
A slightly improved version of the standard Concertino. Materials used are upgraded as compared to the Concertino. Better flame, and greater attention to finish detail are noticable improvements.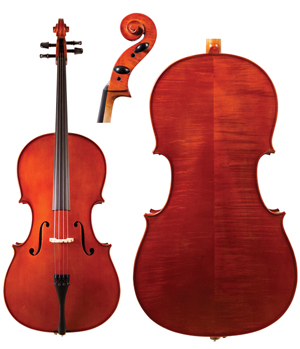 Core Academy Model 35
The solid wood counterpart to the model 30.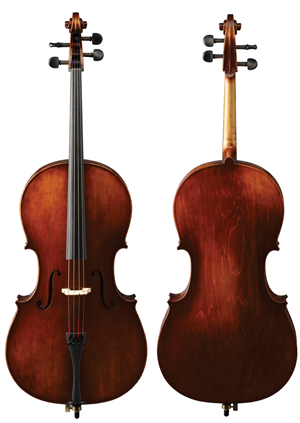 Segue Concertino Hybrid Antique
This model has a solid top, and a beautiful antique looking varnish. It offers better tone and appearance, while preserving most of the durability and low cost benefits of a laminated construction instrument.