Pro Tec Viola Cases
---
ProTec cases are made in Korea. They offer a 5 year warranty, which is much greater than the 1 year offered by most other brands. They are distinctive looking, feature high quality materials, and have a reputation for many years as a reliable brand. Continuous improvements have been made over many years, to ensure these cases remain one of the best values available anywhere.



**PLEASE NOTE**:Not every item on this page is in stock at all times. Some models we offer by special order only. Others are on back order with the vendor. Please email us to check availability of any product shown here.
---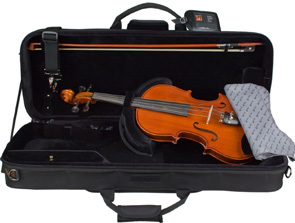 DeLuxe Pro Pac
Oblong adjustable case for 13 to 17-1/2 inch Violas. Full size music pocket. Black Exterior with Black Interior. 8 Pounds.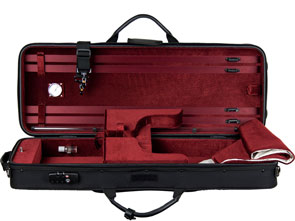 Professional Model
Oblong adjustable case. Two sizes; for Violas up to 16.5 inches, or 16.5-17.5 inches. Full size music pocket. Black Exterior with Wine Interior only. Humidifier, Hygrometer, Suspension padding, Shoulder strap, blanket. Shoulder rest is held by a velcro strap under the neck of the Viola.