Pro Tec Viola Cases
---
ProTec cases are made in Korea. They offer a 5 year warranty, which is much greater than the 1 year offered by most other brands. They are distinctive looking, feature high quality materials, and have a reputation for many years as a reliable brand. Continuous improvements have been made over many years, to ensure these cases remain one of the best values available anywhere.
---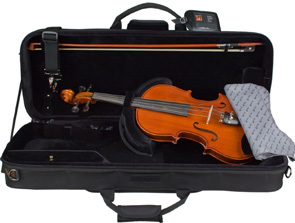 DeLuxe Pro Pac
Oblong adjustable case for 13 to 17-1/2 inch Violas. Full size music pocket. Black Exterior with Black Interior. 8 Pounds.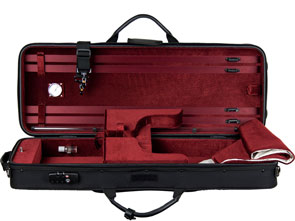 Professional Model
Oblong adjustable case. Two sizes; for Violas up to 16.5 inches, or 16.5-17.5 inches. Full size music pocket. Black Exterior with Wine Interior only. Humidifier, Hygrometer, Suspension padding, Shoulder strap, blanket. Shoulder rest is held by a velcro strap under the neck of the Viola.