Covers for Violin and Viola Cases
---
Case covers are an affordable way to add some protection and style to your case. You may need products like this for protection in cold or warm climates. Or, maybe you just want the added convenience of extra music storage or backpack straps. If you have an old case and the attached cover is worn out, this is a good way to cover up the ugliness so you don't have to buy a new case.

**PLEASE NOTE**:Not every item on this page is in stock at all times. Some models we offer by special order only. Others are on back order with the vendor. Please email us to check availability of any product shown here.
---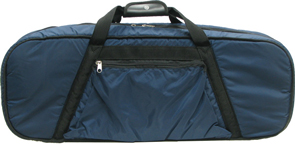 Bobelock Smart Bags
Nylon Exterior, foam padded, lined interior. Backpack straps and shoulder strap included. Large Music pocket, and two side pockets. Fits many other brands of case. 4/4 Only. Available in Black, Red or Blue. 2 Pounds.
Exterior Color Choices:
Black Exterior
Wine Exterior
Blue Exterior