Padded Bags for Cello
---
We offer a wide range of top-brand padded bags for Cello.

**PLEASE NOTE**:Not every item on this page is in stock at all times. Some models we offer by special order only. Others are on back order with the vendor. Please email us to check availability of any product shown here.
---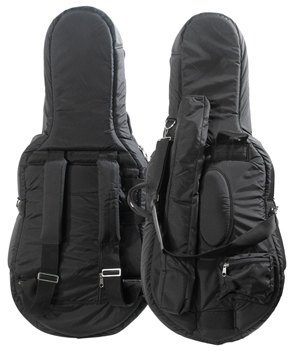 Bobelock
The soft, generously padded cello bags have been very popular for years and remain one of the best selling soft cello bags today. Fully padded with 1 inch foam, with lots of usable pockets, and covered in a nylon canvas cloth exterior. Features soft nylon interior lining, backpack & shoulder strap, bow sleeves, accessory pockets, music pocket, heavy-duty, non-scratch zipper. 4/4 size available in Black, Wine or Blue. Smaller sizes available in Black only.