Pedi Viola Cases
---

Pedi cases feature their "Steel Shield" shell design. Lightweight and strong. Unique aesthetic appeal. Made in Taiwan. We offer FREE Domestic Shipping on Pedi Viola Cases over $200. Discounted shipping rates for international customers also!

**PLEASE NOTE**:Not every item on this page is in stock at all times. Some models we offer by special order only. Others are on back order with the vendor. Please email us to check availability of any product shown here.
---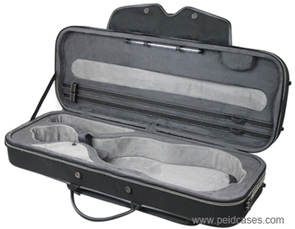 Pedi Oblong
Featuring Pedi's "Steel Shield" shell design, this oblong model that is light, strong and offers distinctive style. 2.5 kg. Two Bow holders. Suspension padding. Humidifier and Subway handle. There is one size of Pedi viola case, which is for 16.5 inch Violas. The size you select includes the necessary spacer to adapt the case to your Viola.
Available Colors:
Black Exterior with Two-Tone Gray Interior
Brown Exterior with Two-Tone Gray Interior
Blue Exterior with Two-Tone Gray Interior
Olive Green Exterior with Two-Tone Gray Interior
Red Exterior with Two-Tone Gray Interior