Welcome to our newly updated website.
This project took nearly a year to complete. We hope you will enjoy the ease of use on any device, massive selection and detailed product information. Quinn Violins turns 30 this year. For most of that time we have focused on serving string players online and plan to continue doing so for many years to come. We are excited to announce a new department; Fret Central, which will ultimately become it's own website. Fret Central features Steel String Guitars, Arch Top Guitars, Nylon String Guitars, Mandolins, Ukuleles, and more.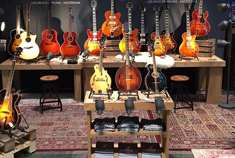 Fret Central is our new department for Acoustic Fretted instruments and related products. This is just the start. We intend to grow this area of our site dramatically in the coming months, and eventually launch it as it's own domain. Let us know what products you would like to see us include in our offerings.