SE Electronics Microphones

Founded in 2000 by Siwei Zou, sE Electronics has rapidly grown into an internationally-respected manufacturer managed by a group of dedicated creative individuals spread out across the globe, spanning four cities on three continents. sE is still family-owned and operated, and takes great pride in every single piece of equipment that leaves the building.

**PLEASE NOTE**:Not every item on this page is in stock at all times. Some models we offer by special order only. Others are on back order with the vendor. Please email us to check availability of any product shown here.
---
Large Diaphragm Condenser Microphones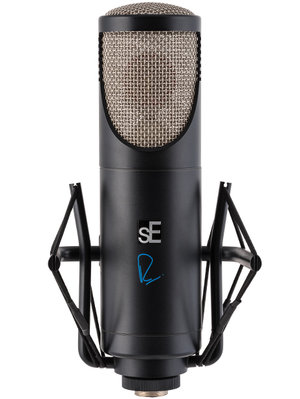 sE Electronics RNT
The RNT: A new flagship tube microphone from sE Electronics and Rupert Neve Designs®. Delivers the pristine, musical sonic character and uncompromising performance of the world's most prized recording equipment. All in all, this new flagship tube microphone brings the larger-than-life sounds of classic studio microphones into the modern age with greater depth and clarity than ever before.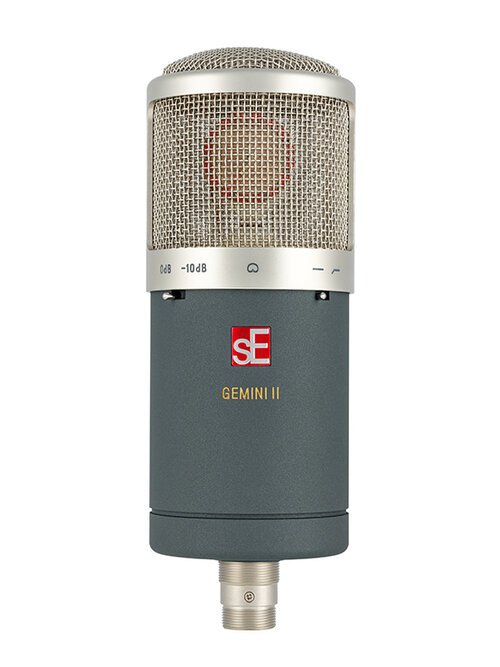 sE electronics Gemini
The sE Gemini II is the larger-than-life answer to your vocal tracking needs. Incredibly huge, detailed, and intimate – classic tube sound meets modern precision. The Gemini II dual valve microphone is a no-holds-barred piece of microphone history. The dual valve design means pure valve warmth from the 12AX7 input valve, coupled with a 12AU7 valve on the output stage. The result is an incredibly large, detailed, and intimate sound – reminiscent of the classic valve microphones from decades ago, but with a thoroughly modern twist.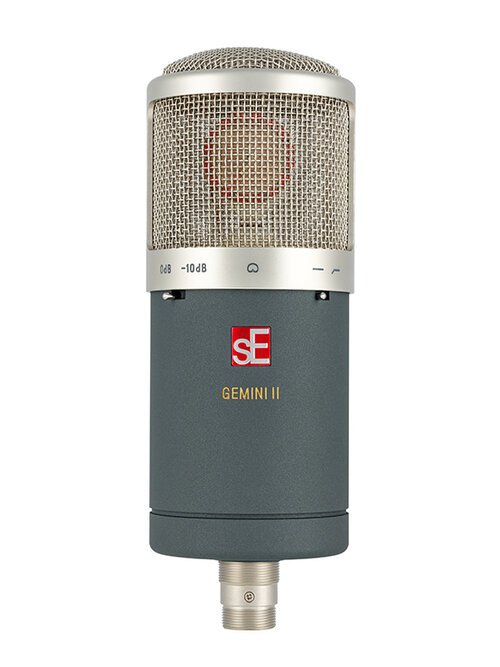 sE Electronics Z5600
The Z5600a II: a thick, rich tube mic that will flatter any source. With nine polar patterns, the Z5600a II is ready to record absolutely anything. The Z5600a II large-diaphragm condenser is one of the most versatile tube mics in today's market. With 9 graded steps through omni, cardioid and figure eight patterns, -10dB pad and bass cut, the Z5600a II finds uses in a huge number of applications, from miking a live drum kit to overheads on a choir. Above all though, this excellent mic has won its praise on delivering superb vocal recordings, with natural warmth and incredible detail.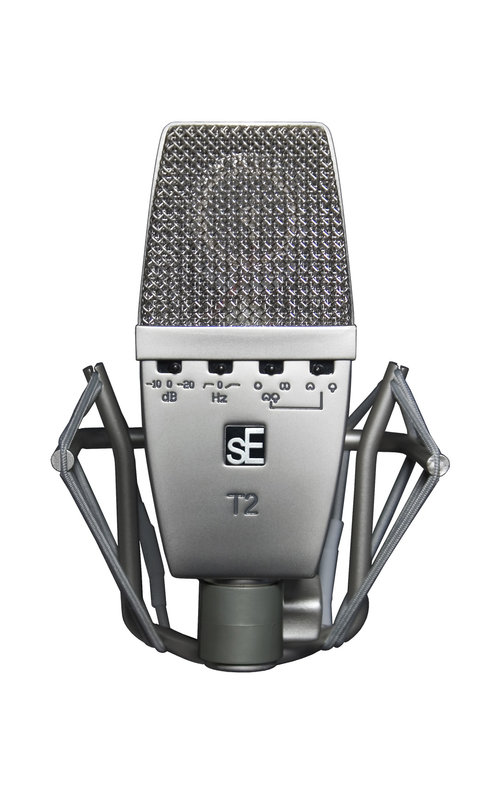 sE Electronics SE-T2
With the T2, your transients will never be the same again. The versatility of the sE4400a's shockmount, patterns, filters and pads, plus a titanium diaphragm for the most immediate percussion, bass, guitar & vocal transients you've ever heard. This mic is the ultimate combination of solid state performance and versatility. Based on the chassis and feature spec of the acclaimed 4400a, but with the highly specialized capsule of the original sE Titan, it delivers full and perfectly balanced mid and low frequencies, while its titanium capsule produces un-hyped but ultra-detailed HF response.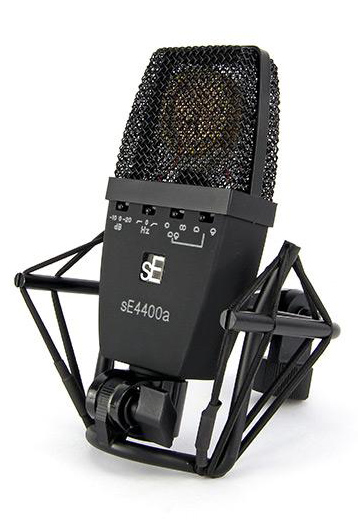 sE Electronics SE4400A
Much like a few particularly well-known classic European condensers, the 4400a is a true all-rounder. You can put it up on just about anything and it'll sound great. Unfortunately for many studio owners, those "classic condensers" are often not what they used to be. Capsule designs change over time, capacitors dry out, metal switches are replaced with plastic buttons and LEDs, and the mics that were once so versatile are now mere shadows of their former selves.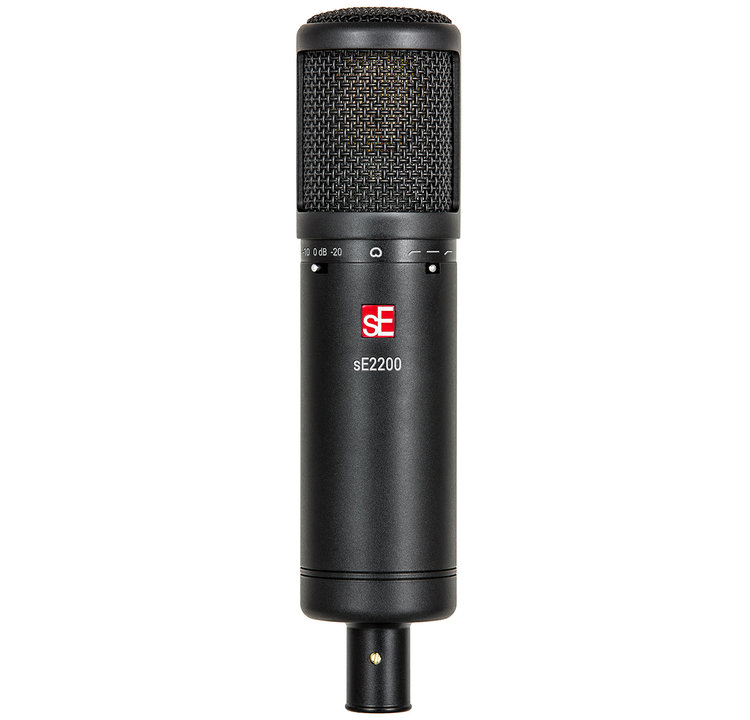 sE Electronics SE2200
The sE2200 is the latest version of the award-winning cardioid condenser microphone that put sE Electronics on the map many years ago with its smooth, polished sound for vocals, voiceovers, and numerous instrumental applications. Made famous through use with world-class vocal artists like Amy Winehouse, it revives the spirit of classic studio microphones, and still remains a standard in mic lockers around the world.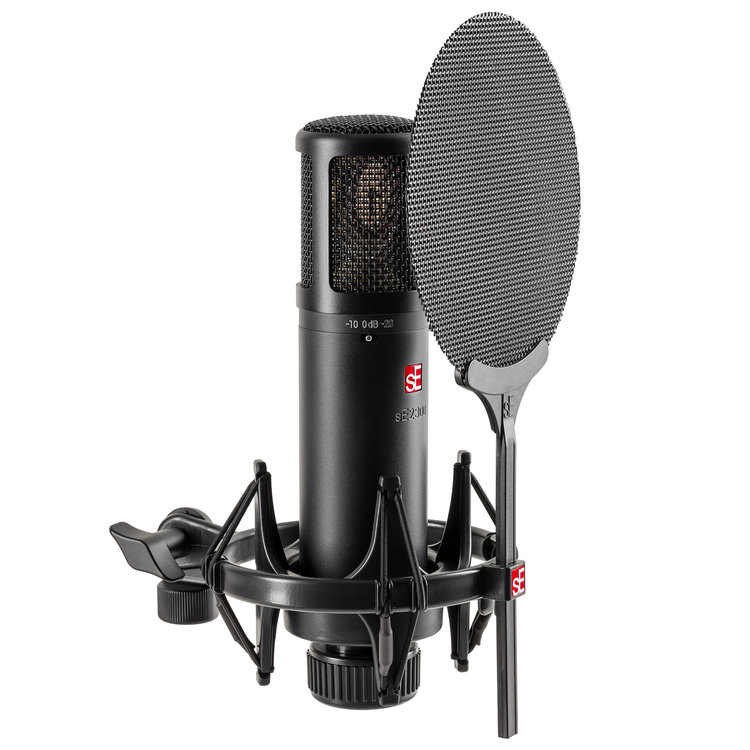 sE Electronics SE2300
State-of-the-art components and a shorter, optimized signal path provide even better noise performance & clarity, multiple patterns and new pad & filter options increase its versatility, and the fit & finish has been updated with sE's latest manufacturing techniques - but the sE2300 retains all the classic sound of the original.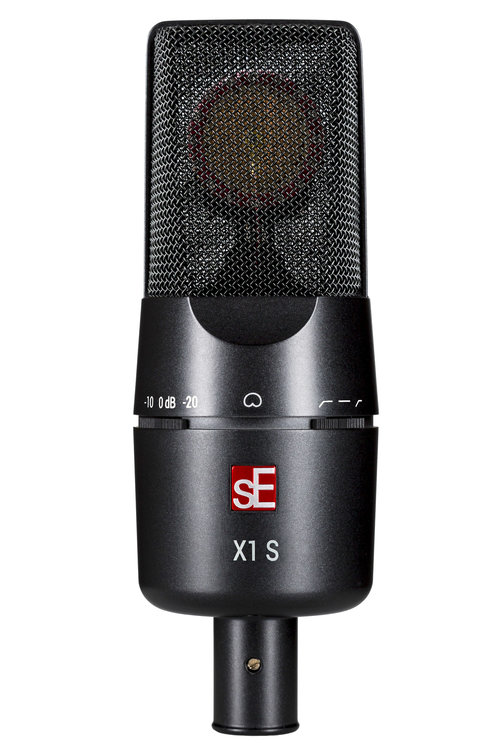 sE Electronics X1-S
The new gold standard in affordable large-diaphragm condensers. With a hand-crafted and individually tuned custom 1" capsule, high-performance electronics, an all-metal chassis, -10dB and -20dB pads and two low-cut filters, the X1 S has the sound and features you'd expect from a serious high-end studio mic, at only a fraction of the cost.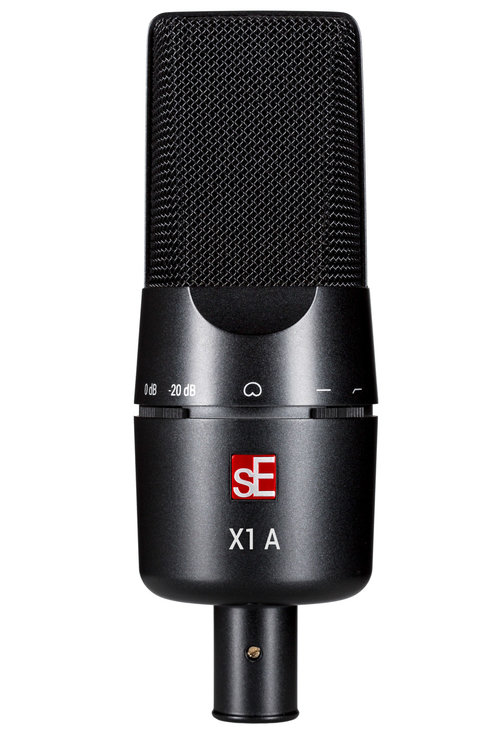 sE Electronics X1-A
Where the original X1 broke the cost vs. performance barrier, the X1 A completely shatters it all over again, providing an even more affordable entry point into the acclaimed X1 Series mics from sE. With a newly-designed condenser capsule & low-noise electronics, and the same robust metal chassis and features as its immensely popular older brother, the X1 A yet again redefines what is possible for a "first microphone".
Small Diaphragm Condensers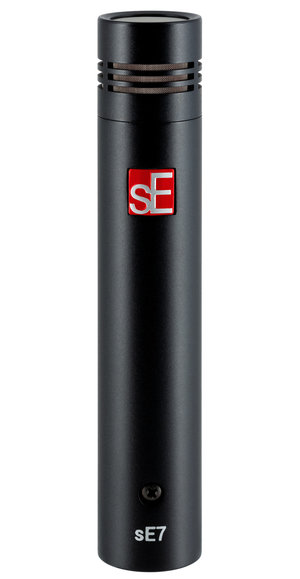 sE Electronics SE7
The sE7 is a high-quality back-electret small diaphragm condenser microphone intended for a wide range of studio and live sound applications, from acoustic guitars to pianos to drums and beyond. With an optimized acoustic design, discrete class-A circuitry and a transformerless output, it delivers clear, natural sound quality at all frequencies, without suffering from fizzy highs or a lack of low-frequency punch.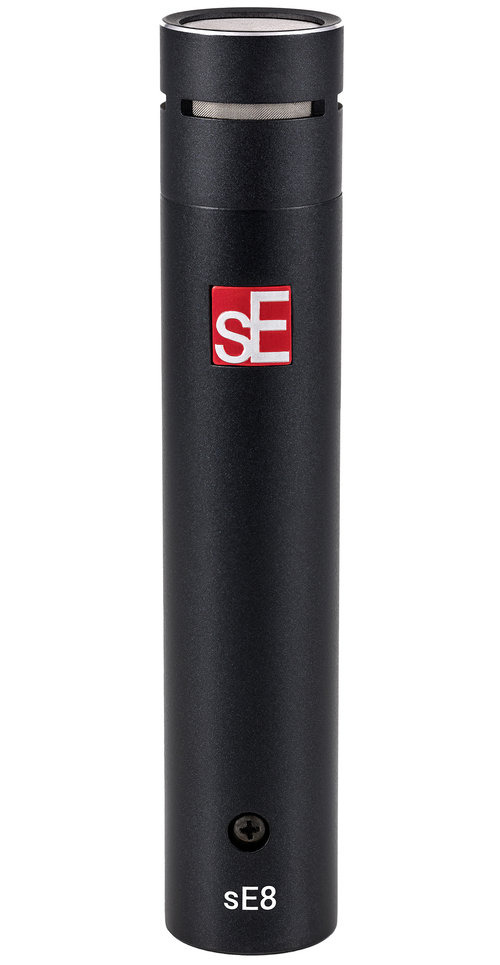 sE Electronics SE8
Fit for any challenges in the studio or on stage, the sE8 is a brand new high-performance handcrafted small-diaphragm condenser, fresh from the labs at sE. Its new hand-made capsule implements a sophisticated backplate design that provides a perfectly balanced sound, so it's never harsh or aggressive - perfect for sources like high-hats and drum overheads. It's also one of the quietest small-capsule mics on the planet - and with the highest dynamic range and SPL handling in its class, along with attenuation pads and low-cut filters for superb flexibility, the sE8 is ready for any sounds you're making, whether in the studio environment or demanding on-stage applications.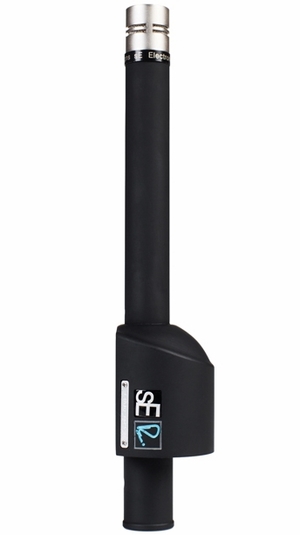 sE Electronics RN17
This is the world's first pencil microphone with a large-scale, hand-wound, ultra high performance transformer. The second product of the sE / Rupert Neve collaboration, work on the RN17 began with a discussion between Rupert and Siwei Zou on the merits and problems of small-diaphragm condensers.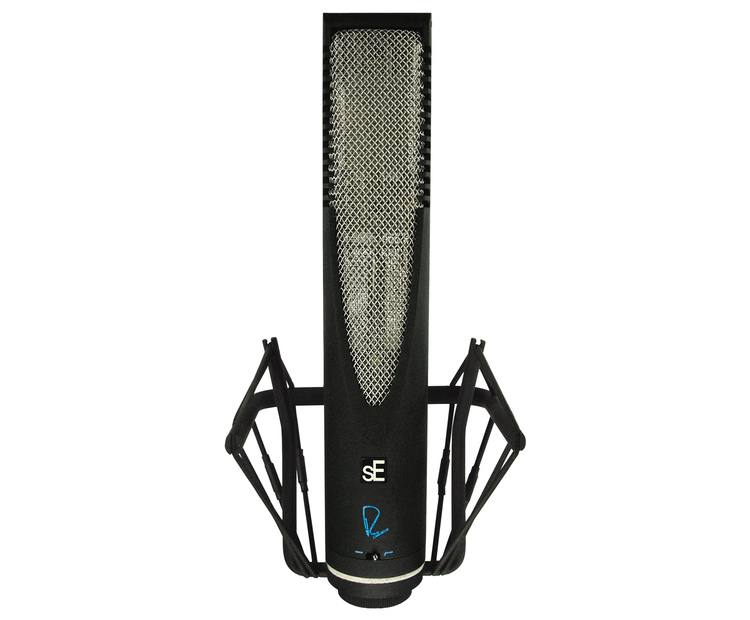 sE Electronics RNR1
With custom transformers and discrete circuitry from the man behind the recording industry as we know it, the RNR1 hears more than any other ribbon on the planet. Ribbon mics have been around for a long time, and have always been particularly prized for the exceptionally "natural" sound they provide. Not too forward, never bright or shiny, they capture midrange detail with a pleasant intimacy and usually sit quite easily in a mix. One downside of their mellow nature used to be physical delicacy, but that challenge was conquered long ago with more rugged, reliable materials. But the other main negative with ribbon mics is the high-frequency roll-off inherent in their design, which had never been dealt with until Rupert Neve - the father of the recording console - decided to make a microphone.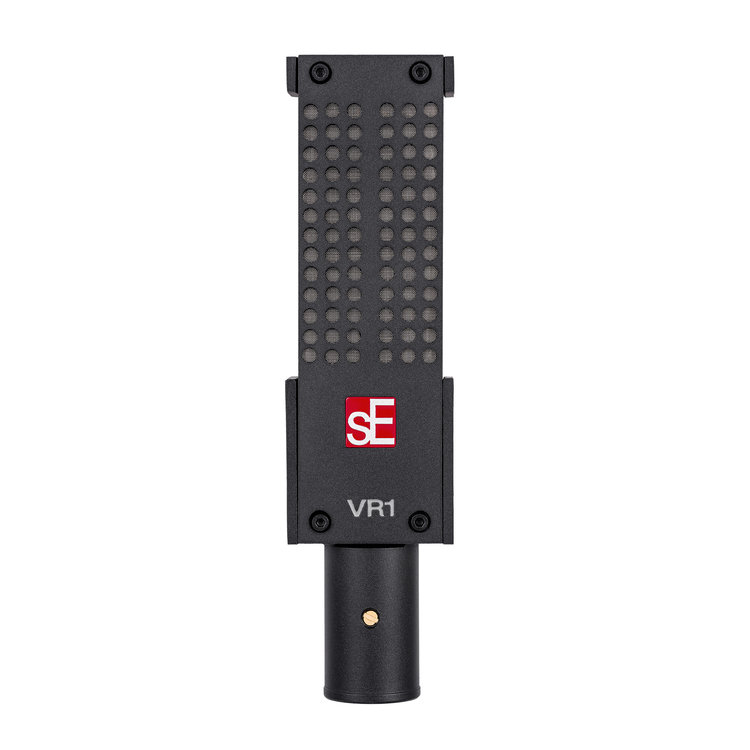 sE Electronics VR1
The VR1, a passive ribbon to bring out the bite and edge from your guitar cabs with no muddy highs. Until the VR Series, the only ribbon mic in the world to perform across 20Hz-20kHz was our own Rupert Neve collaboration, the RNR1. This was achieved using state-of-the-art custom transformers and a Rupert Neve-designed circuit to reveal HF usually absent.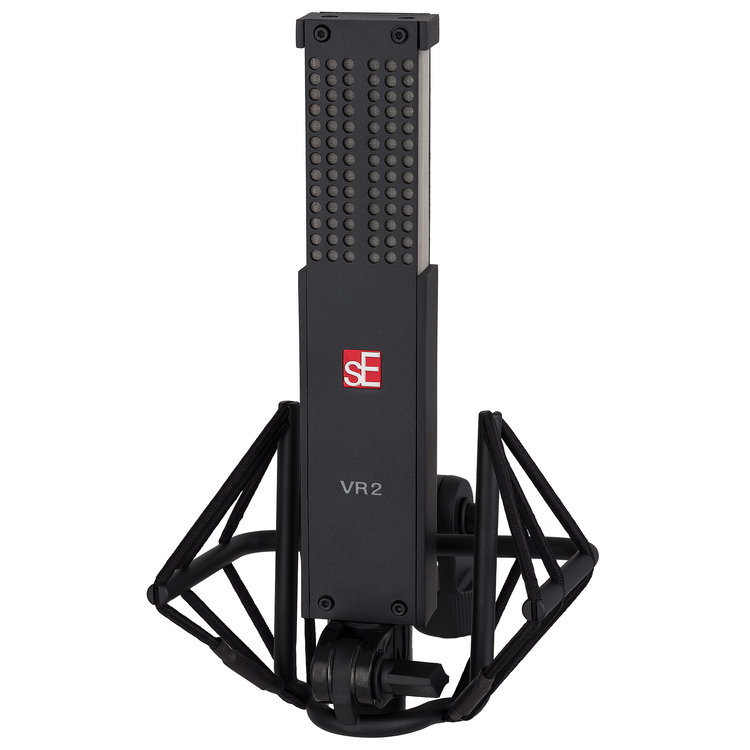 sE Electronics VR2
The VR2, an active ribbon that can take violins and voices right to the foreground of your listener's stereo. Until the VR Series, the only ribbon mic in the world to perform across 20Hz-20kHz was our own Rupert Neve collaboration, the RNR1. This was achieved using state-of-the-art custom transformers and a Rupert Neve-designed circuit to reveal HF usually absent.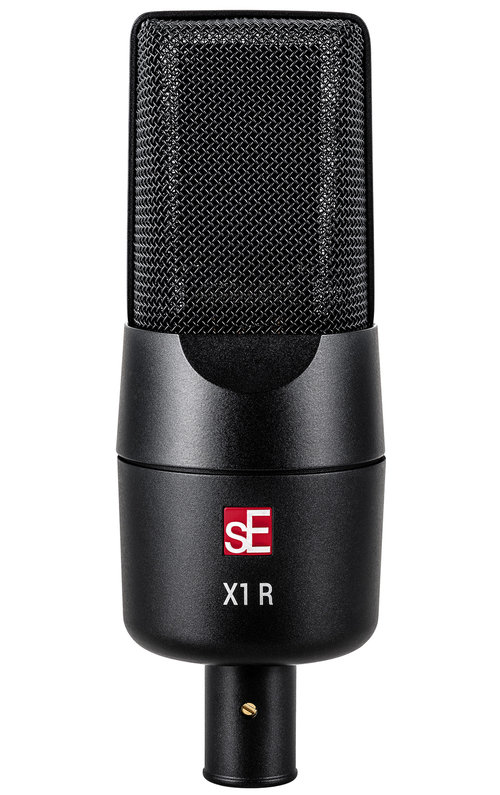 sE Electronics X1-R
A passive ribbon to bring out the midrange magic in your tracks. Drawing on some of the technologies in our VR1 & VR2 ribbon mics, the X1 R is a vintage-modern hybrid that provides all the inherent smoothness of a hand-crafted ribbon mic, but with more versatility, durability, and ease of use than the delicate ribbons of yesteryear.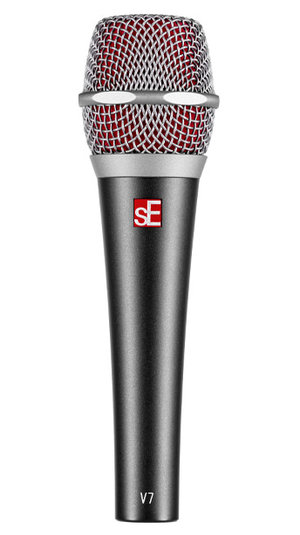 sE Electronics V7
The V7 is built to perform - and built to last. Reliable, rugged & roadworthy meets lush, vibrant & musical. Connect with your audience in a whole new way.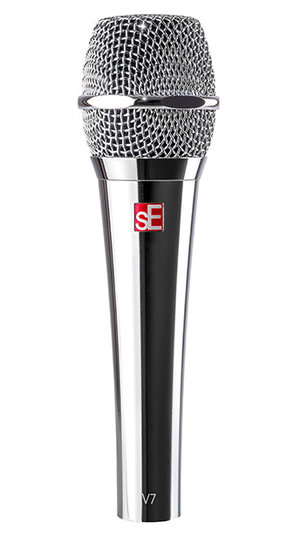 sE Electronics V7 Chrome
Like to sing? Here's some bling. The V7 Chrome is built to perform - and built to last.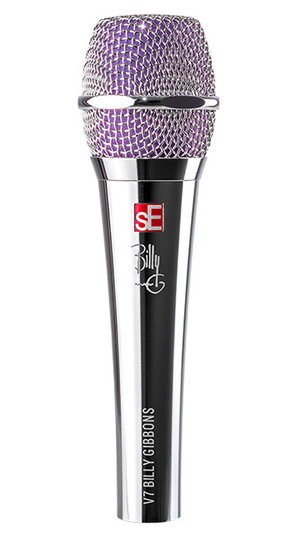 sE Electronics V7 Billy Gibbons Signature
Offering the same stunning sound quality as sE's highly-regarded V7, the V7 BFG is a dynamic vocal hand-held microphone with a supercardioid polar pattern, delivering a crisp, open sound that perfectly captures your voice in the most natural way you've ever heard on stage. The sophisticated capsule design helps isolate your voice from other instruments, ensuring vast amounts of gain before feedback, and its brand new, patented shockmount efficiently decouples the capsule from mechanical vibration, providing the lowest handling noise in its class.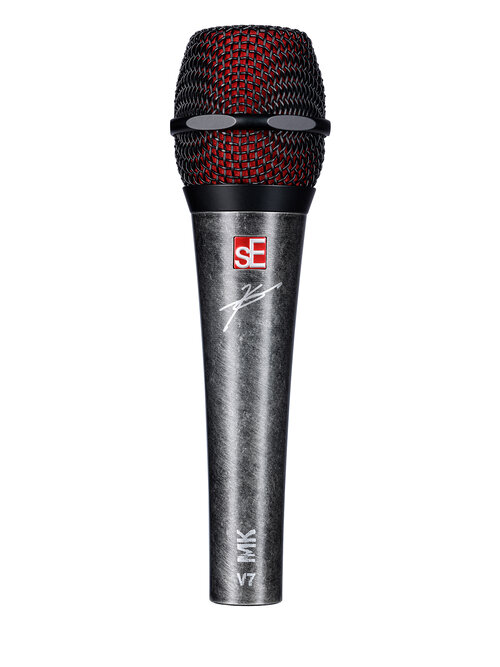 sE Electronics V7 Myles Kennedy Signature
This special edition V7 MK is the signature vocal microphone for the one and only Myles Kennedy. Best known as frontman for stadium-filling rock-acts Alter Bridge and Slash of Guns 'n Roses, has been touring the world for many years. His experience, and expectations, ultimately led to this cooperation featuring the very same capsule technologies found within the acclaimed V7, including its specialized aluminum voice coil for a crisp and open vocal sound. The V7 MK's sophisticated supercardioid capsule design features vast amounts of gain before feedback and helps isolate your voice from other instruments efficiently. This results in a much clearer sound no matter if you're playing big arenas or small clubs. It's narrow pickup pattern has proven to be a real lifesaver in loud clubs and noisy venues too.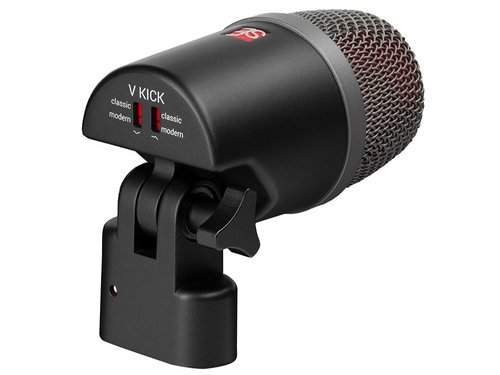 sE Electronics V Kick
The V KICK: Unbeatable punch & impact, with four custom voicings to cover any sonic need. From big band to metalcore, the V KICK has got you covered. The V KICK is the most compact and versatile drum microphone in its class, intended for use with kick (bass) drums and other sources such as miking bass guitar speaker cabinets, floor toms or other large drums where low-frequency energy is of the utmost importance. Its integrated swivel joint allows for any required mic placement, and its specialized capsule provides a sound character tailored specifically for kick drums, which can be further shaped with the use of two switches on the rear side of the microphone. From warm and classic to modern and aggressive, the V KICK gives you any kick drum sound you need.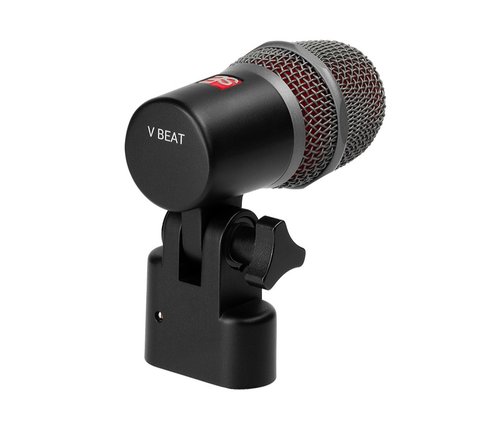 sE Electronics V Beat
Effortlessly amazing sound for any snare or tom drum, whether on-stage or off. The V BEAT is the most compact drum microphone in its class, intended for use with snare or tom drums. Unlike the V7, which is optimized for vocals, the V BEAT features the same high-grade sonic performance as the V7 X instrument dynamic, but in a dedicated low-profile & drum-friendly form factor. Tuned for instrumental use, it can also be used on sources such as electric guitar speaker cabinets or brass instruments.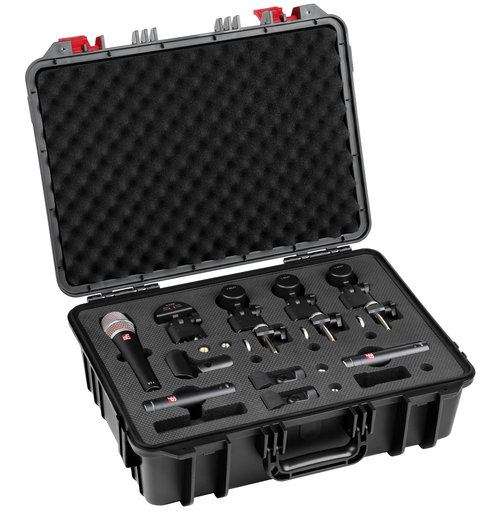 sE Electronics V Packs
The V PACK ARENA consists of one V KICK for your bass drum, three V BEATs and V CLAMPS for your toms, one V7 X for your snare, and a pair of sE8 condensers for your overheads. For smaller applications, the V Pack Club has V Kick, 2 V Beat w/clamps, V7 X, Pair of sE7All mics and accessories come securely packaged inside a robust and distinctive plastic flight case, with an empty space included to accommodate your favorite hi-hat mic.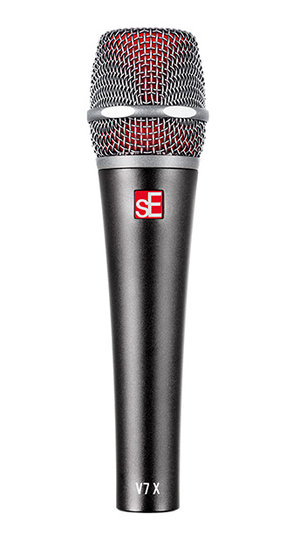 A supercardioid dynamic instrument microphone that lifts the sonic curtain in front of your sources, connecting listeners with your performance at a whole new level. The sibling to the acclaimed vocal-oriented V7, the V7 X is a dynamic instrument microphone ideal for a broad range of instrumental applications - both in the studio and on stage. Its specialized capsule's innovative aluminum voice coil and brand new acoustic design are specifically tailored for full-bandwidth instrumental reinforcement & recording, with a perfect balance of detailed highs and deep, ultra-powerful lows, allowing for use on nearly any source from electric guitar cabinets to brass instruments, snare drums to choir, and many more.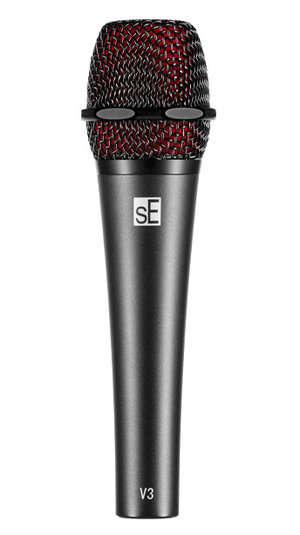 sE Electronics V3
The V3 is a rugged dynamic workhorse fit for absolutely any voice or instrument. Brilliant, reliable sound meets outstanding build quality.
Limited Edition Microphones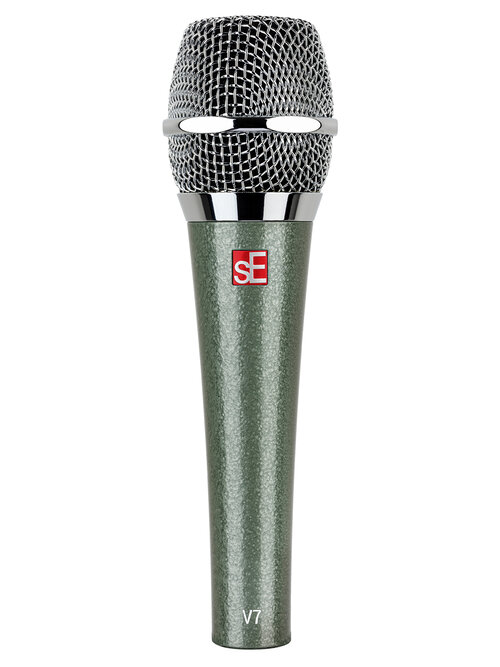 sE Electronics V7 Vintage Edition
Vintage look of the standard V7 Microphone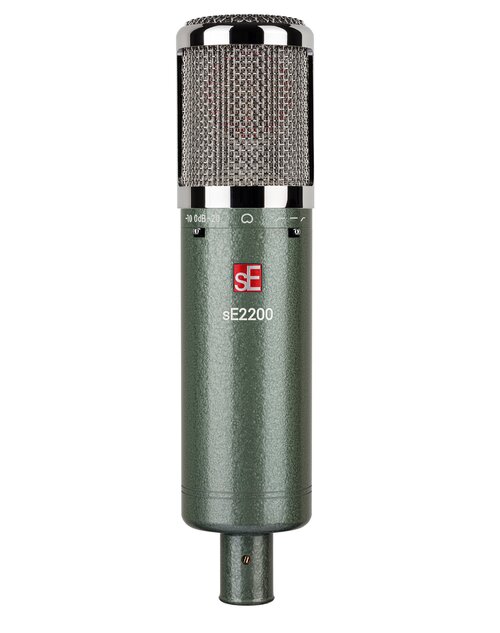 sE Electonics SE2200 Vintage Edition
Vintage look of the standard SE2200 Microphone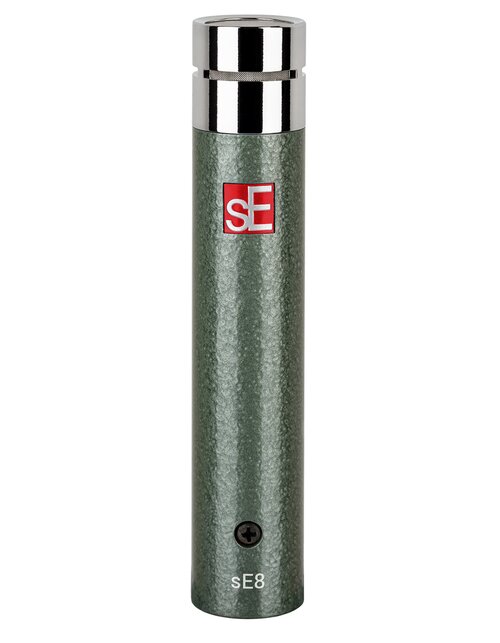 sE Electronics SE8 Matched Pair Vintage Edition
Same as the standard SE8 Pair, but with a vintage look.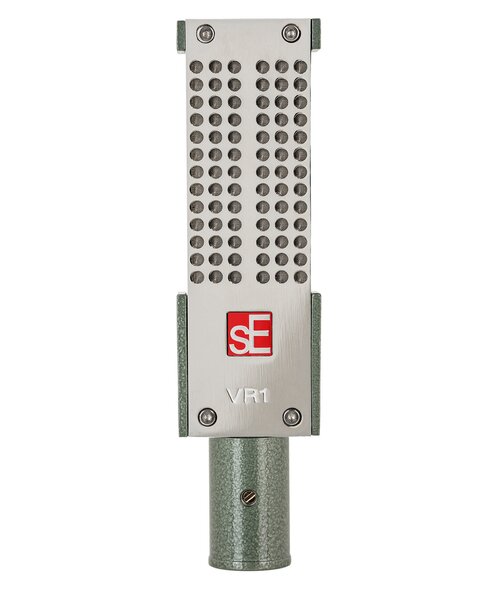 sE Electronics VR1 Vintage Edition
Same as the standard VR1 but with a vintage look.