Presonus Microphones

In 1995, PreSonus Audio Electronics, Inc was founded on the principle of designing innovative audio products that provide professional sound quality and features without sacrificing affordability. And for the last 25 years, their goal was simple: build innovative solutions for musicians, content creators, producers, and audio engineers. Today, PreSonus is a leading designer and manufacturer of both recording and live-sound hardware and software solutions that solve real-world problems for real working creatives.

**PLEASE NOTE**:Not every item on this page is in stock at all times. Some models we offer by special order only. Others are on back order with the vendor. Please email us to check availability of any product shown here.
---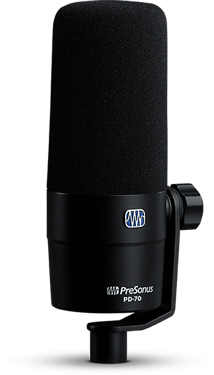 PreSonus PD-70 Dynamic
Get professional broadcast quality for your vocal recordings with the PD-70 dynamic microphone. Whether you're a singer, podcaster, or content creator, the PD-70 captures your vocal tone with warmth and clarity, all while rejecting the ambient sound of your environment—so only your voice shines through.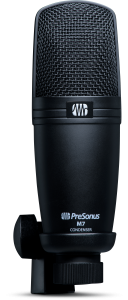 PreSonus M7 Condenser
Designed for musicians and performers who need great audio quality on a budget, the M7 is an ideal all-around recording solution for entry-level podcasters, singers, and musicians. The M7 boasts a warm frequency response that flatters the human voice. And thanks to the M7's cardioid polar pattern, the M7 will brilliantly record the sounds you point it at, while downplaying the sounds you don't. Last but not least, the M7 can rock hard when asked: Its 134 dB of SPL handling lets it wrangle loud instruments like cracking snare drums or electric guitar amps worry-free, something more expensive mics can't always do. A hard mount, carrying case, and 10-foot XLR cable round out the M7 package, so you're ready to start producing right out of the box!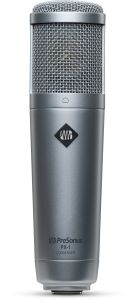 PreSonus PX-1 Large Diaphragm Condenser
Designed for musicians and performers who demand outstanding audio quality, the PreSonus® PX-1 cardioid condenser microphone is an ideal solution for recording vocals, guitar, podcasts, and much more. A true large-diaphragm condenser microphone, the PX-1 features a 25 mm, gold-sputtered capsule designed to provide exceptional clarity throughout its frequency response range. Rugged construction and top-quality performance specifications make the PX-1 large diaphragm microphone an excellent addition for any home recording or streaming studio.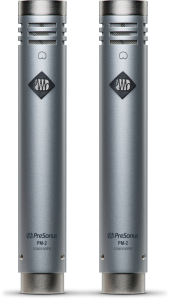 PreSonus PM-2 Small Diaphragm Condenser Pair
Ideal for stereo recordings of acoustic instruments, drum overheads, ensembles, and more, the PreSonus® PM-2 stereo microphone set provides the tools you need to create professional results. Each PreSonus PM-2 small-diaphragm cardioid condenser microphone is equipped with a ¾-inch, gold-sputtered capsule housed in an ultra-light chassis, making it easy to perfectly position your microphones without fighting gravity. Sold as a sonically matched pair, the PM-2 comes equipped with a stereo bar for XY mic placement. PM-2 microphones can be used together or individually, making them an excellent addition for any home or professional recording environment.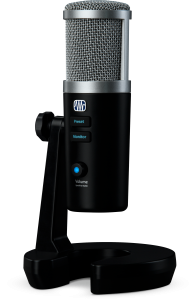 PreSonus Revelator USB
Every musician knows the secret to a great sound is a great microphone, and at its core, Revelator™ delivers the professional performance you'd expect from a studio microphone. But we didn't stop there. Revelator's mixer features compression and EQ modeled on world-class analog processors. An independent reverb bus lets you add just the right amount of shimmer to your sound. Two stereo loopback channels make it easy to add backing tracks and more. When you're looking for the ultimate live streaming and home recording set-up for singer-songwriters, look no further than Revelator.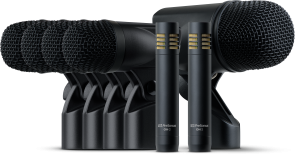 PreSonus DM-7 Drum Mic Set
The key to a great acoustic drum kit sound is to capture each element individually so that you have the most control over your mix. The PreSonus® DM-7 drum mic set gives you everything you need to authentically capture your drum kit and just about any other instrument you like. Starting with the foundation, the BD-1 kick drum mic provides a unique frequency response to capture both the boom and the attack of your kick drum for tight, robust sound. The four ST-4 microphones will bring out the best in toms and snare drums while staying out of the drummer's way, thanks to included, adjustable rim mounts. To capture the sizzle of your cymbals and the ambiance of the room, use the two OH-2 small-diaphragm condensers to add space and movement to your drums. It all adds up to a useful and versatile assortment of microphones, included mounts and a hardshell carrying case.

PreSonus PRM-1 Reference Condenser
The PRM1 Precision Reference Microphone is a special type of microphone that provides an accurate reproduction of a room's sound characteristics for use with audio-analysis tools. It employs a ¼-inch, pre-polarized, electret-condenser capsule with an omnidirectional polar pattern, which allows the microphone to measure reflections, as well as direct signals up to 132 dB SPL. The PRM1 has an all-metal chassis and comes with a clip, foam windscreen, and hard case.