Novation Keyboards and Controllers

Novation offers a broad range of appealing synths and controllers; keyboards, groove boxes, and launchpads.

**PLEASE NOTE**:Not every item on this page is in stock at all times. Some models we offer by special order only. Others are on back order with the vendor. Please email us to check availability of any product shown here.
---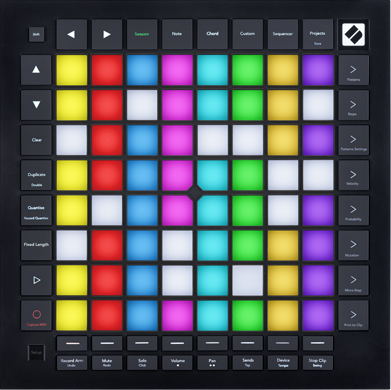 Novation Launchpad Pro
Made to produce. Launchpad Pro is Novation's most powerful 64-pad MIDI grid controller for producing: both in Ableton Live and with your hardware. It gives you everything you need to create and perform your tracks.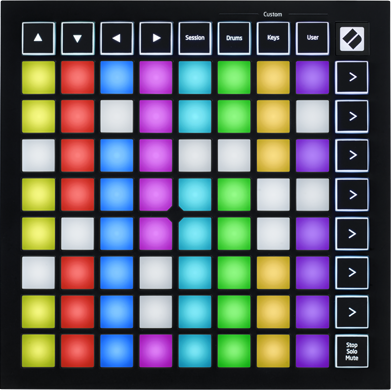 Novation Launchpad Mini
Launchpad Mini is Novation's most compact and portable 64 RGB pad MIDI grid controller. It gives you everything you need to start performing in Ableton Live - and it'll fit in your bag. Start making and performing tracks with Ableton Live wherever you are, using the huge array of sounds in the box to get you started.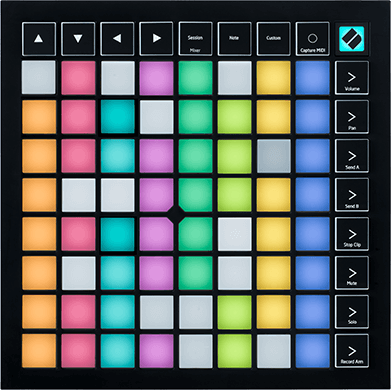 Novation Launchpad X
Made to perform. Launchpad X is Novation's essential 64-pad MIDI grid controller for Ableton Live. It gives you everything you need to make music. Launch, play and perform your sounds and build your tracks using the large, super-sensitive RGB pads, dynamic note and scale modes, and mixer controls.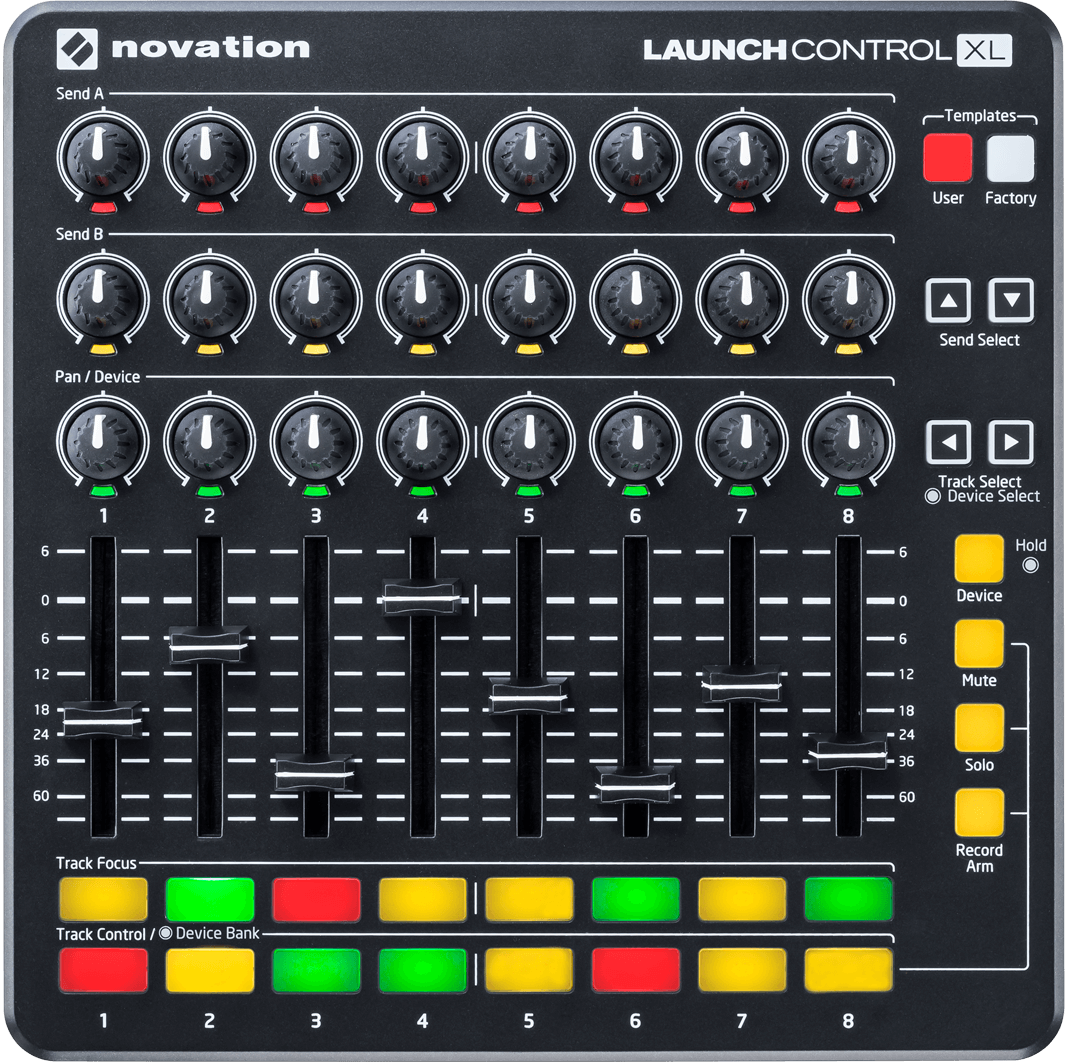 Novation Launch Control XL
Ultimate Control Over Ableton Live. Launch Control XL is the ultimate controller for Ableton Live. It helps you focus more on your music and less on your laptop, by providing 16 buttons, 24 knobs and eight faders, all of which integrate seamlessly with Live to give you total hands-on control. When combined with Launchpad's intuitive 64-button grid, Launch Control XL provides extraordinary simultaneous control over Ableton Live's session view, mixer, effects and instruments. Crafting the perfect mix has never been easier!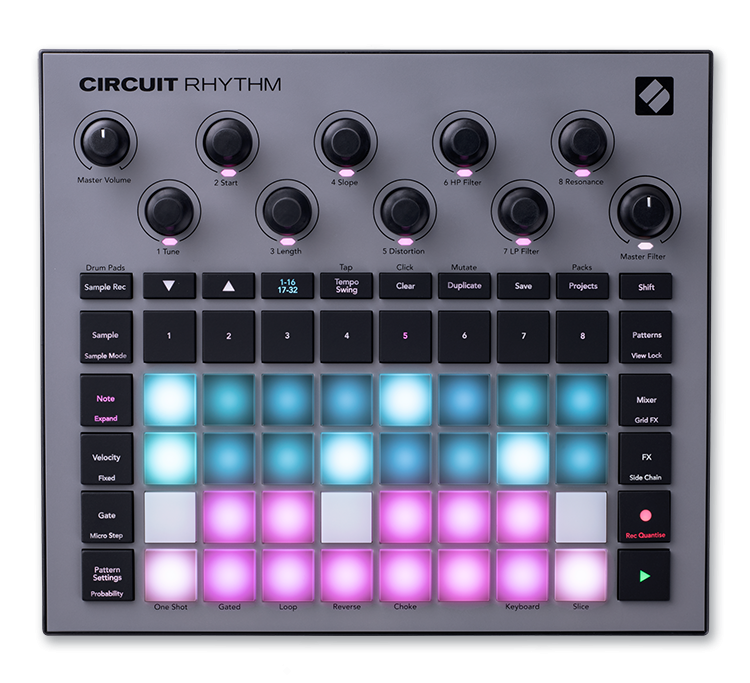 Novation Circuit Rhythm
Sample. Make beats. Perform. Circuit Rhythm is a versatile sampler for making and performing beats. Record samples directly to the hardware, then slice, sculpt and resample your sounds effortlessly. Capture your groove quantised or off-grid into the sequencer, and layer up across eight sample tracks. Invigorate your live set with performance FX: embrace imperfection with lo-fi tape, stutter your mix with beat repeat, and more. Integrate Circuit Rhythm into your studio, or unplug and create anywhere utilising the built-in rechargeable battery.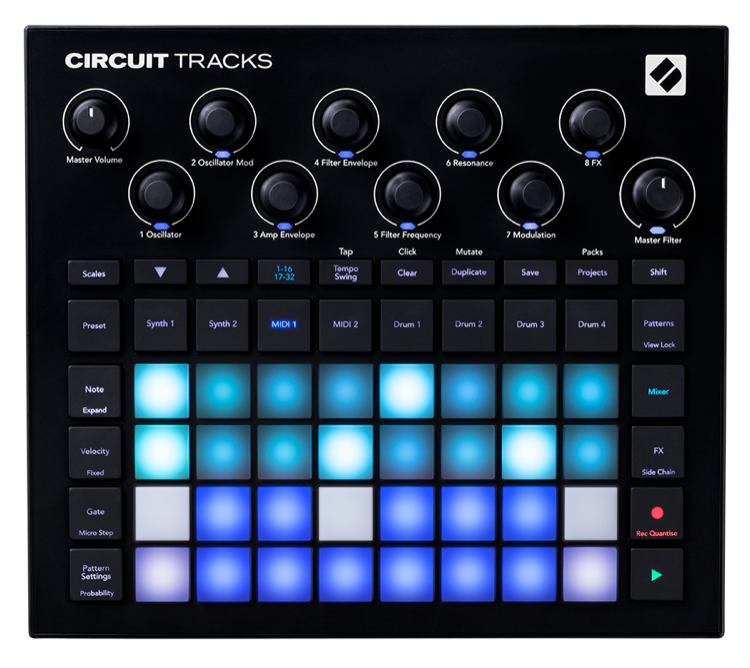 Novation Circuit Tracks
Create instinctively. Perform immediately. Circuit Tracks is an extraordinary standalone groovebox for the modern producer. With two refined polyphonic digital synth tracks, four drum tracks, creative FX and on-the-go capabilities, it's the perfect hands-on device for the agile music maker.

Novation Summit
Novation's flagship two-part 16-voice 61-key polyphonic synthesiser. Summit's digital New Oxford Oscillators offer subtractive, FM and wavetable synthesis, and feed into genuine analogue dual filters, distortion and VCAs. The multitimbral engine enables merging and combining of two complete and independent patches, while up to 16 simultaneous voices deliver enough harmonic depth for even the richest of pads.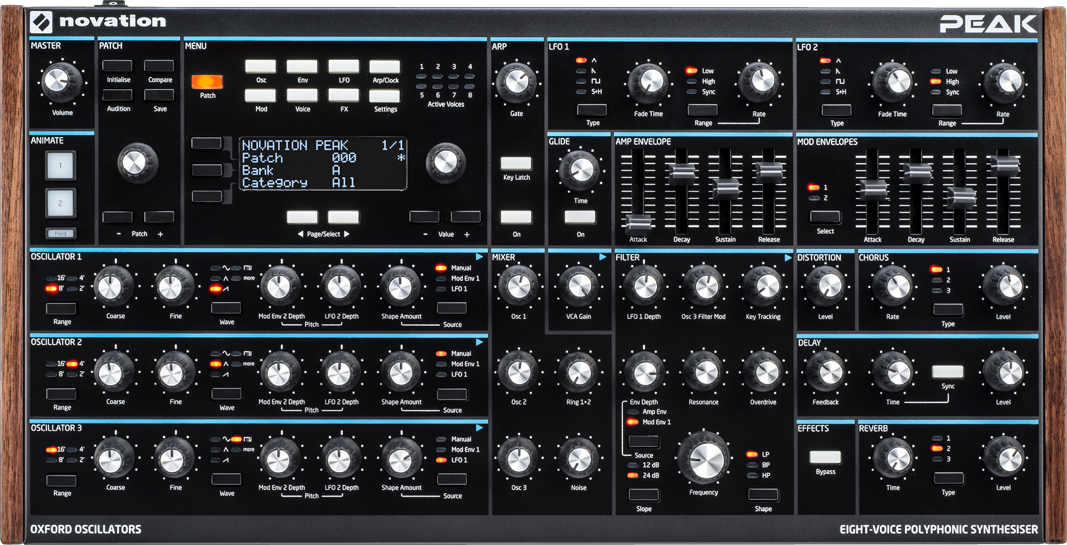 Novation Peak
Eight-voice polyphonic synthesiser. Peak sounds warm and rich with filthy, biting overdrive. It's an eight-voice desktop polyphonic synthesiser with three New Oxford Oscillators for each voice. The synth has a resonant multi-mode analogue filter for each voice, and three distortion points in an analogue signal chain.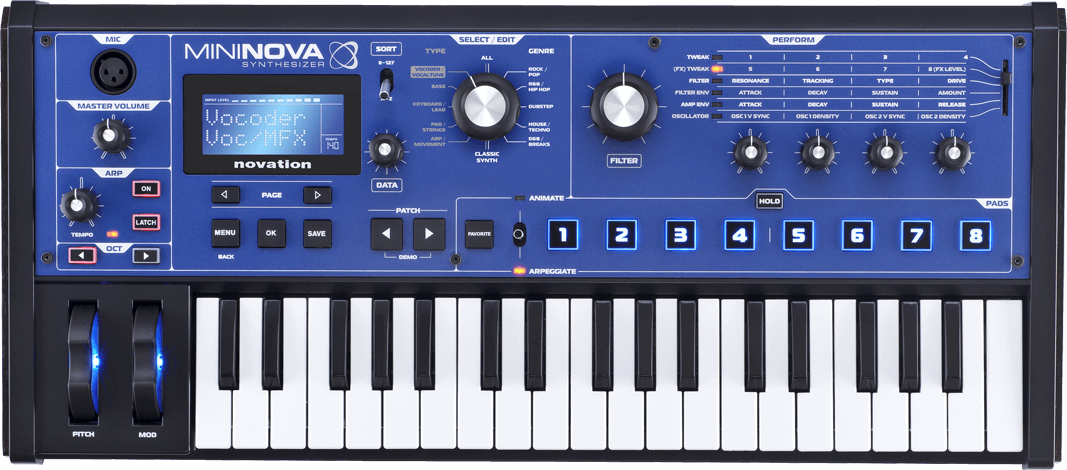 Novation Mininova
Big Sound, small synth. Don't let its size fool you; MiniNova has the most powerful sound engine and effects of any micro synth. More polyphony, more filters, more effects, more modulation. Every sound has easy access to almost limitless variations, which you can subtly tweak or totally warp with the twist of a knob or the touch of a button. Create all the dirty-fat bass, soaring leads, lush pads and vintage sounds you could possibly want - but on a tough and compact 37 mini-key synth.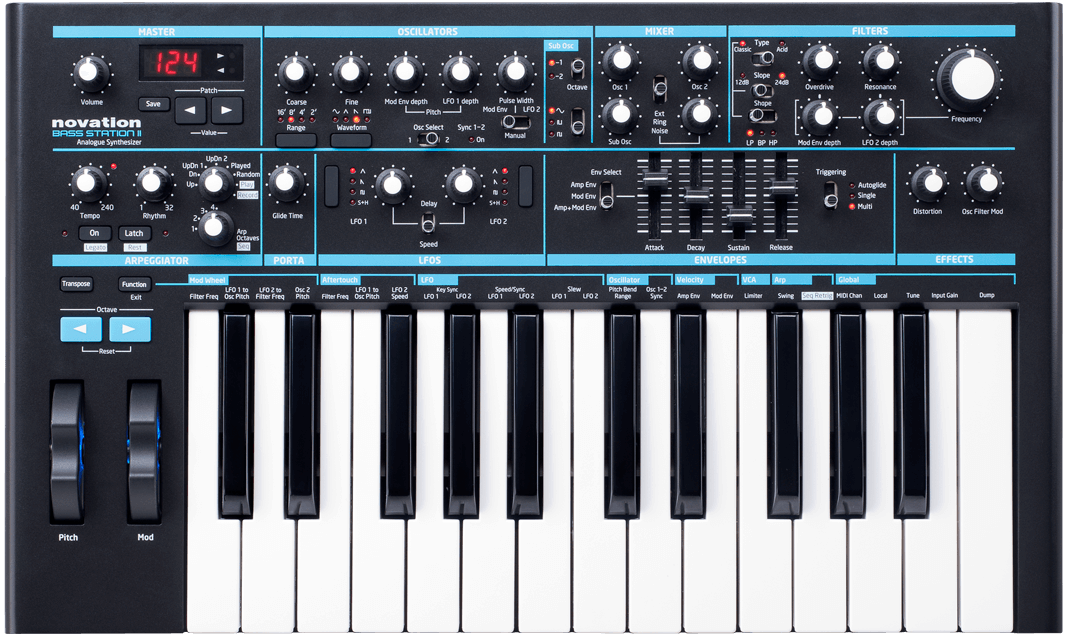 Novation Bass Station II
The analogue monosynth reborn. Nothing out there sounds this warm, fat and dirty. Bass Station II is our pure analogue monosynth. We based it on our classic Bass Station, then enhanced every area to make it even bigger, angrier and more versatile. It has two tuneable oscillators, a sub-oscillator for enormous bass, plus noise and ring modulation. It also gives you two distinct analogue filter types: the classic multi-mode filter and a new acid filter, for a massive variation in sonic possibilities.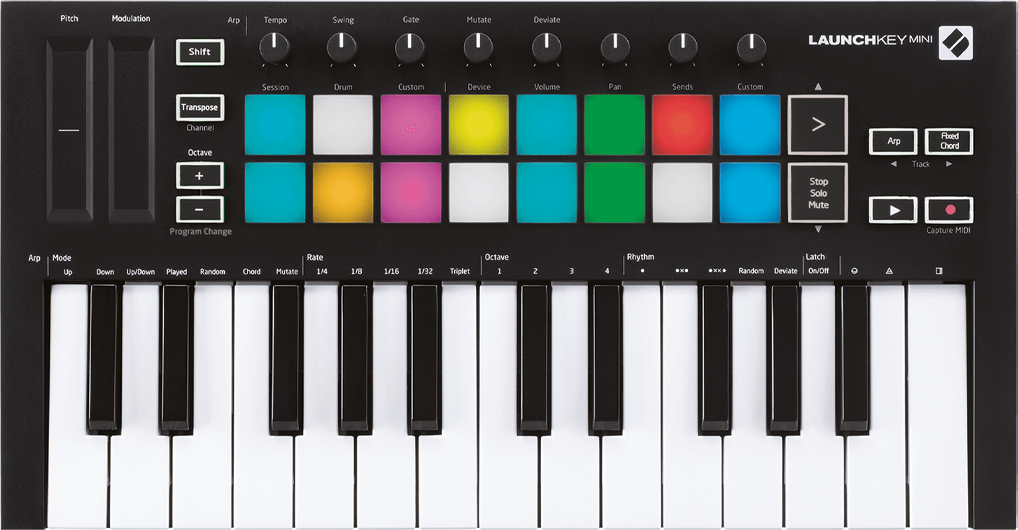 Novation Launchkey Mini
Made To Move. Launchkey Mini is Novation's most compact and portable 25-mini-key MIDI keyboard controller. It gives you everything you need to start creating in Ableton Live – and it'll fit in your bag. Make tracks anywhere with Launchkey Mini's intuitive Ableton control, creative arpeggiator, Fixed Chord mode, MIDI out, and tons of sounds in the box.
Novation Launchkey
Made To Create. Launchkey is our intuitive and fully integrated MIDI keyboard controller for making tracks in Ableton Live, designed to give you everything you need to create and play your music. Made for creators of all abilities, Launchkey gives you inspirational tools to expand your musical vocabulary. Scale and Chord modes and a powerful arpeggiator push your musical creativity and help start new ideas. Custom Modes and a full-size MIDI output transform Launchkey into a powerful centrepiece of any music-making setup.
Novation SL
SL MkIII is far from your typical keyboard controller. It's an all-sequencing, all-dancing hub for all of your music making tools. A centrepiece to connect, control and create with your entire setup. Computer or not. Create quickly and easily with your hardware. Build your tracks in the eight-track polyphonic sequencer: everything in time; everything in key; every control at your fingertips. Available in 49 and 61 key versions.

Novation Impulse
Get More Creative. Impulse is Novation's ultra-responsive and expressive keyboard with loads of fully assignable controls. Designed for people who love to play keys, it's a pleasure to play and integrates seamlessly with Ableton Live, Logic Pro, Pro Tools and other major music software.