Appsys Pro Audio

Appsys was founded in 2007 in Zurich, Switzerland with products manufactured in Germany. They offer unique solutions to bridge the gap between various industry audio standards.
---
Digital Format Converters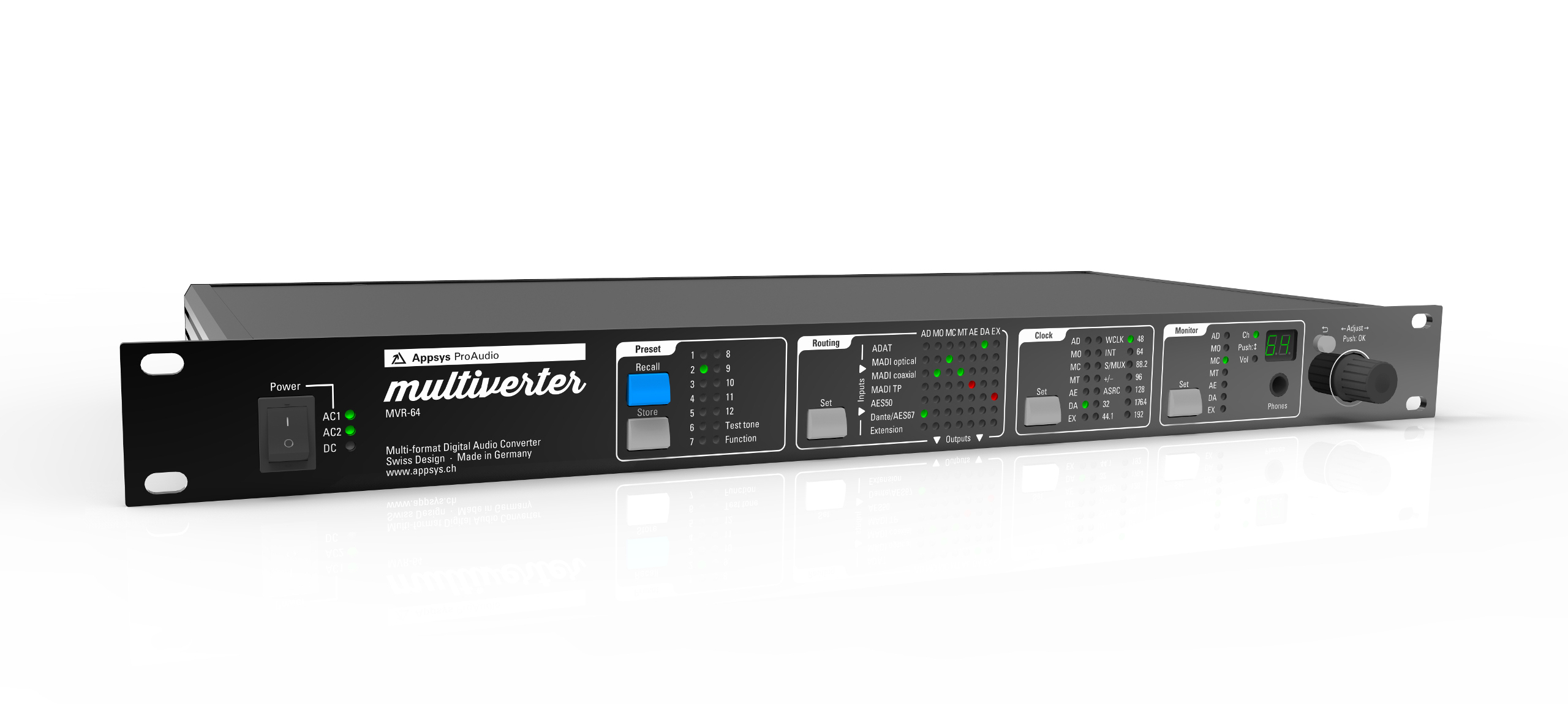 Appsys MVR-64 Multiverter
The universal format converter: Everything in 1U! This unique piece of hardware is able to convert between an impressive selection of digital interfaces - any to any, all at once. Supported Audio Interfaces; ADAT (8x), SPDIF/AES3 optical, MADI optical, MADI coaxial, MADI-TP (up to 2 ports), AES50 (up to 2 ports), Dante / AES67, and many more via breakout boxes (currently planned: Waves Soundgrid, AVB, AES3). Key features; 64x64 channels on each interface with channel-wise routing/splitting between interfaces, Integrated headphone amp, Asynchronous sample rate conversion, Fully remote-controllable via web, telnet and USB, Extensible to future interfaces via break-out boxes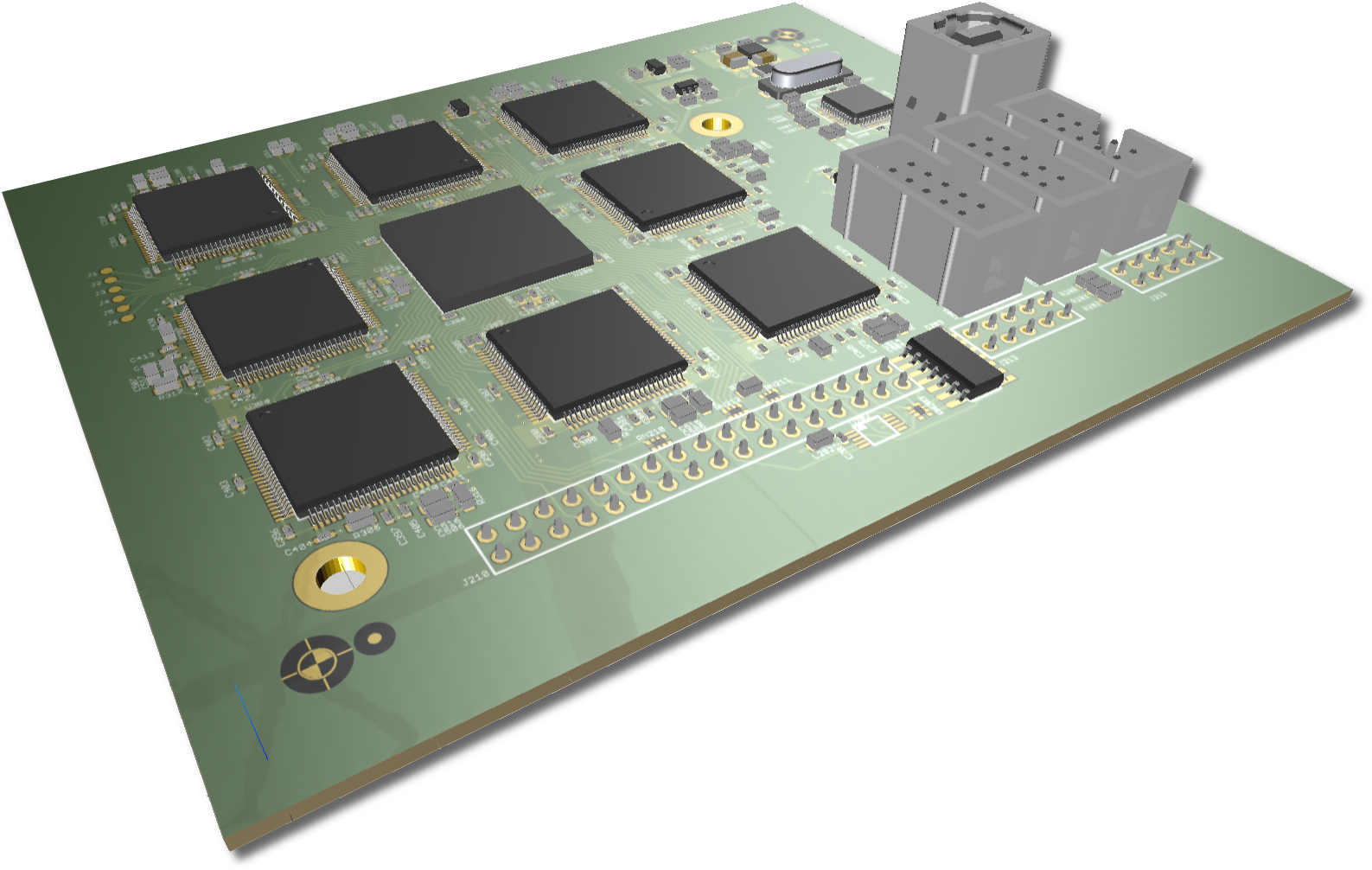 Appsys SRC Addon
Convert sample rates between all of your interfaces! To add even more power to your multiverter , a sample rate converter hardware module is available. It features 64x64 channel bi-directional, asynchronous sample rate conversion between two arbitrary sample rates and interfaces. Finally you can convert 96kHz streams into 48kHz and vice versa, or accept any incoming signal without caring about the master clock!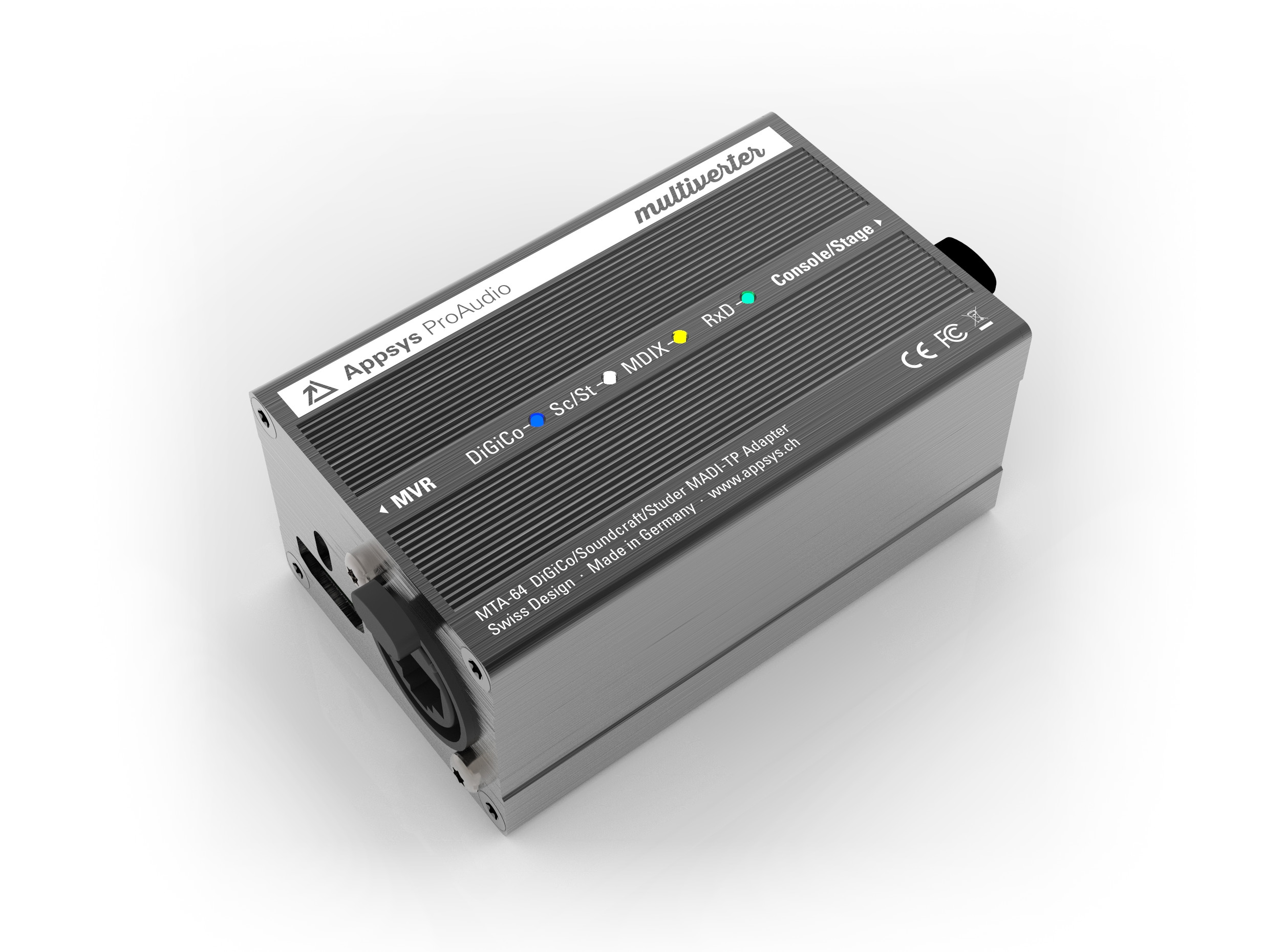 Appsys MADI TP Addon
Connect directly to your console's MADI-TP. With the MTA-64, the multiverter becomes capable of connecting to the MADI-TP (MADI over Twisted Pair) variants used in DiGiCo and Soundcraft/Studer/Harman desks. It's simply connected between the MVR-64's MADI-TP port and your console or stagebox and adapts signal levels and pinouts to your needs. What's more: you don't need any special crossover cables thanks to internal MDIX logic - any standard 1:1 Cat5 cable will do, no matter if you want to connect to your console or the stagebox.
ADAT Extenders, Splitters and Repeaters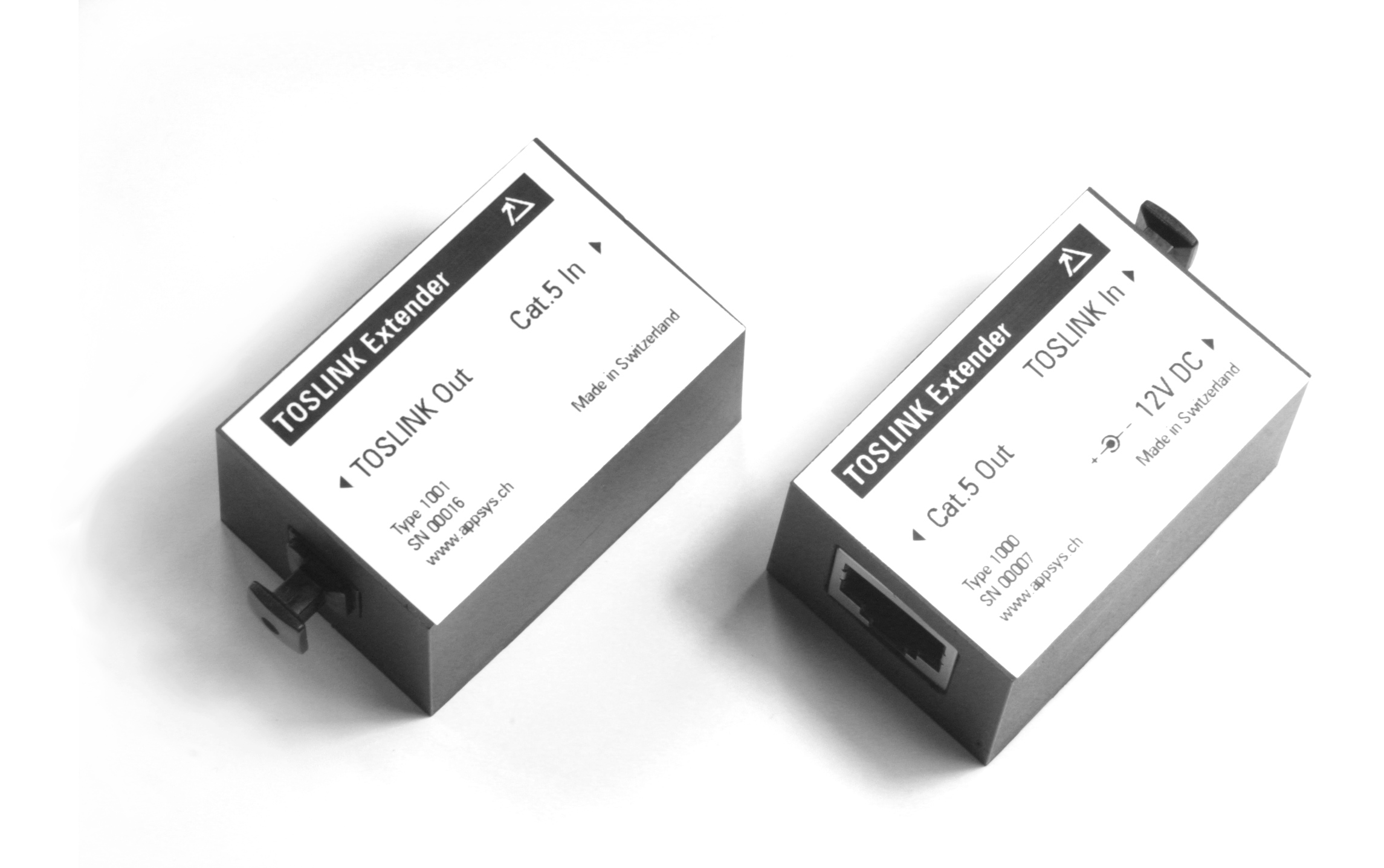 Appsys ADX-8 ADAT Extender
Send ADAT over Cat5, up to 100 meters. Without any kind of compression or other potentially sound-degrading conversions, the input signal is 100% bitwise transmitted in real time to the output. Ideally suited for connecting your PC to your HiFi equipment, for upgrading your network cabling to a true HiFi-capable sound bridge, or to listen to music in uncompromising quality anywhere you can reach with standard network cabling. Or use the extender in your recording studio to overcome the 5 meter length limit of ADAT connections!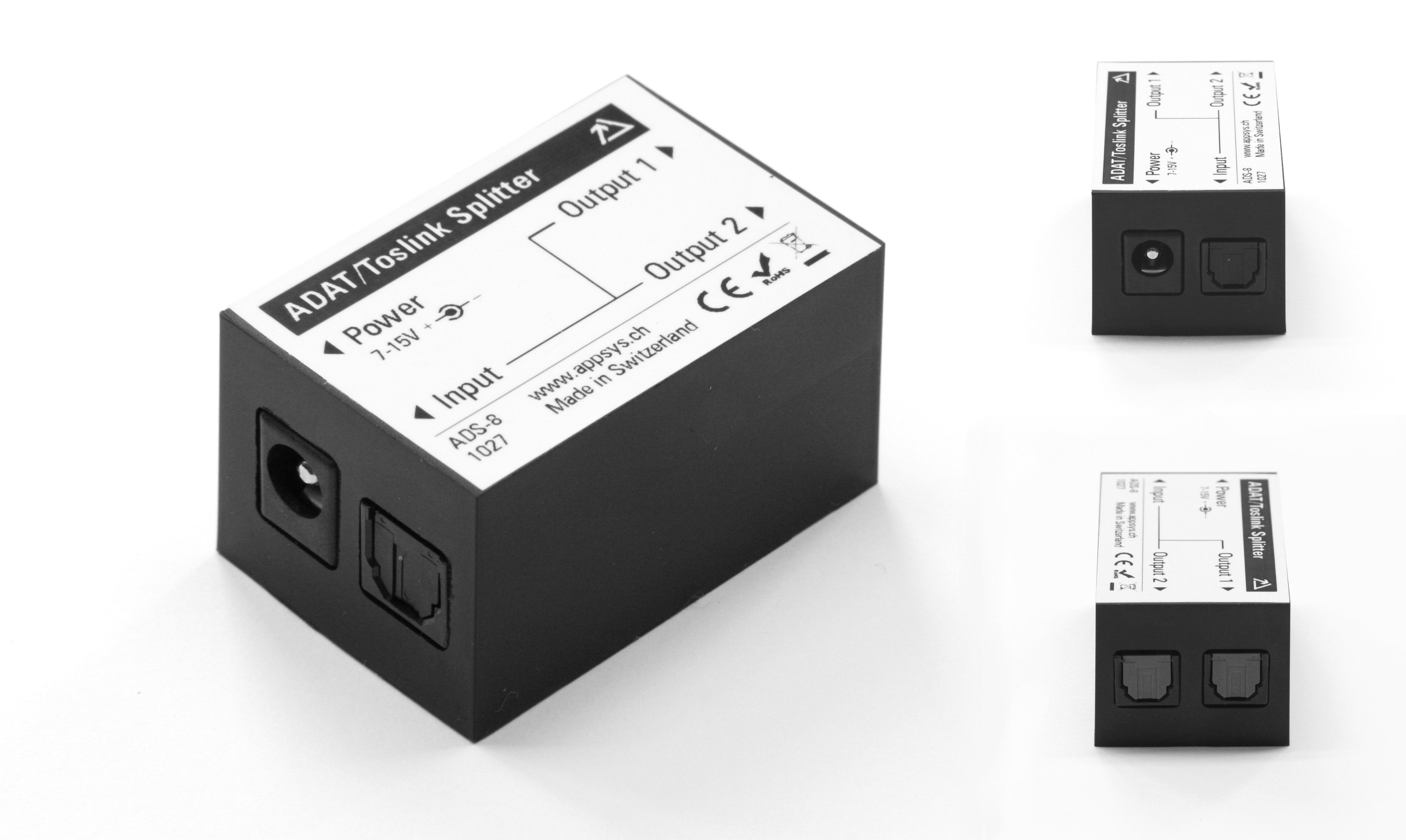 Appsys ADS-8 ADAT Splitter
Active ADAT/Toslink-Splitter & Repeater. The ADS-8 ADAT/Toslink Splitter allows you to connect any signal source to two sinks. The active design overcomes the limitations of traditional passive splitters: They essentially half the amount of light on each output, causing problems because the attenuated signal is too weak for proper transmission of high-speed data. In contrast, the ADS-8 receives the optical signal, converts it to an electrical signal which can be split without loss to the out put transmitters which operate on each port with full power. As a side effect, it acts as signal repeater which doubles the reach of each connection.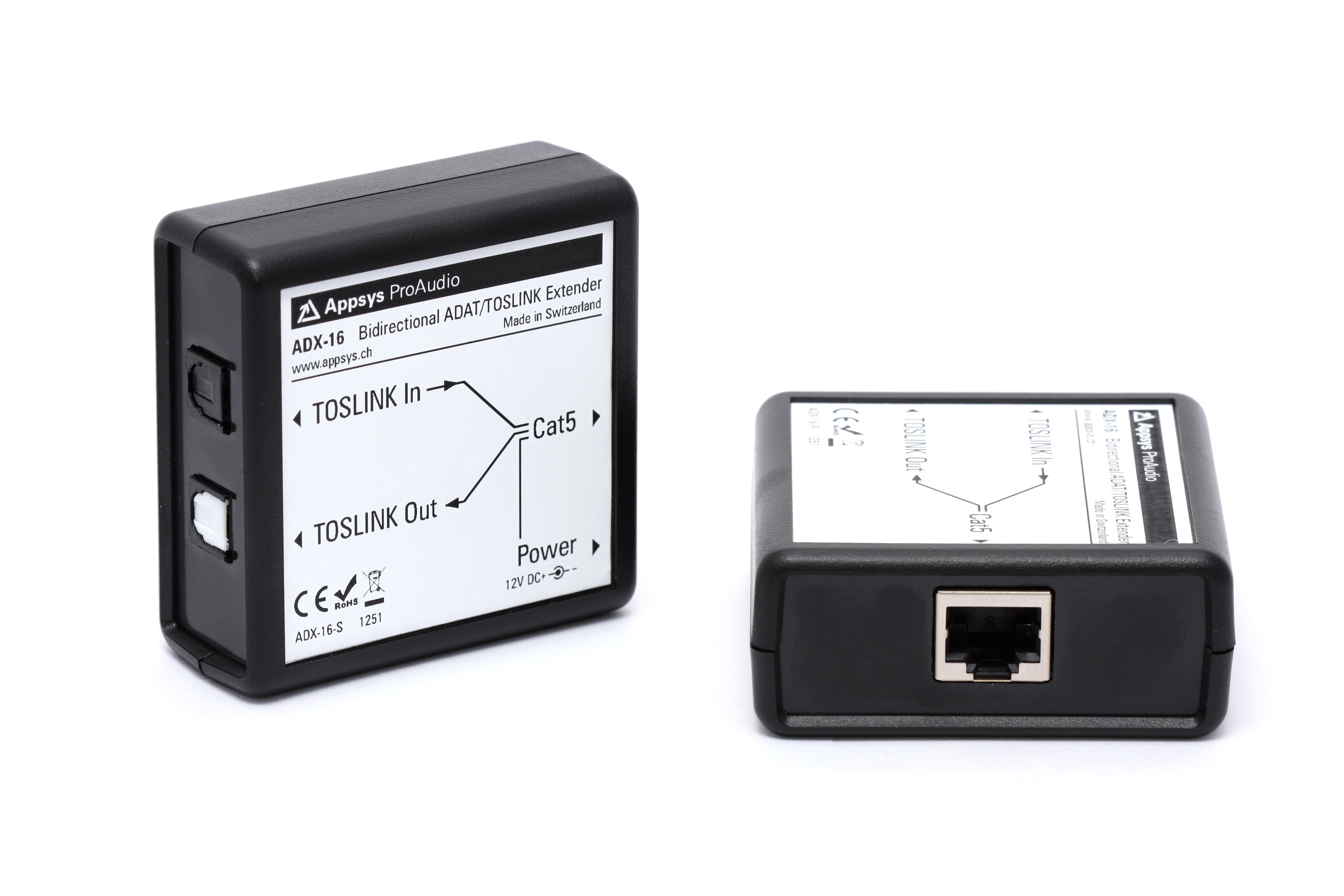 Appsys ADX-16 ADAT Extender Bidirectional
Bidirectional ADAT/TOSLINK Extender Kit. The ADX-16 Kit has been designed to overcome the length limitations (5m/16 ft) of optical TOSLINK® interconnects running ADAT Lightpipe®, S/PDIF® and other protocols. The kit enables you to run two TOSLINK connections (one in each direction) over a single Cat5 cable and up to 100m / 330ft. in length, opening up a range of new possibilities (e.g. for audio distribution within a building).