Phil Jones Amplification
---
Phil Jones has become a top choice for Bassists and other musicians who need ultra-portable, high-end performance.

**PLEASE NOTE**:Not every item on this page is in stock at all times. Some models we offer by special order only. Others are on back order with the vendor. Please email us to check availability of any product shown here.
---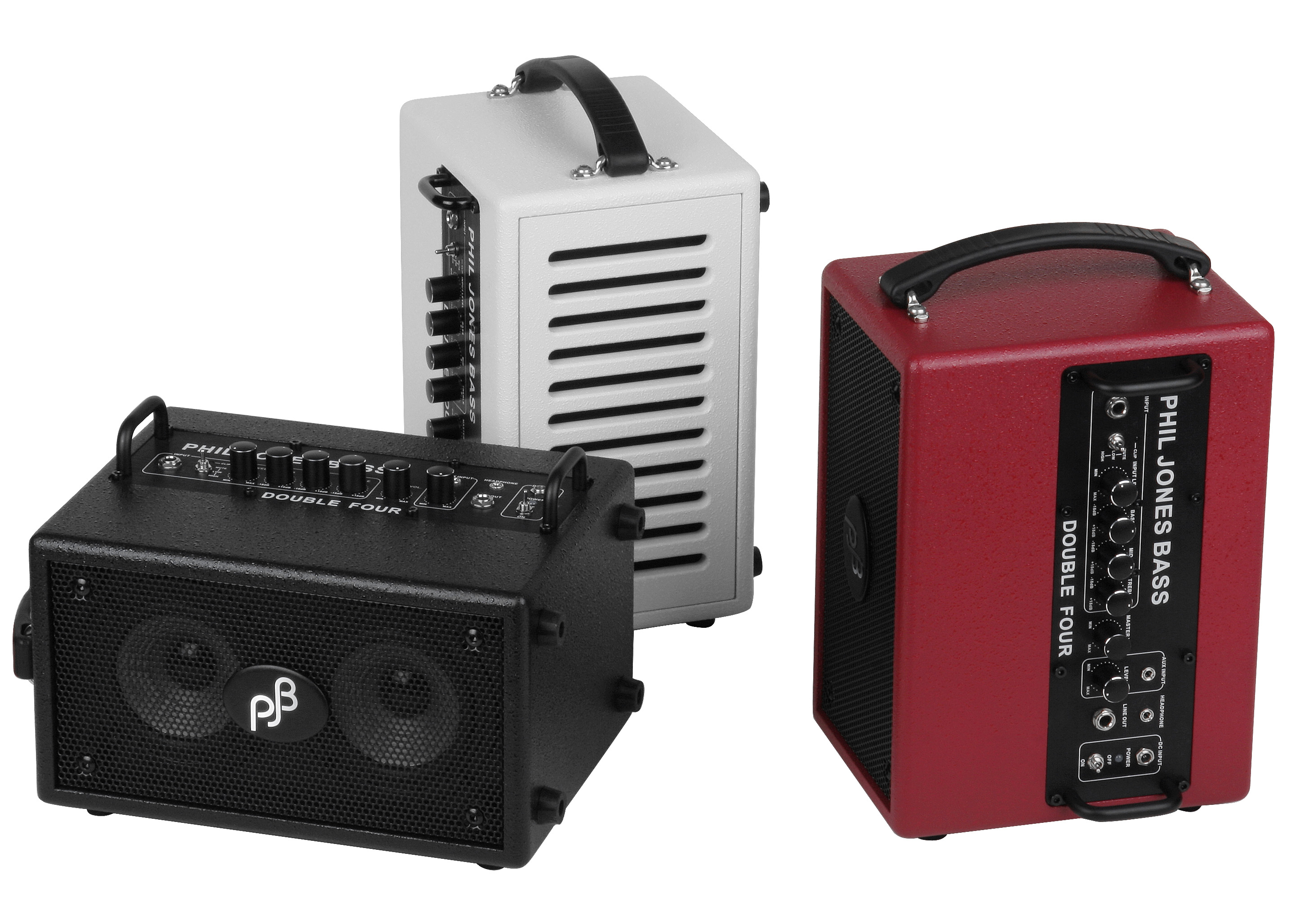 Phil Jones Double 4
The DOUBLE FOUR is a single channel bass amplifier that has an auxiliary input for ipad/ipod, mp3 or drum machine. It features 3 band EQ that is perfectly tailored for bass guitar, headphone out jack and a line out for recording. It is ideal for all kinds of basses and can handle the open B string on a 5 string bass with ease. The cabinet may be as small as a shoe box but it is built to the same standards of all PJB cabinets, heavily braced internally and damped with acoustic damping materials to prevent cabinet coloration that can kill the true sound of your instrument. What you hear from the DOUBLE FOUR is the closest you can get to how your instrument actually sounds. The DOUBLE FOUR may just be a practice amp but it does not mean that it has to sound like a practice amp. The sound is huge for its size and you may find it hard to believe that all the sound from your bass is just coming out of such a tiny jewel box. 70 Watts. 8.8 Pounds.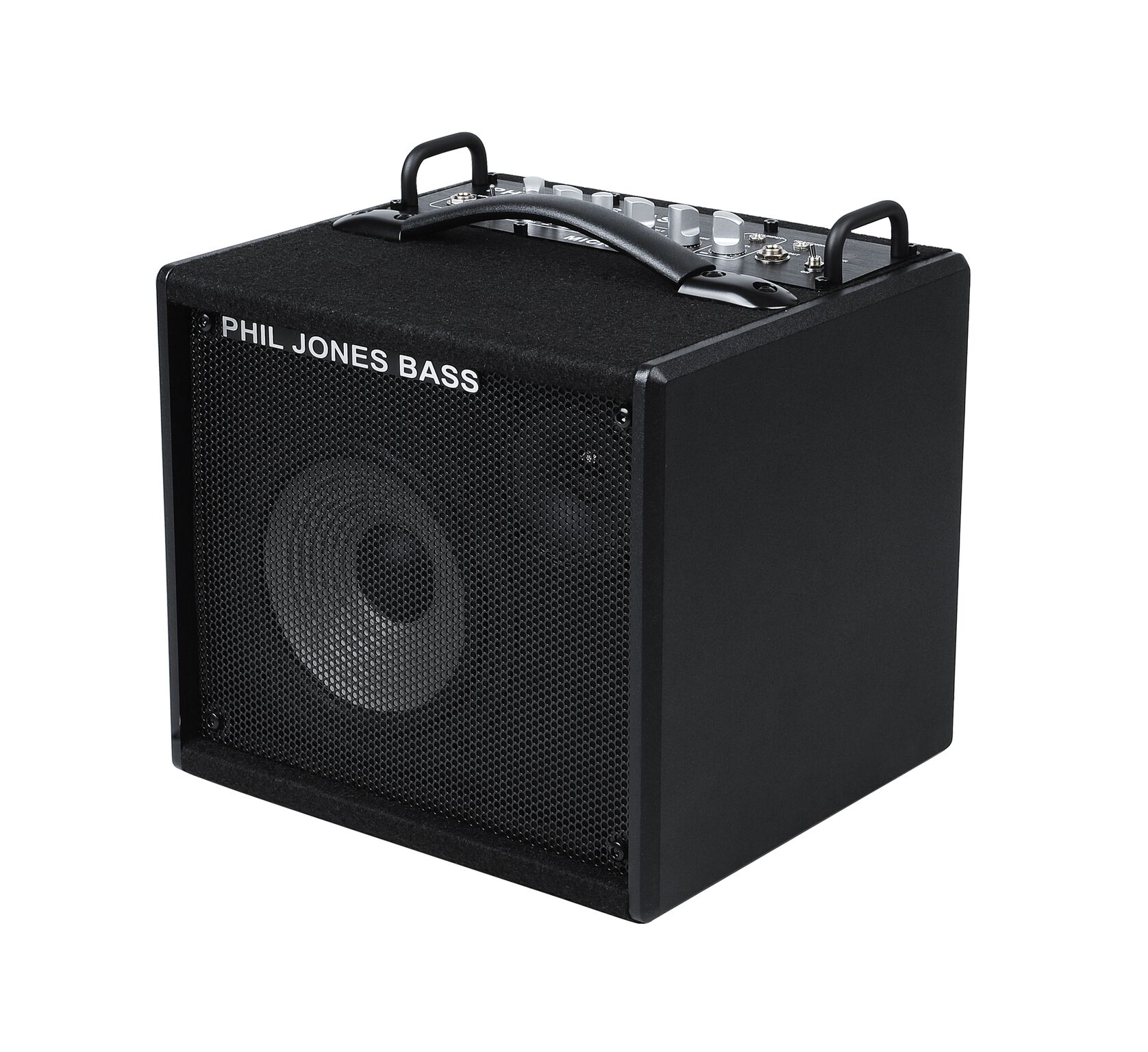 Phil Jones Micro 7
Tone-to-go just got more portable and affordable with the Phil Jones Bass MICRO 7 combo. The MICRO 7 is a single channel 50 Watt bass combo with a 7" driver and 3" tweeter. It measures less than a foot on all sides and weighs only 15 lbs. It is the most affordable and compact combo from PJB yet.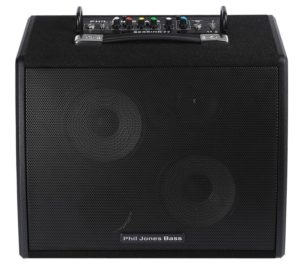 Phil Jones Session 77
By using all digital circuitry, the amp will work on any AC voltage from 100 to 260 Volts without a voltage selector. It features a single channel pre amp with a 3-band EQ. It also has a separate auxiliary input for backing tracks. The combination of the two proprietary 7 inch speakers and a 2 inch tweeter gives full range reproduction of all basses with stellar clarity. The Session 77 is the result of our effort to build a budget conscious amp without giving up our quest for quality. Focusing on the most basic needs of most bass players, we achieved the goal of having the best sounding, most reliable amp at an unbeatable price. 100 Watts. 28 Pounds.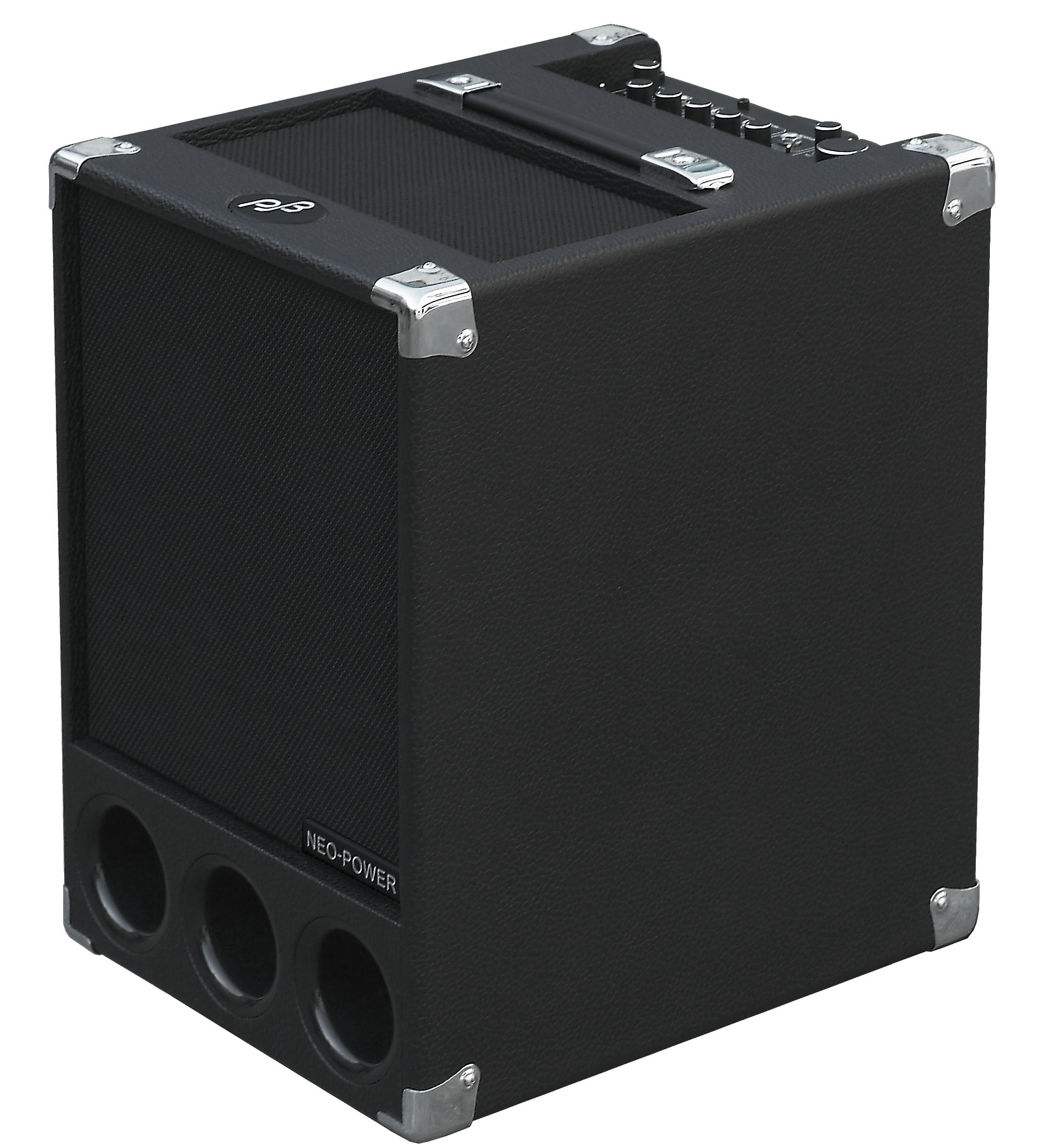 Phil Jones Bass Super Flightcase
Like its smaller brother, the BG-150. This amp has amazing power and performance to weight ratio. Not only great acoustic output to play loud but the bass is incredibly rich and deep yet has authority and control never heard before in amp this size. Sparkling high frequencies and transparent mid-range emanate all over the stage as well as to the audience allowing the player to voice his sound to every one with clarity and precision of a world class recording studio recording. 250 Watts. 33 Pounds.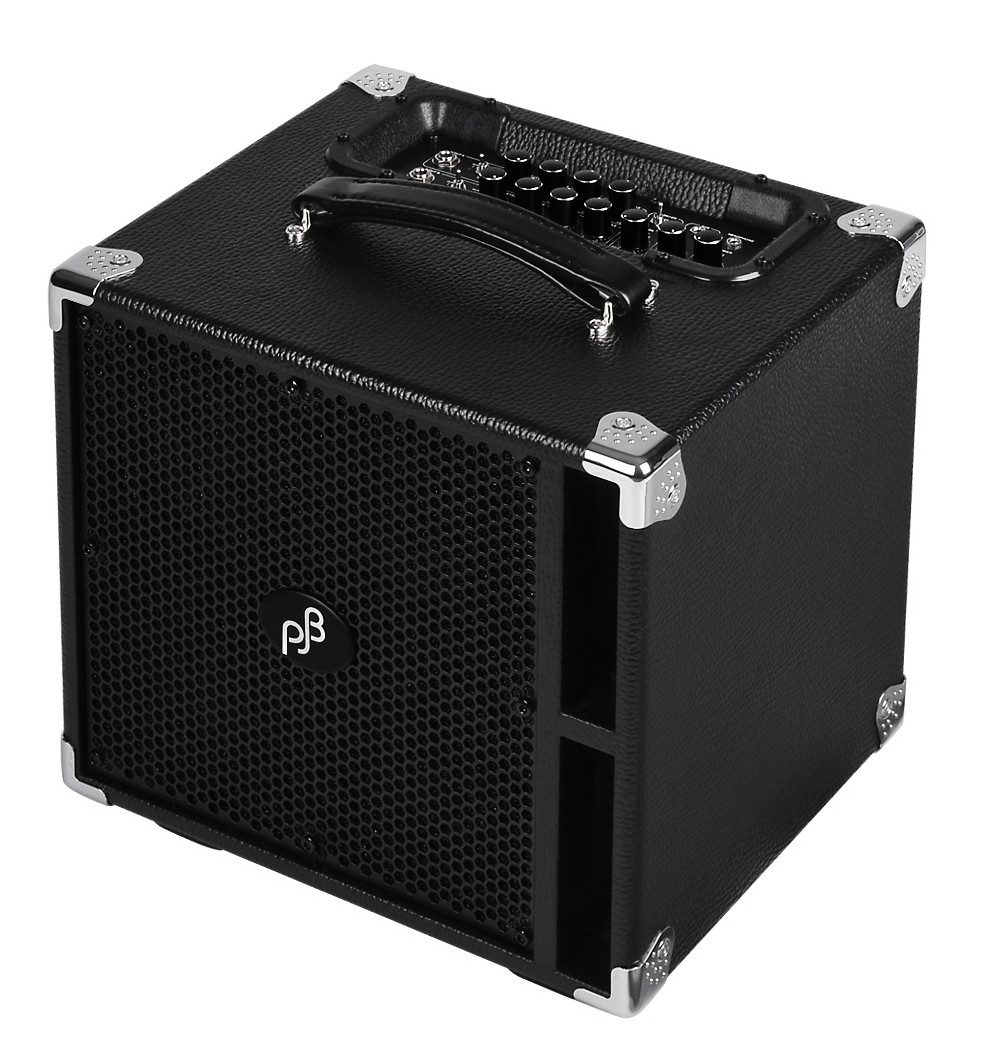 Phil Jones Bass Suitcase Compact
This model is based on the nu-compromised performance of the original PJB Suitcase. It is more powerful by physically smaller; in fact the same size as our Compact 4 enclosure. It has an incredible punch sound cutting through air as "a knife through butter" but with a solid and powerful low end response normally associated with a much larger combo. It features a two-channel pre-amp with our unique 3 band EQ. Simple to find "your sound", the EQ sound has amazing control and transparency that allows you to unmistakably hear the true characters of your own playing and instrument. In the heart of this amp lies a formidable ultra-energy power supply. It feeds an efficient class D power amplifier which utilizes almost 95% of this energy to drive the four internal PJB Piranha speakers. The Suitcase Compact puts out a healthy 300 watts RMS onto its own speakers. Adding a Compact 4 cabinet it becomes 500 watts, and adding a Compact 8 it becomes 575 watts. The future of amps is trending to "smaller and better" but with the Suitcse Compact bass combo, the future is here now! 300 Watts. 40 Pounds.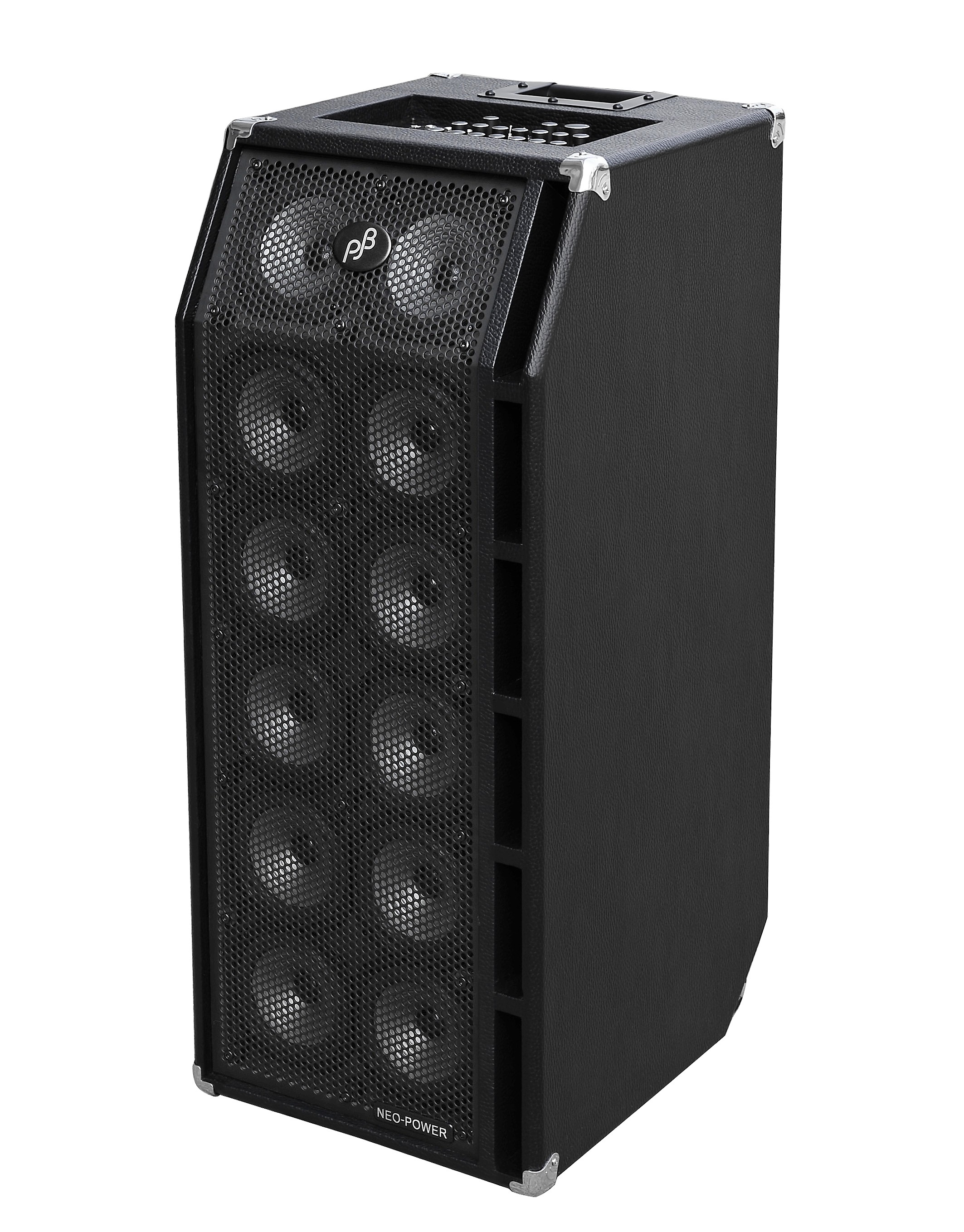 Phil Jones Bass Roadcase
The ROADCASE has the convenience of a combo but with output power you get from separate components. It has two channels: Channel one is dedicated for acoustic bass and Channel Two for electric. Its massive 750W RMS power amplifier has the headroom and tone to work on just about any stage. The 12 "Neo Power" speakers have the finesse to cope with all styles of playing with the weight and authority from a much larger cabinet. Its tiny foot print allows you more space on cramped stages, without sacrificing tone or volume. At the end of the gig, you will appreciate the ease of transporting it, owing to its incredible power to weight ratio and ergonomically designed handling. 750 Watts. 84 Pounds.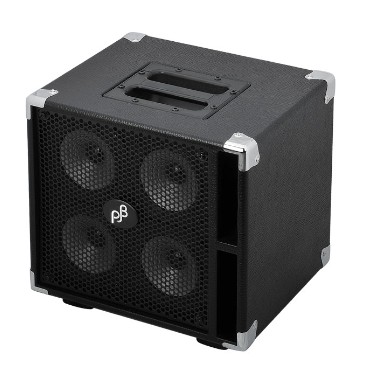 Phil Jones Bass Compact 4
Today's bass players demand more portable rigs without compromising performance. We embarked n the mission of a new compact bass enclosure that answers to their need. The Compact 4 may be small; yet it provides the highest audio performance. The cabinet is constructed from Baltic Birch plywood. Rigid internal bracing keeps cabinet coloration to its lowest. The four 5″ "Piranha" drivers are based on our Suitcase and 4B cabinet. They feature ferrite magnet structures for nu-compromised dynamics, extended bass response and punch/attack. If your style is slap bass, this cabinet will show how good your slop tone is. What's more, it reproduces effortlessly the true tone of any bass or player. You hear subtleties and nuances in your playing never heard before. Your sound becomes more prominent and inspiring to you, your band, and your audience. Physically, the Compact 4 has the flexibility and portability of being used alone or stacked as multiples.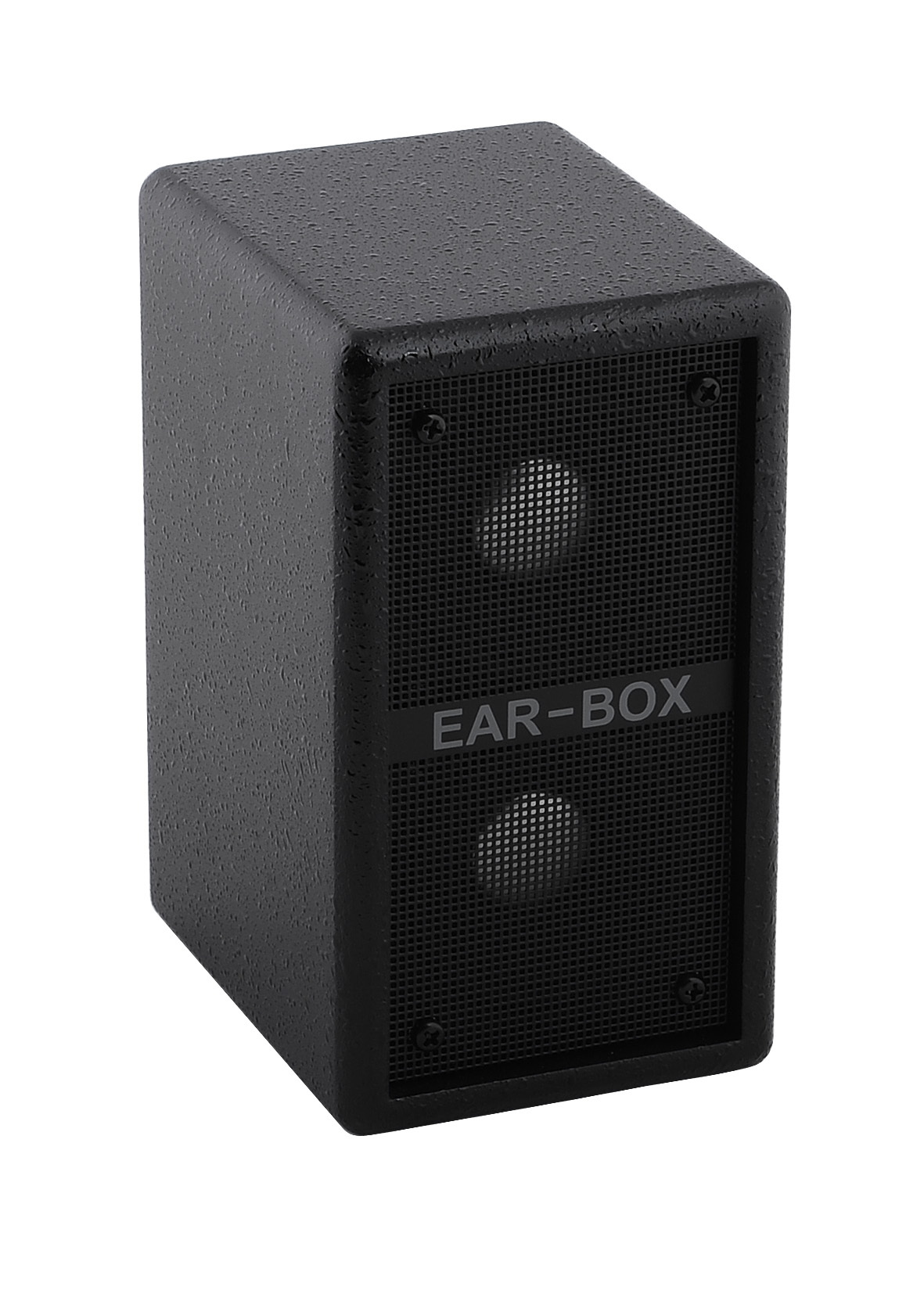 Phil Jones Bass Ear Box
You bass cabinet is heavily affected by the environment it is in and where you are standing in relation to it. What you hear is the sound of your speakers mixed in with the reflected sounds from walls, ceilings and floors. Basically your speaker has a different sound on and off axis and the further you are away from it the more sound energy that is reflected is blended into the sound. If the room acoustics are not ideal you know the sound you get is very uneven in response and muddy. EQ is NOT the answer! Standing in front of your bass rig up close gives you the most clarity but at the expense of your audience. You body will block the mid range and high soaking them up like a sponge. So your audience will hear a far more degraded sound than you. The Ear Box is in its own category. It is not a stage monitor or an earphone; it is somewhere in between. he speakers in the Ear-Box are ultra-light but very powerful neodymium speakers. The total weight is 2.4 pounds. This allows it to be screw-mounted on a vertical (not boom type) microphone stand. It is positioned at ear level on the opposite side of where you amp is. The distance should be about 3 feet from you. What may sound unusual is that the Ear Box has virtually no load on an amplifier. It is very high impedance: almost 1000 ohms at bass frequencies, tapering down to 24 ohms, at the very highest frequencies. It actually stabilizes the speaker load on you amplifier by acting as a ZOBEL network. The Ear Box high impedance allows it to be connected to just about any bass amplifier, right up to 1000 watt RMS output!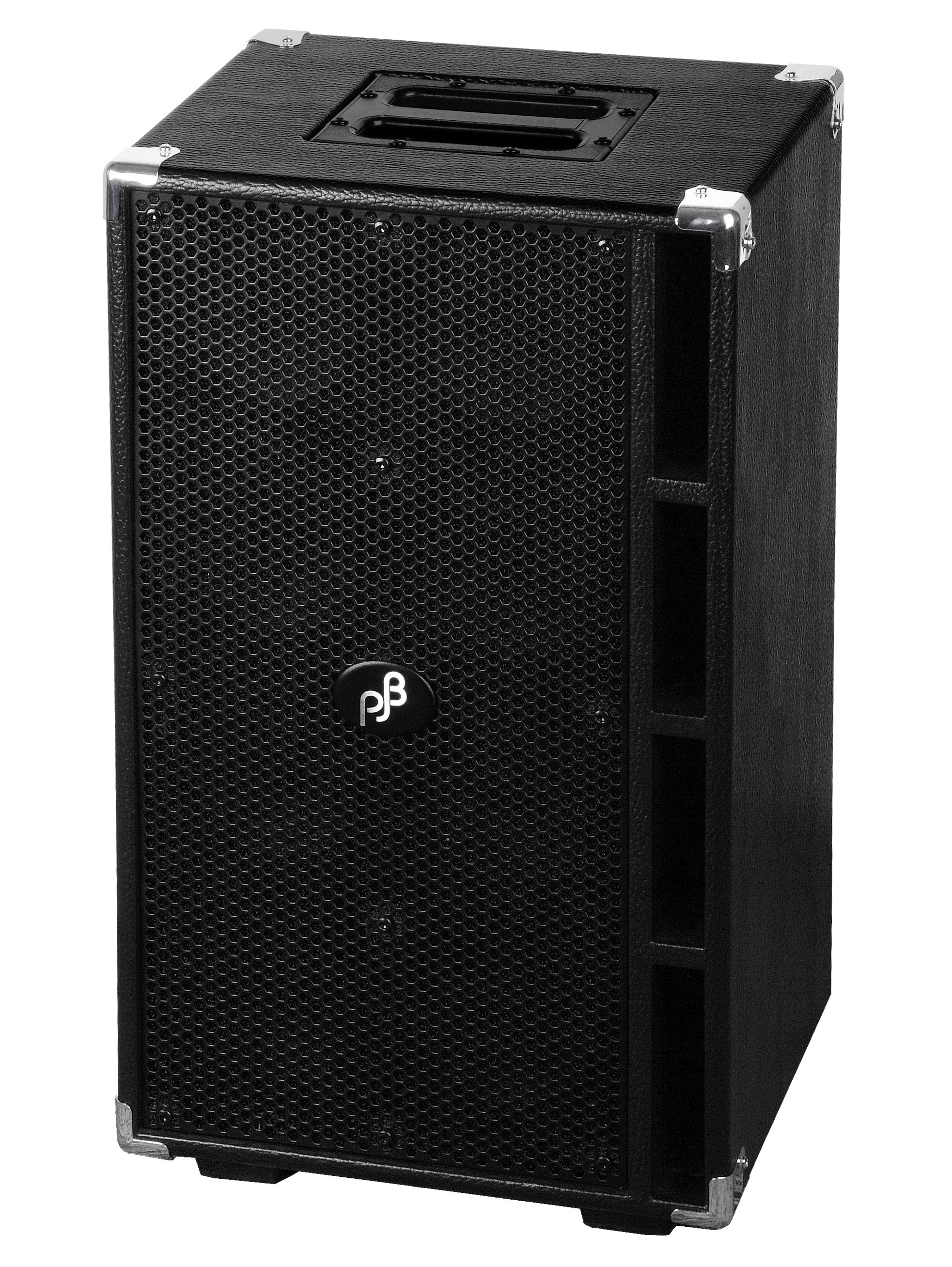 Phil Jones Compact 8
Today's bass players demand more portable rigs without compromising performance. We embarked on the mission of a new compact bass enclosure that answers to their need. The Compact 8 has a small foot print but it provides high audio performance. the cabinet is constructed from Baltic Birch plywood. Rigid internal bracing keeps cabinet coloration to its lowest. The eight 5 inch "Piranha" drivers are based on our Suitcase and 4B cabinet. They feature ferrite magnet structures for un-compromised dynamics, extended bass response and punch/attack. If your style is slap bass, this cabinet will show how good your slap tone is. What's more, it reproduces effortlessly the true tone of any bass or player. You sound becomes more prominent and inspiring to you, your band, and your audience. Physically, the Compact 4 and Compact 8 have unmatched flexibility and portability of being used alone or stacked multiples. 800 Watts. 57 Pounds.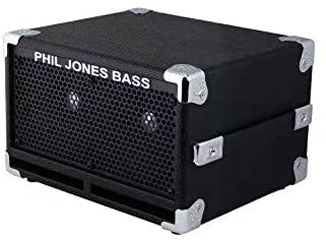 Phil Jones Compact 2
The Phil Jones Bass C2 redefines Bass Cabinet size with a vengeance and a mission. It is a 200 Watt shoebox size cabinet containing the smallest speaker ever produced by PJB. It houses 2 of the most advanced loudspeaker units in the world; "Chrome-Dome" technology, exclusively developed by PJB and designed from the ground up as a bass instrument transducer. Amazingly, each speaker is only 5 inches yet are engineered to handle the full spectrum and sometimes punishing dynamic range of a bass guitar. At 0.87 cubic feet of space, weight is not an issue so each driver has a large and powerful strontium ferrite magnet. This magnetic material is the most stable available, immersing the incredible electromagnetic force that can be generated by PJB high-temperature voice coils.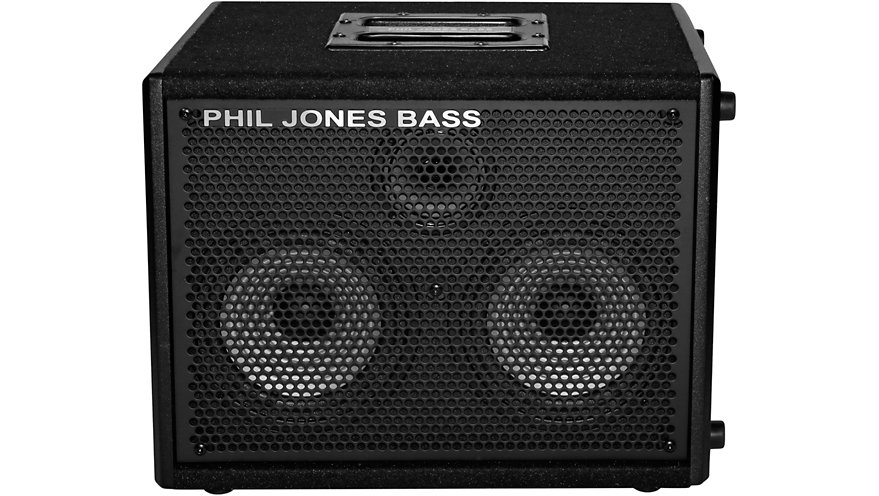 Phil Jones Cab 27
The Cab 27 tweeter crossover has minimum phase shift so the tweeter blends in seamlessly with the 2x7" speakers, making it more musical like your instrument and less like a loudspeaker. This speaker is tiny by bass amp standards, yet it is fully capable of handing 5-string bass fundamentals right down to the low B string. The vent loaded cabinet is specifically tune by using multiple loudspeaker analysis programs to reduce cone movement at the lowest frequencies and increasing low-frequency output.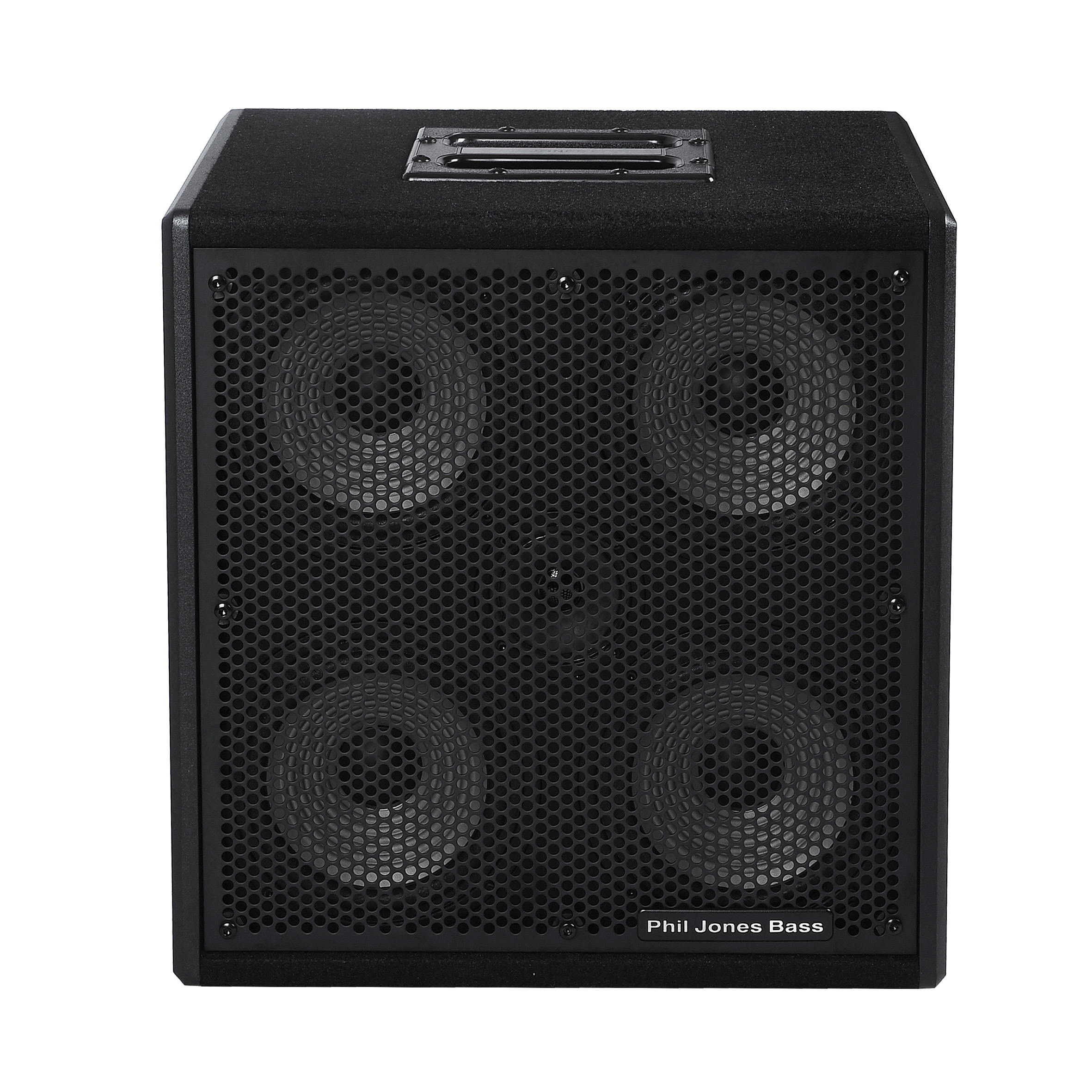 Phil Jones Bass CAB 47
The PJB Cab 47 is the answer for a powerful cabinet, at an affordable price. Rated at 8 ohms and 300 watts, this cabinet is ready for the stage. To ensure that you get truly quality tone, the Cab 47 boasts 4 x 7″ proprietary PJB woofers and 2″ tweeter specially designed by Phil Jones Bass. 38.6 Pounds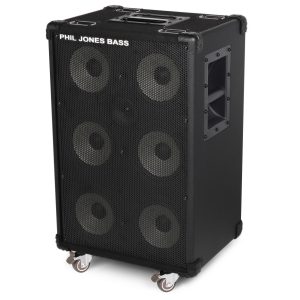 Phil Jones Cab 67
The Cab 67 is a no-holds-barred 500 Watt powerhouse enclosure that will deliver the bottom end and add life to any live playing situation. It is a slugger as a stand-alone cabinet that turns massive when stacking two together. The Cab 67 has six proprietary PJB seven inch drivers along with a three inch tweeter that together deliver a full dynamic range, perfect for any working or jamming bassist. It is crafted with robust internal bracing resulting in an extremely solid and roadworthy cabinet with built-in casters that make transporting a breeze. The bottom end is rich and punchy but never "boomy" and has a flat frequency response so any bass will sound accurately true. Built in wheel wells and a recessed handle make the Cab 67 a snap to stack on top of one another. While it is a stellar performer with any bass amplifier the PJB BP-800 head is the perfect sonic complement to this cabinet. The potential shock wave created by two Cab 67's and a BP-800 stacked together will exhilarate any playing situation yet, amazingly, stands only 54 inches tall!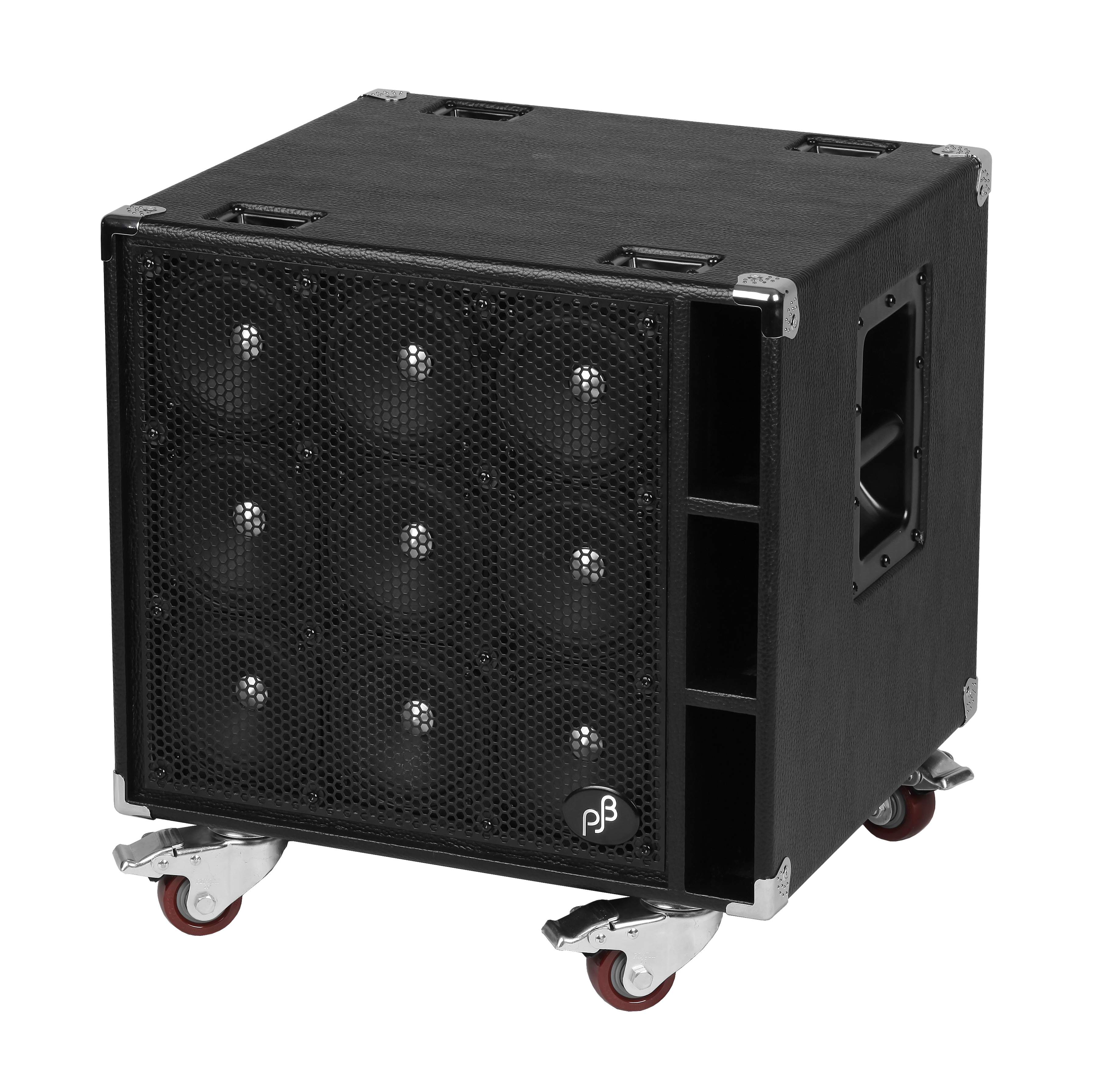 Phil Jones Bass C9
The C9 is a 9x5" Loudspeaker Enclosure that introduces PJB's latest in driver technology, the Chrome Dome 5A. This compact cabinet is built to handle 900 watts of PJB power and is built to perform in any playing situation. It matches perfectly with the PJB D-1000 Amplifier and together stand just over 2 feet tall. The C9 Enclosure, is constructed from Baltic birch plywood and is extensively braced for extreme rigidity and strength. Other features include PJB heavy chromed metal corners, wheels with double roller bearings for ease of movement, and heavy duty "Tolex" style covering. Comes with soft cover.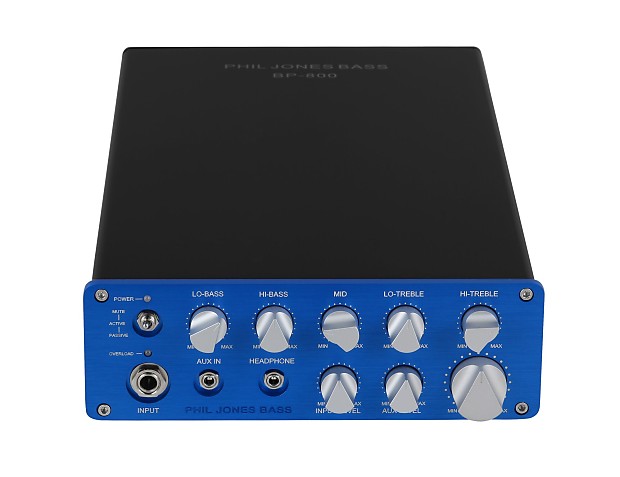 Phil Jones Bass Pulse 800
Small and lightweight just got more powerful with the introduction of PJB's BP-800 bass amplifier. The BP-800 is a high power, high performance no compromise compact amplifier that delivers the most bass for the buck. It weighs only 5.7 lbs and is 7.5" wide. The Power Output is 450 watts into 8 Ohms, and 800 watts into 4 ohms (maximum load).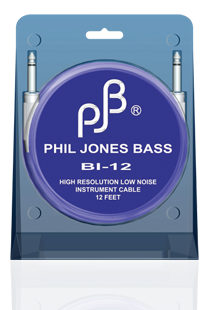 Phil Jones 12 Foot Bass Instrument Cable
Most shielded cables have only one shield. The BI-12 has three and by carefully choosing exacting materials – such as 99.999% oxygen free pure copper and PTFE die-electric insulation – you will unleash the true tone from your bass that you never thought was possible. You will not believe the difference this cable will make with your tone.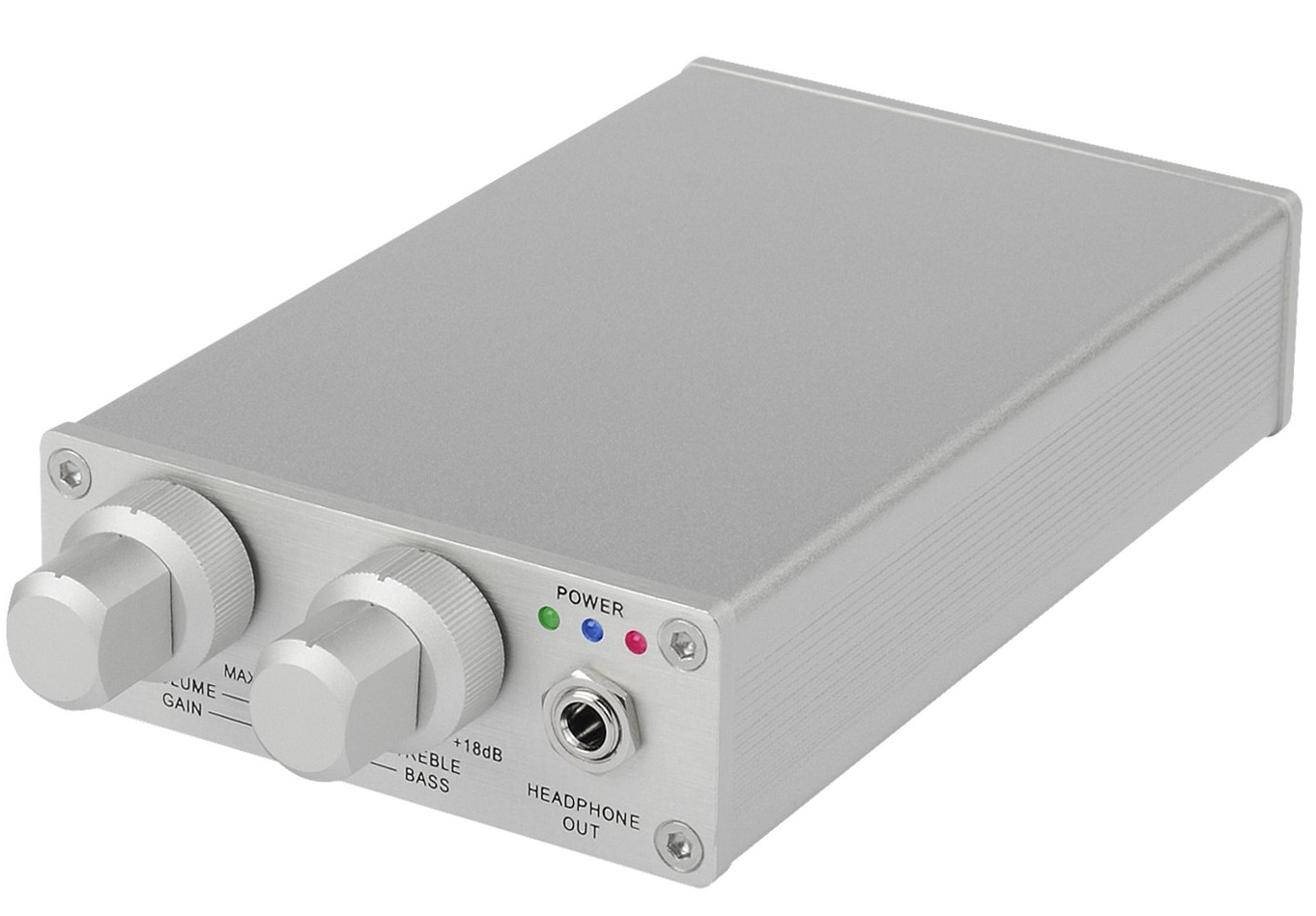 Phil Jones Big Head
The PJB BigHead functions first as a bass headphone amplifier with 2 band EQ ( +/- 18db @ 60 Hz and +/- 18dB @ 5KHz) set for optimization of all kinds of bass instruments. Unlike consumer electronic MP3 players and smart phones that have very small power output of around 20 milli-watt to drive headphones, the BigHead has more than 10 times the power. A more important function of the BigHead is being a recording tool both in digital and analog. As an Analog Digital Converter, it has the finest BURR BROWN digital components. The USB out is 48KHz 16Bit digital conversion. In other words, recording your bass onto Pro Tools will give you exactly what you wish for and absolutely nothing else. Maybe you need an analog pre amp. The Big Head will provide up to 12dB of gain and better than 96dB signal to noise ratio. It has an internal lithium-ion rechargeable battery that is fed by its USB jack, so any computer or appropriate cell phone charger can charge it for up to 8 hours of use.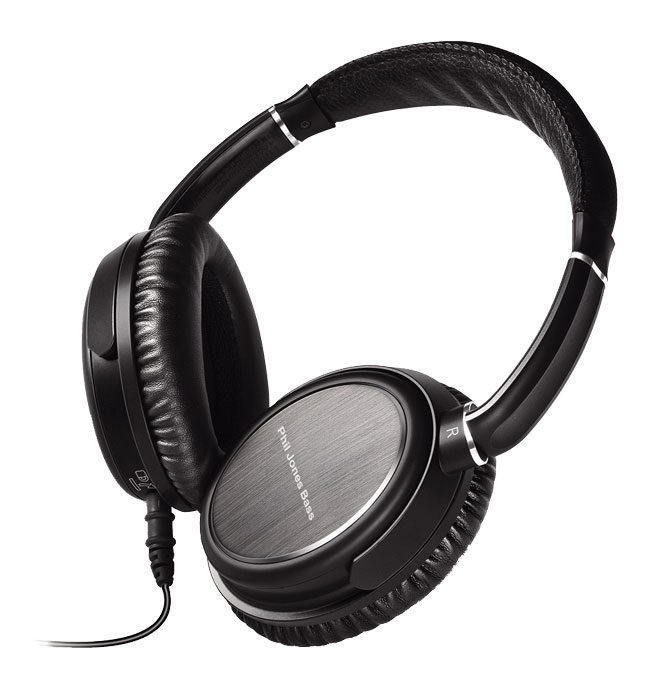 Phil Jones Bass Headphones
When it comes to headphones, not all are suitable for bass instruments. Many may sound good for music but plug them into the headphone jack of a bass amp and you will soon find their limitations. PJB H-850 headphones are a result of years of auditioning headphones for this purpose and analyzing the mechanisms of what works for the reproduction of music and bass. Utilizing high power 40mm neodymium magnets and closed back acoustic loading, we were able to achieve a superb sound reproduction for both music and bass instruments. These headphones are lightweight and therefore can be worn for hours with comfort. They have superb acoustic isolation from external noise and headphone bleed through for recording application. After you try the H-850 you will soon realize these will be your favorite headphones.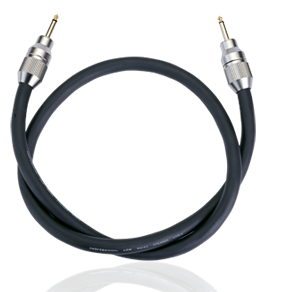 Phil Jones Bass 4 Foot Speaker Cable
It's not uncommon for today's bass player to use amplifier power up to 1000 watts and beyond. These high-power amps develop high currents feeding low impedance speakers sometimes peaking to 30 amps or more. Speakers at this power level need great control by the amp's damping ability. That's the ratio of amp impedance to speaker impedance. Kind of like putting on the speaker's brakes so your speakers stop and start on a dime – giving your bass sound tighter punch and better dynamics. Using cables with the slightest of loss can be disastrous on low-ohm loads. Even a fraction of an ohm in cable resistance can result in wasting some of those precious watts. PJPS speaker cables use four conductors instead of two found in normal speaker cables and with the high-purity copper multi-strand conductors (9 AWG equivalent), resistance is ultra-low so your speakers get virtually 100% of the power delivered by your amp. Our plugs are manufactured by us because nobody builds them as strong as we do. So you are assured of the utmost dependability night after night, never having to worry about your cables. Speakon connectors.