A successful line of boutique pedals, acquired by Jim Dunlop.

**PLEASE NOTE**:Not every item on this page is in stock at all times. Some models we offer by special order only. Others are on back order with the vendor. Please email us to check availability of any product shown here.
---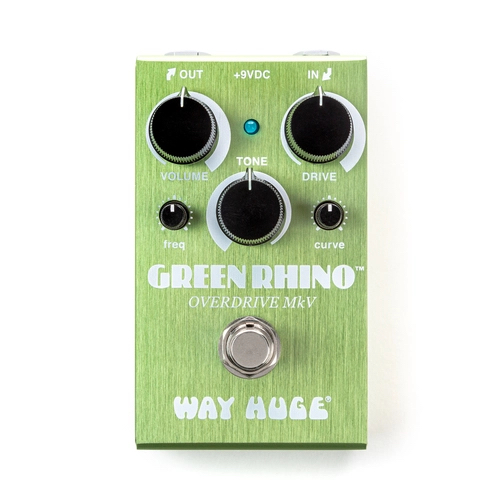 Way Huge WM22 Smalls Green Rhino Overdrive
The Way Huge Green Rhino Overdrive MkV is the smallest of the herd, but it unleashes a stampede of gnarly, gritty tones that rivals its larger companions'. The Volume, Tone, and Drive controls cover the basic functions, while the Freq and Curve controls offer finer adjustment of your beastly sonic yield. The Freq control cuts or boosts at either 100Hz or 500Hz—set internally—while the Curve control allows you to soften the creature's roar if it gets too aggressive on the high end. With this level of versatility, you can take any amp from pristine to punchy, from dirty to thunderous. This pedal will have your amp showing a whole new side of itself.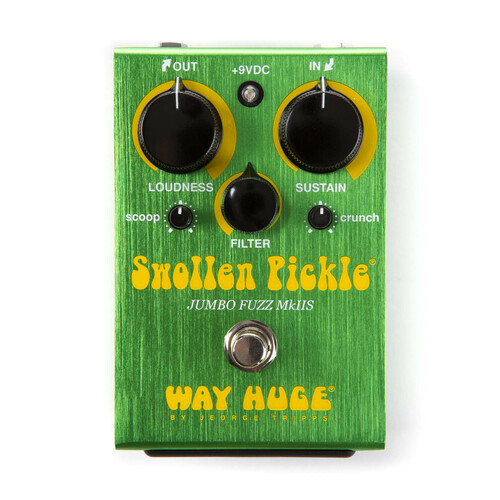 Way Huge WM41 Smalls Swollen Pickle Fuzz
The Swollen Pickle Jumbo Fuzz MkIIS serves up the same burly high gain fuzz as the full-sized MkII but in a more petite package. With a twist of the Sustain control, you're taken from mild crunch to Armageddon! The Filter control retains its trademark insane range of heavily bandpass-filtered tones, distinguished by remarkable girth and sizzle, and the Loudness puts out enough volume to clobber any amp! The Scoop tone stack control elicits classic Swollen Pickle mid-scoop or a flat mid-frequency sweep, and the Crunch knob adjusts the compression intensity of the fuzz. Finally, under the hood, the MkIIS has two internal mini controls: Voice sets the intensity of the external scoop control from light to heavy mid cut, and Clip varies between two sets of clipping diodes for smooth or opened fuzz sustain.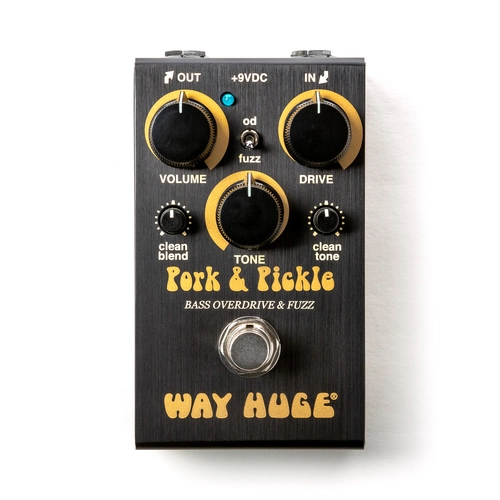 Way Huge WM91 Smalls Pork and Pickle Bass Overdrive and Fuzz
Now in a Way Huge Smalls housing, the Pork & Pickle Bass Overdrive & Fuzz serves up a perfectly balanced diet of gnarly tones for bass players who like to get down and dirty. This delectable dish combines the warm, soft-clipping tones of the Pork Loin™ Overdrive and the rich, fatty tones of the Russian-Pickle™ Fuzz in a single pedalboard-friendly package.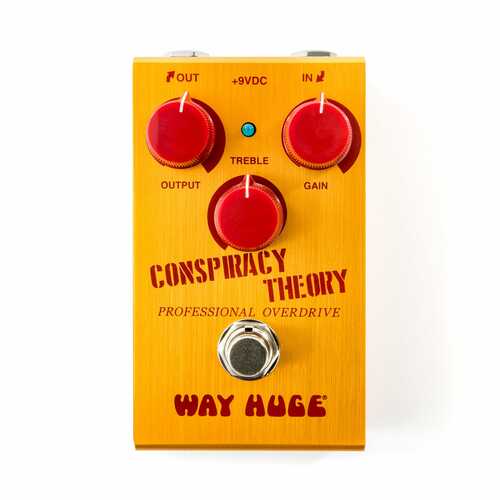 Way Huge WM20 Conspiracy Theory Overdrive
This is the overdrive pedal that THEY don't want you to know about! Developed in total secrecy by a shadowy organization embedded deep within the deepest of states, the Way Huge Smalls Conspiracy Theory Professional Overdrive is reported to bring forth unparalleled sonic delight. They say it relies on alien technology bestowed upon our ancient forebears, producing a sound so dazzling that it generates a heatless auditory light that will liberate the consciousness of any guitarist who kicks it on. Adjusting the Gain control initiates a form of fusion heretofore unknown to science, bonding rich harmonics with your guitar signal to create smooth, transparent overdrive. Use the Volume and Treble controls to set just how far your signal penetrates the furthest reaches of the universe and what it's shape is when it gets there. Thanks to a rather harrowing clandestine operation, we can grant you the ability to harness the mythical power of the Conspiracy Theory Professional Overdrive right on your pedalboard.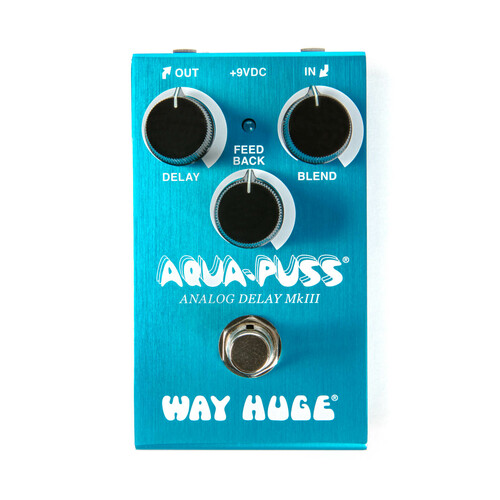 Way Huge WM71 Mini Aqua Puss Delay
The Aqua-Puss Analog Delay is famous for its bright, jangly repeats and wonderfully straightforward operation. Now, all of that wholesome goodness comes in a Way Huge Smalls housing that your pedalboard will love you for. With 20ms to 300ms of delay time on tap, this pedal is all about tone-thickening and old school slap-back. The Feedback control regulates delay duration and intensity, but beware! Extreme settings are known to throw this pedal into wild, space-and-time-warping self-oscillation. Use the Blend knob to set a balance between dry and delay signals, from mild to wild! The Aqua-Puss Analog Delay is a must for players who want to add a little depth to their tone or conjure up some slap-back sweet enough to earn the envy of any rockabilly or country legend.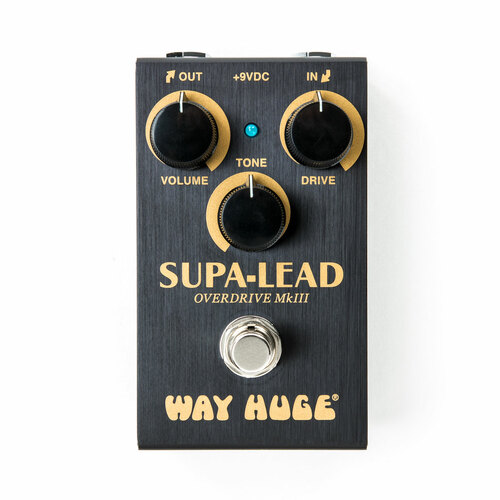 Way Huge WM31 Smalls Supa-Lead Overdrive
The Supa-Lead Overdrive is a dynamic and touch sensitive overdrive pedal that cleans up immediately as you lower the guitar volume control. Designed to get amp-like crunch tones from a clean or slightly dirty amp, it produces a focused midrange grind with an abundance of output volume to kick your amp over the edge. Use the large sweep of the Tone control to dial in the perfect warmth, and with the Gain knob turned up, you'll get a sonically monstrous sound that's reminiscent of an exploding tube amp stack with large grain power saturation and hints of cone cry. Ride your guitar's Volume knob or change up your picking dynamics for a cornucopia of tones from delicate to volcanic.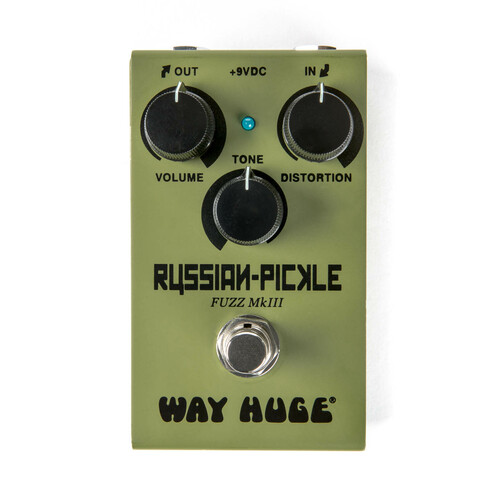 Way Huge WM42 Smalls Mini Russian Pickle Fuzz
Now in a Way Huge Smalls housing, the Russian-Pickle Fuzz dishes out smooth, creamy fuzz tones in a much more pedalboard-friendly package. It's got the exact same circuit and controls as the original, so you can keep trembling the earth with the same punchy midrange and fat bottomed thunder. Whether you're going for '90s-era grunge, swinging stoner grooves, or raw two-piece garage rock riffage, the Russian-Pickle Fuzz is the perfect comrade for your pedalboard.
Way Huge WM61 Smalls Blue Hippo Chorus
The Blue Hippo Analog Chorus sounds as lusciously liquefied as ever in a Way Huge Smalls housing. With its simple Speed and Depth control interface, you can dial in everything from lush tone-widening to full-on rotating speaker modulation madness. If you want to splash on some thick vibrato goodness, just flip the Vibe switch to give your already aqueous tones a little more texture. The Blue Hippo Chorus is straightforward and no-nonsense-just plug in and dive into the deep end.