Tech 21 pioneered the direct recording movement and created an entirely new category of signal processing. The revolutionary SansAmp tube amplifier emulator was the first device to enable musicians to dial in monster tones and patch them directly to a studio mixer or stage PA. Finally, it was possible to get stunning, consistent tones without futzing for hours and hours to find that elusive 'sweet spot.' Instead, the 100% analog SansAmp delivered all of its mammoth sounds from a pocket-sized pedal. Tech 21 continually strives to offer player-friendly, truly useful, flexible, multi-functional, roadworthy, workhorse products. In a world of planned obsolescence and constant upgrades, many of their products have changed little, or not at all, and are still in production today.

**PLEASE NOTE**:Not every item on this page is in stock at all times. Some models we offer by special order only. Others are on back order with the vendor. Please email us to check availability of any product shown here.
---

Tech21 FR-ACOU Acoustic Fly Rig
There are lots of options for getting an acceptable acoustic guitar sound. But why settle for acceptable when you can be inspired? If you think using a DI is good enough and you think you don't need any effects, consider this: Sounding great improves your playing, which sparks inspiration, which stimulates creativity. Whether you have a $200 or $2000 guitar, the Acoustic Fly Rig will make it sound bigger, fuller and warmer. You'll easily be able to dial up tones that will make you want to play all night long. It's jammed packed with useful features: All-analog SansAmp, parametric EQ, boost, compressor, tap tempo delay, independent reverb. And it fits in your gig bag. So why settle for just a DI?

Tech21 FL5-V2 Fly Rig 5
The original Fly Rig, introduced in 2014, was a true game-changer for players in all categories, from touring pros to bedroom hobbyists. At a time when pedalboards were expanding and backs were breaking, the innovative Fly Rig enabled players to slim down without sacrificing great tone, and travel without fear of baggage surcharges and dreaded mystery backlines. Going beyond being just a multi-effects unit, the all-analog SansAmp technology enables any Tech 21 Fly Rig to be an actual "rig." You can run directly into mixers of recording desks and PA systems, as well as augment your existing amplifier set-up. Always seeking to improve our offerings and listening to customer feedback, we've incorporated some new features to follow the same form factor as later Fly Rigs, such as the Bass, Acoustic, and Paul Landers Signature PL1. The Fly Rig 5 v2 retains the same SansAmp heart, Plexi/Cali distortion and Delay, but adds a few twists and turns within these sections. New features include an independent reverb with choice of room size, an effect loop, a tuner, and an XLR Output.

Tech21 FR-BASS-V2 Bass Fly Rig
The original Fly Rig, introduced in 2014, was a true game-changer for players in all categories, from touring pros to bedroom hobbyists, and expanded into a series. Each Tech 21 Fly Rig is much more than a pedalboard. In a single pedal. And no board. Less than 13" long and weighing just over 20 oz., each sleek, compact unit embodies an entire rig. At each core, is the all-analog SansAmp, which makes it possible to go direct to a PA or studio mixers and computer interfaces. For effects, you have the essentials and the ability to add some fun stuff, too. What you don't have are crackling patch cables, dying batteries or ground loops. No stinkin' van, heavy flight cases, cable spaghetti, and no dead weight. No stressing over what to pack and agonizing over what to leave behind. No dreading cheesy backline loaners and overheating at the mere thought of your touring rig going down. With a Tech 21 Fly Rig, you can relax. For fly gigs across the globe, jamming at the local hang, and last minute recording sessions, you'll be the first one ready to go. Just pop your Fly Rig into your guitar case or backpack and head for the door.

Tech21 FR-PAUL Paul Landers Signature Fly Rig
Paul Landers has been a long-time user of Tech 21 gear, both the SansAmp GT2 and SansAmp PSA, which is especially prominent in their worldwide smash "Du Hast." While he liked the format of the Fly Rigs, Paul was looking for a different feature set. Given Paul's long term relationship with Andrew Barta, it was a no-brainer to collaborate on a Fly Rig to fulfill his individual needs.

Tech21 RK5-V2 Richie Kotzen Signature Fly Rig
The Richie Kotzen RK5 Signature Fly Rig was developed in close collaboration with Richie, whose input was invaluable. Meticulous about every facet of his playing, singing, songwriting and tone, Richie's attention to the details of his RK5 was nothing less. Since the debut of the original RK5 in 2014, Richie's needs have changed, both on and off the road. Therefore, we jointly developed a version 2, to incorporate some new features and follow the same form factor as later Fly Rigs, such as the Bass and Acoustic. The RK5 v2 retains the same delay with tap tempo, a powerful boost, and Richie's Signature OMG overdrive. New features include an independent reverb with choice of room size, a rotary speaker mode, compression, fuzz, a tuner, headphone capability and an XLR Output.

Tech21 PSA 2.0 Programmable Preamp for Guitar and Bass
The SansAmp PSA 2.0 provides the flexibility to find almost any conceivable personality within the vintage and modern guitar and bass amplifier sound spectrums, as well as an assortment of revered stompboxes. It is designed to give you inspiration to be your most creative self. With 128 memory locations, storing and recalling programs is simple. You don't need any special training or a degree in physics to operate your unit. The rotation of each control increases and decreases in a smooth, gradual, linear fashion, so when you turn a knob, you hear the difference immediately –in real time. You just set your tones and push the Save button. There is no lag time, or "cutting out" when you switch between programs. And being all-analog, there is zero latency. In the studio, you can record direct, enhance existing tracks in mixdowns, as well as add interesting touches to any instrument. Live, the SansAmp PSA 2.0 can be used as a pre-amp direct into a power amp with guitar or bass speaker cabinets, as a "monster direct box" to a P.A. system (or both simultaneously), and as an outboard processor. Additionally, the PSA 2.0 features a Performance Mode, which turns it into a 3-channel stompbox.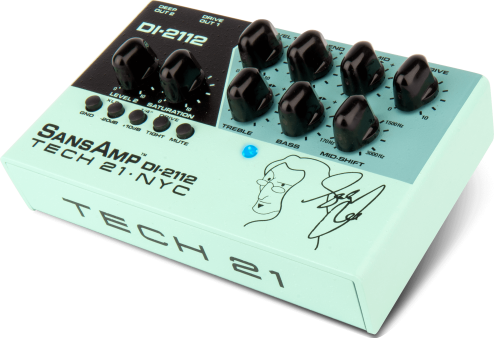 Tech21 DI-2112 Geddy Lee Signature SansAmp
Wanting to streamline and simplify his gear for new projects, Geddy Lee partnered with Tech 21 to design a signature rackmount SansAmp, the GED-2112. This challenging collaboration involved distilling a boatload of equipment into a single rackspace. Tech21 further distilled the rackmount into a pedal format. The SansAmp YYZ offers Geddy's core sound and the versatility for many different styles.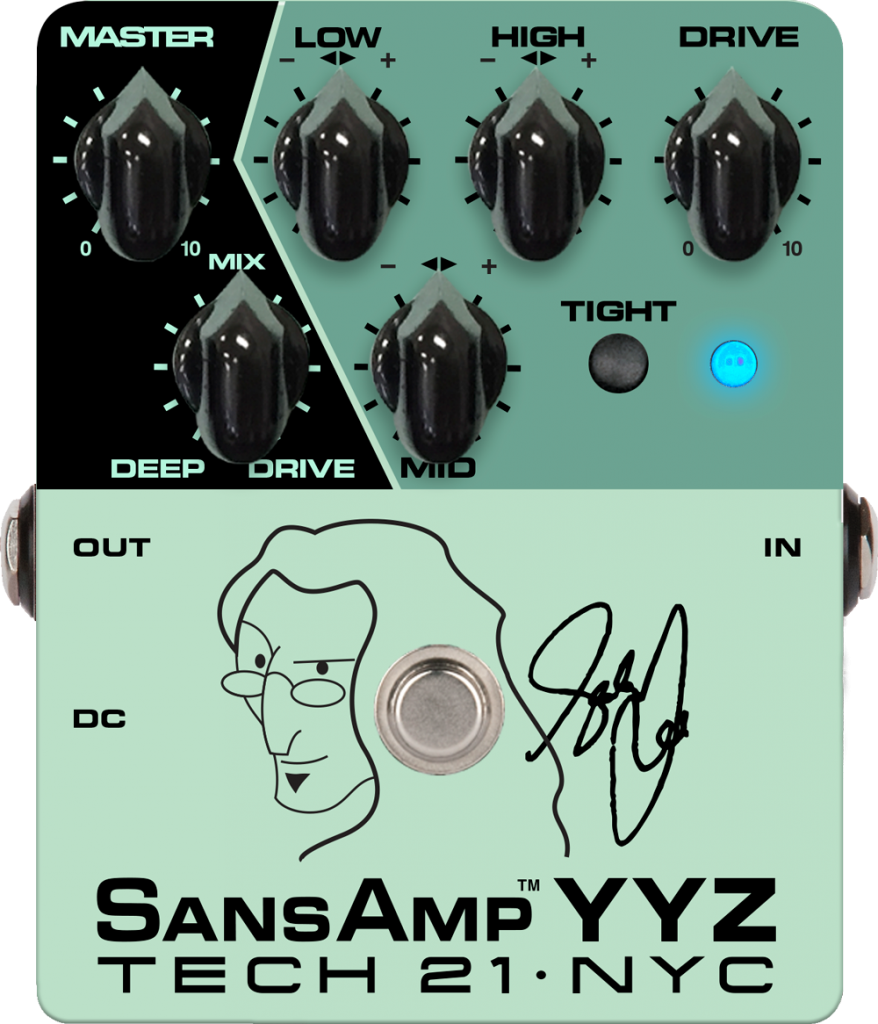 Tech21 YYZ Geddy Lee Signature SansAmp
Wanting to streamline and simplify his gear for new projects, Geddy Lee partnered with Tech 21 to design a signature rackmount SansAmp, the GED-2112. This challenging collaboration involved distilling a boatload of equipment into a single rackspace. Challenging ourselves, to bring a super-compact, portable alternative, we further distilled the rackmount into a pedal format. The SansAmp YYZ offers Geddy's core sound and the versatility for many different styles.

Tech21 GED-2112 Geddy Lee Signature Rackmount Preamp
Wanting to streamline and simplify his gear for new projects, Geddy partnered with Tech 21 to design a signature SansAmp, the GED-2112. This challenging collaboration involved distilling a rackload of equipment into a single rackspace. It resulted in a new format for Parallel Pre-Amping — having two separate internal pre-amps that run in parallel. The Drive pre-amp section is based upon the versatile SansAmp RPM, for a wide range of sonic possibilities. The Deep pre-amp section offers low end boost for thick, meaty tones. Saturation goes from clean in lower settings to increased harmonics and tube-like compression in higher settings. To keep things lean and efficient, the EQ curve is pre-set to Geddy's personal specs. You can use either section independently or blend them externally direct to a mixing board as well as to two amplifiers.

Tech21 SH1 Steve Harris Signature SansAmp
A true hands-on professional, Steve Harris not only formed Iron Maiden (in 1975!), he writes the bulk of their songs, plays multiple instruments, mixes recordings, directs and edits both live and production videos, and sings. As if that wasn't enough, Steve somehow finds time for British Lion, which he describes as a side project that's more mainstream rock than metal. And yet, he's enviably humble. Known for his galloping fleet-fingered bass lines, Steve's distinctive style and tone have, and continue to be, required reading –whether you're into metal or not. Like our other signature gear, the SH1 is not just for one single tone or genre. The controls are designed to provide an expansive range of adjustability so you can dial in a wide spectrum of bass tones as well.

Tech21 DP-3X dUg Pinnick Signature Bass Preamp
A super-compact adaptation of his Tech 21 Ultra Bass 1000 Signature head, the DP-3X also recreates the sound dUg originally developed way back in the '80s, merging high-end distortion with low-end bass. Prior to his signature head, this involved running a guitar amp and a bass amp together, along with rack full of effects. Wanting to further streamline his gear for occasions when his full Tech 21 rig simply isn't practical, dUg collaborated on the all-analog DP-3X pedal. Personally beta-testing the DP-3X on a European tour, dUg encountered a different backline in each and every venue. But no matter which amp was on stage, dUg was able to nail his immense tone each and every night.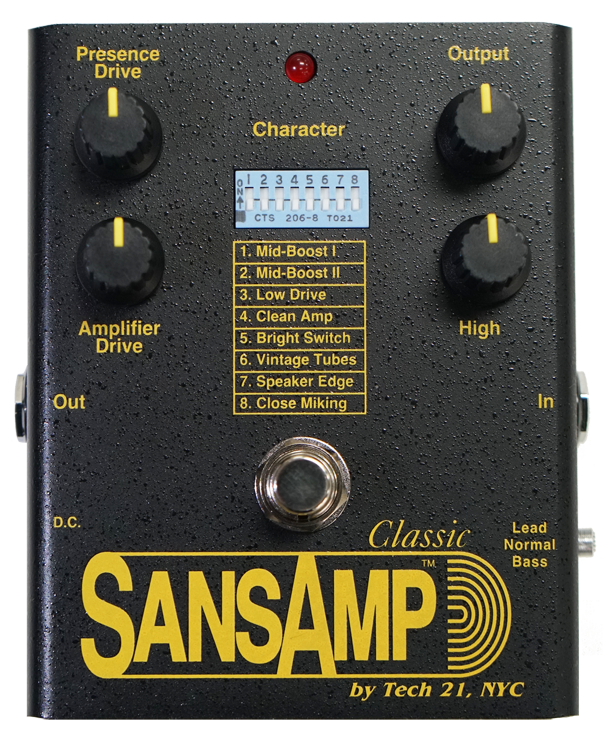 Tech21 SA1 SansAmp Classic
It is rare an electronic music-related product can withstand the test of time. For over 30 years, the SansAmp Classic has been used for every kind of music style from death metal to commercial jingles, in countless pro studios, on tours around the globe, on a vast variety of major releases (including Grammy Award-winning records), and by hundreds of thousands of everyday players, producers, and engineers. Of the pedal formats, SansAmp Classic is the most sophisticated. There is a bank of eight Character switches, which adjust the fine and subtle nuances of tonality, harmonics and dynamics. A three-position Input switch gives you a choice of pre-amp styles: Lead (Marshall®-style), Normal (Mesa Boogie®-style), and Bass (Fender®-style) which is excellent for rhythm as well as bass guitar. While all SansAmps are flexible, user-friendly, robust devices that deliver the warm, rich, natural tones of the most desirable tube amplifiers on the planet, the SansAmp Classic is the original. Not just for guitar and bass, everything from industrial samples to maracas have been saved from atonal death by its analog magic. It has defied the odds and remains the standard of the industry.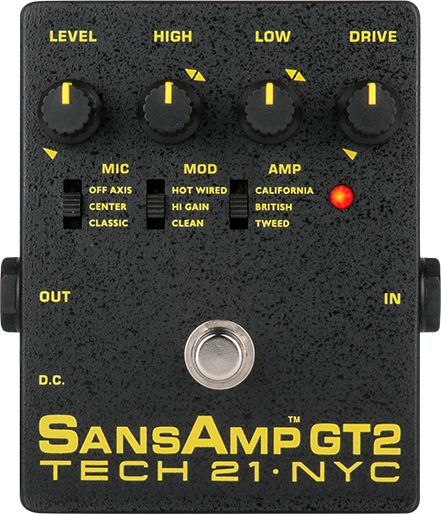 Tech21 GT2 SansAmp
"Architecturally" create your own rig in seconds. You can easily achieve the most sought-after tube amp sounds, and entirely new ones as well. Choose amplifier type, modification and speaker cabinet/mic placement configurations. You can easily mix and match specific sound characteristics in ways that would otherwise be physically improbable, probably impractical and definitely not cost effective. The GT2 is a truckload of great amps in a single, simple pedal.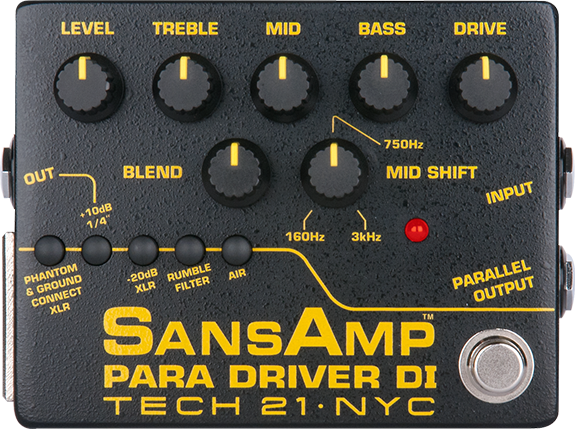 Tech21 PMDI-V2 SansAmp Para Driver
This floor version of Tech21's RPM rackmount provides the same detailed tone shaping possibilities for any signal source. It is particularly useful with acoustic, electric and bass guitars, and upright bass, either direct to a mixing console or with an instrument amplifier. The Para Driver DI gives your instrument a natural warmth and presence, as if miking it through a tube pre-amp. The SansAmp circuitry eliminates the harsh, unnatural harmonics of piezo pickups, while the Drive control offers some tasteful edge — just a little or over-the-top. Version 2 has exactly the same tonality and functionality with the addition of two new features: Rumble Filter and Air. The Rumble Filter removes unwanted sub-sonic frequencies that cause boominess and audible handling noises associated with acoustic guitars.The Air button adds top-end clarity and sparkle to acoustics.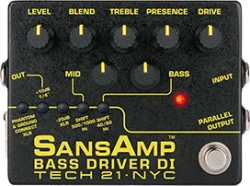 Tech21 BSDR-V2 SansAmp Bass Driver DI
Much more than just a direct box, the SansAmp Bass Driver DI is capable of dialing up big vintage tube tones, bright modern slap sounds, gnarly distortions, and all in between. Three different outputs to drive power amps, recording desks, PA mixers, or simply enhance your current rig. Controls include Presence for definition and upper harmonic content; Blend to combine the proportion of direct signal and SansAmp circuitry; and active EQ specifically tuned for bass with 12dB of cut or boost.

Tech21 CPS-EM SansAmp Character Series English Muffy
HiWatt-style+Big Muff-style. Range of Character Settings--Below 12 o'clock yields clean, classic HiWatt-style tones. Nearing 12 o'clock brings you into crunchier territory associated with '70s Who-style tunes such as Who Are You, Baba O'Riley, and We Won't Get Fooled Again.Above 12 o'clock accentuates upper mids for Gilmour/Floyd-style leads. Full up may cause your mate or your lead singer to flee the premises, which could be desirable in certain circumstances. SUSTAIN to adjust the overall amount of fuzz. TONE is a very musical, specialized passive tilt EQ, based on the original '60s stompbox design

Tech 21 CPS-FB SansAmp Character Series Fuzzy Brit
Marshall-style + Fuzz Face-style. Below 12 o'clock brings you the Bluesbreaker/JTM45-style era of British blues– warm, overdriven tone with the characteristic bulldog bite.  Nearing 12 o'clock takes you into the Plexi range with a noticeable throatiness in the mids. Above 12 o'clock gets you the classic presence boost of the '70s Metalface. Full up it goes to 11. That's right, 11. FUZZ to adjust the overall amount of fuzz. TONE is a very musical, specialized low pass filter that allows you to remove the high end without losing mids or getting muddy.

Tech21 CPS-MTL SansAmp Character Series Mop Top Liverpool
Vox-style + Rangemaster Booster-style. Range of Settings with CHAR A: Below 12 o'clock serves up the tone of a Top Boost with controls set to 9:00, for a throatier clean sound and warm overdriven tones.  Advancing towards 12 o'clock brings in classic British mids. Passing 12 o'clock increases clarity to crunchy and overdriven tones. Full up adds the upper mid crackle of pushed Alnico speakers. Range of Settings with CHAR B:
Below 12 o'clock serves up the tone of a Top Boost with controls set to 3:00, for full clean sound with lots of bass and highs.  Advancing towards 12 o'clock brings in classic British mids. Passing 12 o'clock brings in the vocal quality of "Woman Tone." Full up boosts the low mids for non-Top Boost AC30-style tone. BOOST The Mop Top Liverpool uniquely offers 2 boosts in one knob: At 12 o'clock, it's flat. Up to 12dB Treble Boost when you turn clockwise for a brighter, louder, edgier '60s and '70s vintage vibe. Up to 12dB Mid-Range Boost when you turn counter-clockwise, which tightens up distortion, rhythm and lead tones for more modern vibes.

Tech21 CPS-SB SansAmp Character Series Screaming Blond
Fender-style + Tube Screamer-style. Below 12 o'clock are in the Black and Silver Face family.  When clean, there's a soft midrange with a nice top-end sparkle. Driven, the tone moves to a warmer low-end breakup. Around 12 o'clock brings you into Blonde territory with more of everything –more lows, more mids and more highs. Above 12 o'clock moves things into the Tweed era with a pronounced midrange bark. Full up gives you lead boosted tones. OVERDRIVE to adjust the overall amount of drive. Highly interactive with the level of your guitar. TONE with specialized voicing for adjusting the high-end and mid-range.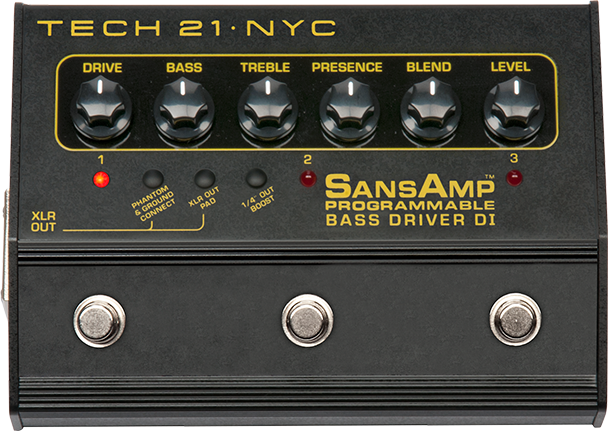 Tech21 PBDR SansAmp Programmable Bass Driver DI
Always thinking of our fat-stringed brethren, Tech21 had to make a 3-channel, programmable, rig-in-a-box for bassists who can't get enough of a great thing. Like the TRI-A.C. for guitar, you get three hot tones right at your toetips. The all-analog circuitry features the same controls as its single channel predecessor: Drive, Bass, Treble, Presence, Blend and Level. Digital only in its programmability, you just tweak the knobs until you find a tone, double-tap on a footswitch, and it's saved in that channel. It's that simple. Three of your faves — to go!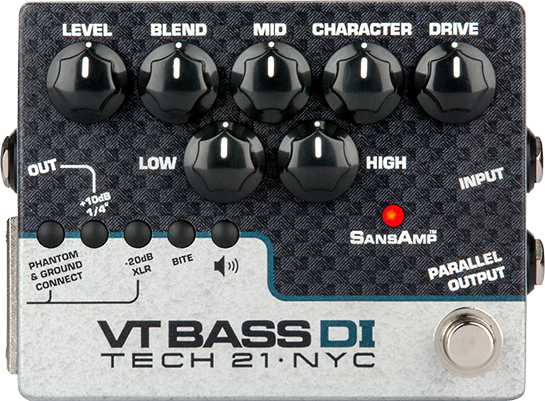 Tech21 CS-VTB-DI VT Bass DI SansAmp
For the pro on the go, the VT Bass DI covers a lot of ground in a small footprint. This multi-function, multi-application format features three different outputs. You can complement your current rig, record direct, drive power amps and go direct to the PA. Just throw it in your gig bag and you're ready at a moment's notice. Like its sibling, the original VT Bass, you can get the same legendary tower of power tone pumping through a stack of 10-inchers. This is for players who enjoy being heard. From chunky funk with the ubiquitous flip top, to the higher gain growl of indie rock. Want more? Lean on the Character control for the fat distortion of Crimson and King's X. The VT Bass DI incorporates a Blend control to adjust the ratio of direct signal and SansAmp circuitry, and a Bite switch to engage a presence boost and a subsonic filter. With the VT Bass DI, you can go from clean SVT®-style thump to dirty earthquaking rump. No matter which way you dial it in, it all sounds massive.

Tech21 RBI Bass SansAmp Rackmount
The 1U rackmount SansAmp RBI is a pumped-up, expanded version of our popular SansAmp Bass Driver DI pedal. In addition to Drive, Presence, and active Bass and Treble controls, the SansAmp RBI has a dedicated Mid control and an XLR Output Level control for optimum performance with PA systems. It also features an Effect Loop with a Mix 50/50 switch (for parallel or series operation), an XLR output with selectable levels, and a buffered direct XLR output to provide a dry signal. Include access to the most coveted classic and modern bass tones, with unlimited freedom to create your own, and the SansAmp RBI is practically mandatory for any bass player.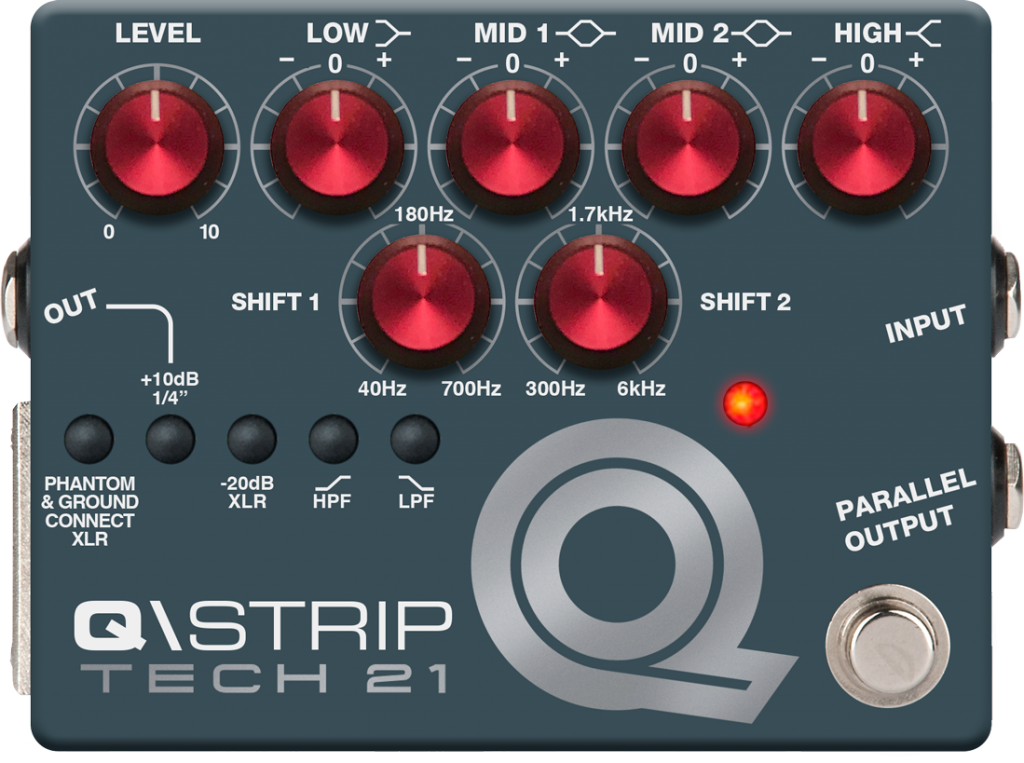 Tech21 QST-R Q-Strip Dual Parametric EQ
The '60s and '70s are widely recognized as the heyday for professional recording console design. The EQ and preamp sections of these near-mythical vintage consoles are highly sought after, even to this day. Some of the most iconic guitar and bass tones in the history of recorded audio were tracked "direct" straight into these consoles' channel strips. The Q\Strip was designed with sophisticated features that enable you to take these highly-coveted tone shaping circuits with you, whether you're heading to a live gig or tracking in the studio or into your DAW. It's compact, extremely cost-effective and in an ultra-convenient DI format.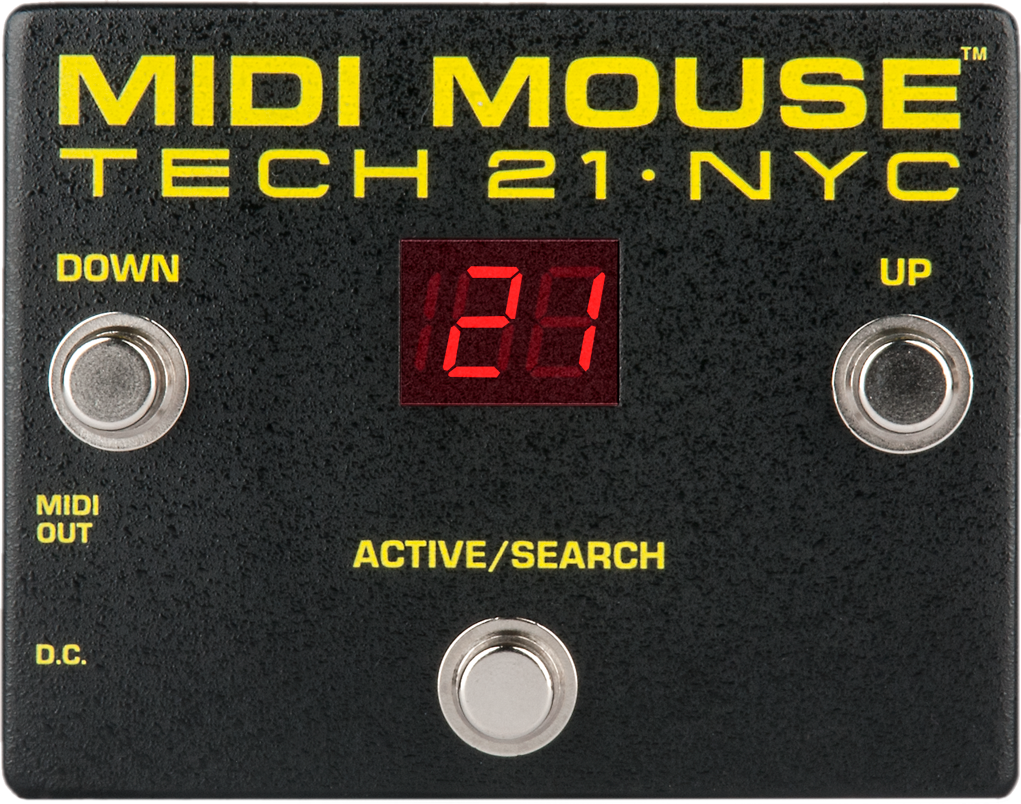 Tech21 MM1 MIDI Mouse
The MIDI Mouse is designed to take the frustration and confusion out of MIDI and offer an exceptionally user-friendly footcontroller. Easily access 128 patches on any of the 16 selectable MIDI channels by using the Up and Down footswitches to locate your program, with no banks to select. A third footswitch toggles between Search mode to locate programs and Active mode to send the program number to the MIDI output.

Tech21 MMG1 MIDI Mongoose
Whether you're a MIDI-meister or amongst the MIDI-mindless, the MIDI Mongoose is a super simple way to control your gear on stage, in the studio, and on DJ decks for sound and lighting, too. Tech 21's intuitive engineering eliminates the intimidation of trying to decipher an encyclopedia-sized manual just so you can change a darn program. The MIDI Mongoose is the next generation of its predecessor, the MIDI Moose. It has a significantly smaller footprint and additional capabilities. There are 2 independent inputs for continuous controllers to facilitate use with your other MIDI equipment, as well as a 7-pin phantom power jack. With just 5 footswitches, you can change groupings of preset programs by five or ten at a clip. You can also access Special Page functions to set MIDI channel numbers and to set continuous controller channel numbers and calibration.