After more than two decades, T-Rex has kept itself a small Danish company powered by the perfect mix of guitarists and engineers collaborating to create some of the best effects know to guitarists worldwide. From effect pedals and power supplies to pedal boards and bags, T-Rex caters to every guitarist's needs.
---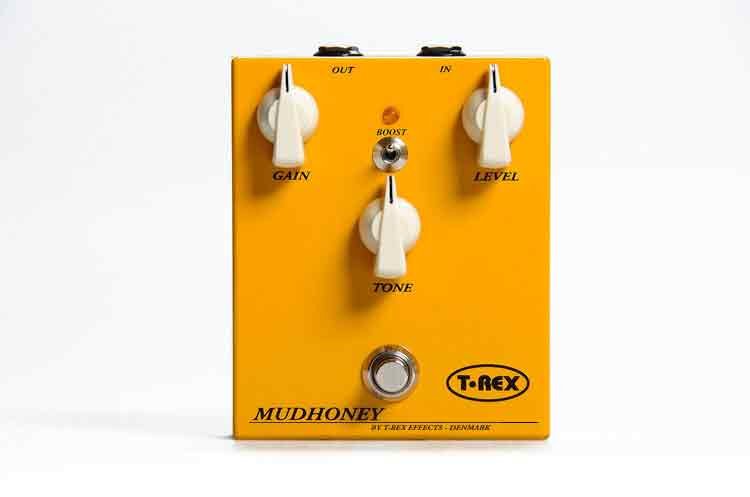 T-Rex Mudhoney
The Mudhoney distortion was our first shot at making a great, all-round distortion box. That´s how most owners have described it - it just plain works for a lot of different music styles and they haven´t found a similar sound in many other pedals. In fact, there´s a story about a player that bought and sold six Mudhoney´s, before realizing that the pedals he replaced it with weren´t doing it for him, so he got the seventh one – and kept it. The slightly aggressive and punchy sounding midrange paired up with a gain mode switch gives you great, natural rock grit – but with the ability to be almost fuzz-like on high gain settings. Conversely, on low gain settings, the sound is really cool for a nastier, growlier rhythm sound.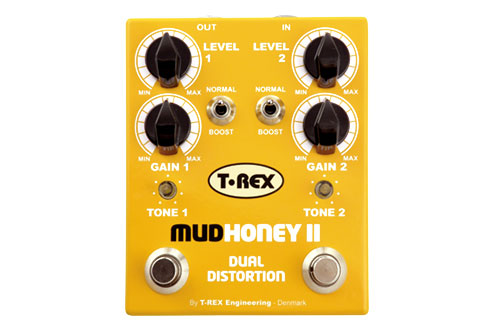 T-Rex Mudhoney II
f you still haven't heard a T-Rex Mudhoney, do yourself a favour and plug one in next time you're at the music store. Dirty and sweet, this classic dual distortion pedal has been praised for its amazing tonal range and ability to deliver everything from a smooth dirty edge to a harrowing wall of distorted sound. It's one of first pedals we produced, and it set the standard for many T-Rex pedals to come. Everything that is great about the original Mudhoney – and then doubles it! With two channels of vintage gain, you can easily switch between a clean sound from your amp, a nice edgy overdrive from the one Mudhoney channel and a thick warm distortion from the other channel – delivering deliciously dirty T-Rex tone all the way.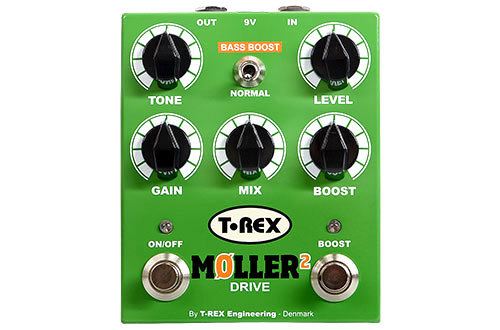 T-Rex Møller 2
T-Rex Møller 2 delivers the same classic overdrive that made it's predecessor one of T-Rex's most sought-after pedals. Named after Danish guitarist Knud Møller, for whom the original pedal was designed, Møller 2 features a more durable "Bass Boost" toggle switch and easier-to-read control knob graphics. The pedal is armed with a 0-20 db clean boost, as well as a mix control which lets you dial in the perfect balance between distorted and clean signals. Rolled all the way up and with distortion maxed, the pedal sounds just like a vintage tube amp at full volume. Roll the Mix knob back a bit, and your clean signal starts to get through; if you pick lightly or roll back your guitar volume, you get a stunning clean, softly-clipping sound that retains all the feel and dynamics of your original tone, only bigger, louder and richer. The boost function lets you dial in a solo level, whether the overdrive circuit is activated or not.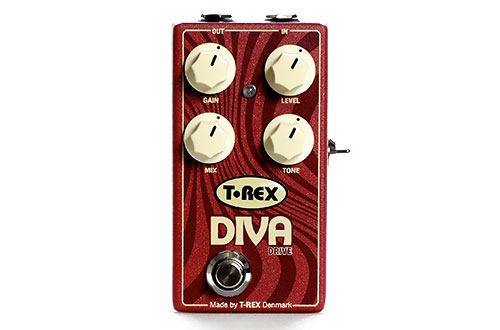 T-Rex Diva Drive
DIVA was built to enhance your sound—not replace it. No matter how much gain you add, no matter how you choose to beef up your low end, DIVA will respect your musicianship, your gear and your personal tone. Use it for that subtle "one more notch" effect. Or lay on the gain for some serious, punchy bite. Any way you use it, you'll sound amazing, just like you.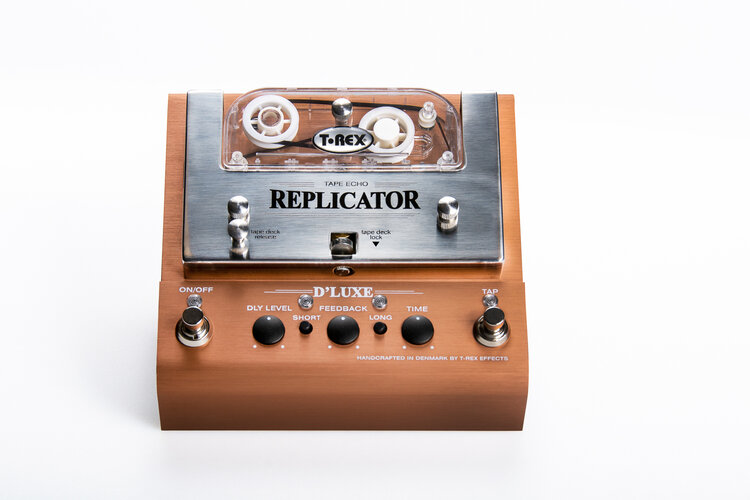 T-Rex Replicator D'luxe
The Replicator D'Luxe is a sum up from all the knowledge, T-Rex has built up over the years, making Tape delays. It is a 2 head machine. The drive mechanism has been updated with a noiseless belt drive. A tape lock/release mechanism is added, to make the pinch wheel and tape last longer and electronics has been tuned to perfection.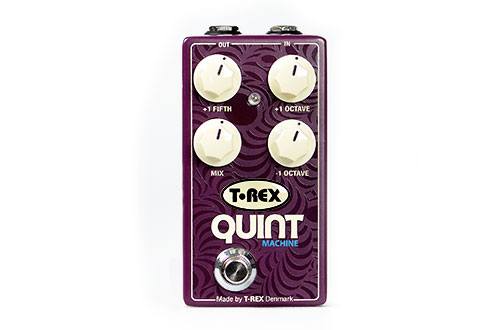 T-Rex Quint Machine
Classic octave doubling is cool, but throwing in a 5th up and giving all 3 modulated sounds their own volume control opens up a whole new world. Sound like a 12-string. Sound like an organ. Get rid of your dry signal and sound like a synth just owning that lonely heart. We built the T-Rex Quint Machine to give you more, and it will keep you discovering new sounds for years.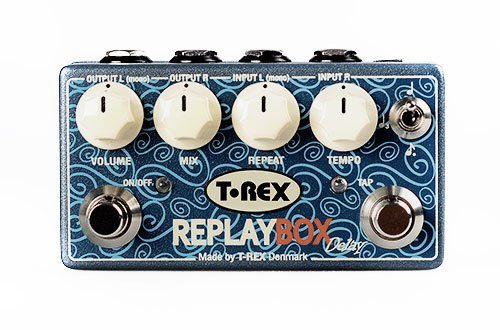 T-Rex Replay Box
The Replay Box features stereo in- and outputs, so you get the most out of those stereo modulation boxes you sometimes step on. Not only is the dry stereo image kept intact, but the DSP processes each side individually, according to the knobs settings. It´s sort of like having two identical delay pedals for each side. Tap Tempo works great for keeping the delay time in sync with the guy banging on the skins, but there is something to be said about subdivisions. A straight up quarter note delay works great for most sounds, but the rhythmic pattern that emerges from a perfect dotted eighth delay is quite nice and triplets can be just the ticket in swing or more rootsy types of music, so we put in all three options.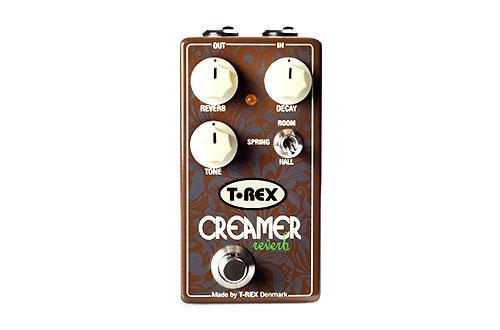 T-Rex Creamer
So, you finally got your rig dialed in and it sounds fantastic, but sometimes you feel like adding a bit of depth or airy-ness to it. You want to fill in the holes in your playing, add some ambience or you maybe just really like those dreamy, special sounds that seem to take on a life of their own. HOWEVER, you don´t want to be lost in sub-menus or unfamiliar parameters, your pedal board is pretty much packed with all your precious goodies and you don´t want to ruin that tone you finally nailed. The Creamer Reverb is your no nonsense, easy-to-use, great sounding reverb pedal that should enhance your playing in such a way, that you never really turn it off – things just sound better with a bit of cream on top!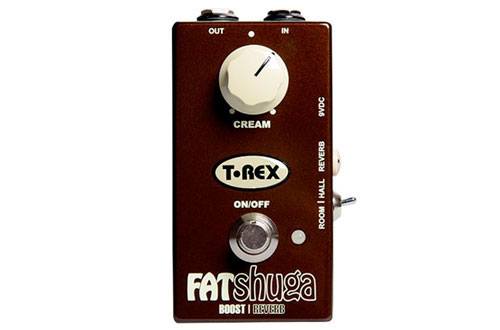 T-Rex Fat Shuga
So you've got the heart of vintage - a gorgeous tubey sound with just the right amount of overdrive cream. Now all you need is some classic ambience to create the right setting. T-Rex Fat Shuga delivers this in abundance with a gorgeous-sounding built-in reverb. Add a touch of room or hall ambiance, and feel the magic kick in, bringing your tone to life and recapturing everything that's best about the pre-digital world.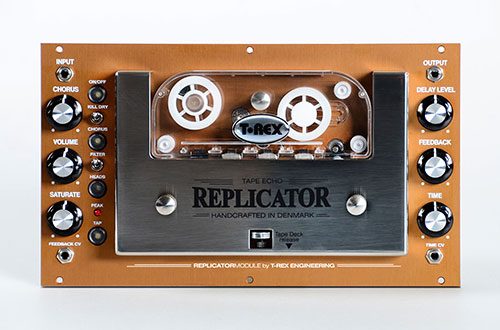 T-Rex Replicator Module Euro Rack
The Replicator Module uses much of the same technology of the "stompbox" version, but certain parameters and features are optimized for Eurorack/studio use. CV inputs accept 0-5V control signals, so you can now plug in your favorite oscillator module and control delay time and/or feedback electronically. Pair it up with a funky, modern wave generator for a perfect marriage between 70´s ambience and contemporary sound manipulation. The added filter switch dampens high frequency content in the delay signal for less noise and a darker echo. The internal power rails has been modified to run from the +/-12V Eurorack standard, so you get all the same sounds and features from the pedal version, but in a more studio/keyboard/synth-friendly format. Get creative with CV control of true tape echos, process instrument signals/tracks in the studio or use as a table top echo unit for live sound.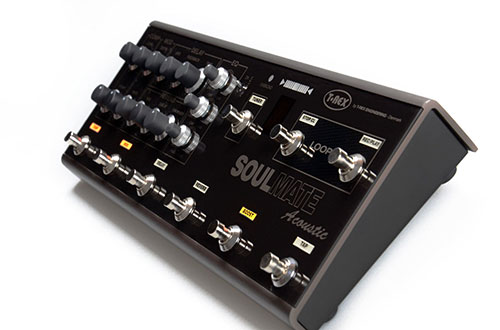 T-Rex Soulmate Acoustic
Having some cool effects at your disposal when playing your acoustic instrument can highlight your performance and playing, but the effects should not cover up the instrument´s acoustic properties/sound and should act as "enhancers" of what´s already there. With a good pickup system, what most players look for is subtle changes, because essentially, they want to hear the instrument, only louder. More importantly, we need to be able to use the instrument in various environments that are quite hostile for an instrument that is designed to be played acoustically. If signal phase, impedance and feedback mean anything to you, you already know that amplifying acoustic instruments often involves patching in various electronic gadgets that you´d never use in your electric setup, The T-Rex Soulmate Acoustic merges a collection of top notch effects with some very useful tools for acoustic playing because in our world, you need both for optimal sound. Really, it should be called "Toolbox Acoustic" because it´s almost as much a handful of "little helpers" as it is a multi effects unit for all stringed acoustic instruments with a microphone/pickup system installed.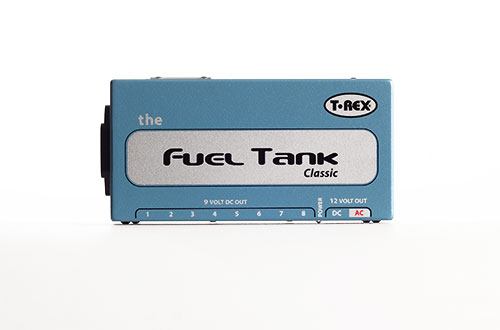 T-Rex FuelTank Classic
This is the T-Rex Classic FuelTank that has 3 different output sections: 9 volt DC, 12 volt DC and 12 volt AC. Each section is isolated. No more batteries to change. No more tangled cables to trip over. FuelTank is the perfect power supply unit for guitarists who want to focus on their performance, not their gear. Delivering 1.500 mA through ten DC plugs, FuelTank powers all your pedals – keeping you running on full power night after night.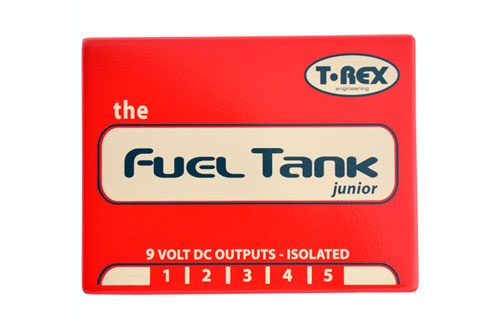 T-Rex FuelTank Junior
Fuel Tank Junior is a lean, mean power supply that will handle virtually any 9-Volt effects pedal – and then some. It features 5 isolated outputs that deliver clean, quiet power to your pedals. And it's switchable between 115 and 230V, so you can use it worldwide. Don't let the compact size of this unit fool you – Fuel Tank Junior is a real powerhouse!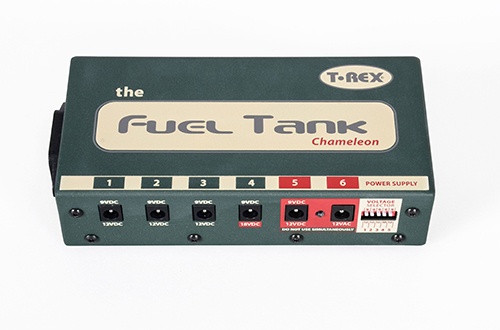 T-Rex FuelTank Chameleon
The Fuel Tank Chameleon is only the latest addition to the T-Rex Fuel Tank family. The original Fuel Tank Classic features 9V DC, 12V DC and 12V AC outlets in three isolated blocks of 500mA each and is ideal for medium-sized pedal boards. It comes with lots of single patch cables and a multiple link cable. The Fuel Tank "Juicy Lucy" powers 5 12V pedals and also offers great extras, like multiple unit linking. The baby of the family – Fuel Tank Junior – is a good choice for a small number of 9V pedals. It offers both current doubling to 240 mA and voltage doubling to 18V.