The concept behind Rocktron has always been to deliver quality sound to the guitar player through exciting and often very innovating products. Many of the Rocktron products seek to marry a vintage style to modern technology and bear the mark of actual longtime musicians who understand and appreciate the needs of guitar players and then design and develop products accordingly.

**PLEASE NOTE**:Not every item on this page is in stock at all times. Some models we offer by special order only. Others are on back order with the vendor. Please email us to check availability of any product shown here.
---

Rocktron ValveSonic Black Plate +
Providing unprecedented sonic versatility with another four-tube monster in the ValveSonic series, the Rocktron ValveSonic Black Plate + model captures the tone of the iconic American combo known for its pristine clean sound and smooth overdrive when cranked up. We're talking 50's "Hybrid Tweed" to 60's classic "Black Plate" Panel. But this ValveSonic takes it even further providing the hot-rodded tones of the classic California amps. All this with a single preamp!

Rocktron ValveSonic Plexi
Rocktron has partnered with LA Custom to produce the ValveSonic series of all tube guitar preamps with unprecedented sonic versatility. The ValveSonic Plexi captures the vintage tones of the iconic British "plexi" amplifiers, from the stacked amps and the arena sound of rock to the sound heard during the "Sunset Strip" era of rock, and beyond.

Rocktron VooDu Valve LTD
The VooDu Valve LTD is a 24 bit DSP professional tube guitar preamp providing 12 unparalleled effect algorithms and superb sound quality never before heard from a digital tube guitar preamp. Complete programmability and full MIDI implementation are coupled with a user friendly operating format to ensure that designing unique and useful preset sounds is as simple as possible.

Rocktron Widowmaker
With over-the-top metal gain, our intended user for the Widowmaker is the modern metal guitarist, and those who rock on the very heavy side. The Widowmaker is an outstanding choice for a two channel analog preamp. This single rack space molten gain producing machine delivers the goods when it comes to high gain shred tone.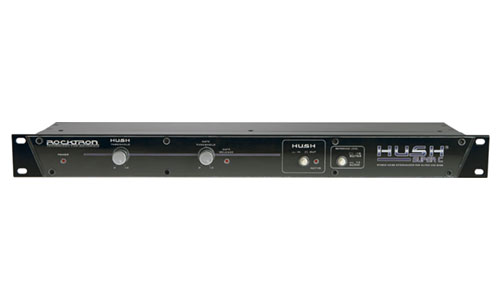 Rocktron Hush Super C
Forget about noise gates, Rocktron's HUSH Super C noise reduction is the ultimate noise exterminator for guitar players. With a minimum amount of controls, the Super C provides the maximum in performance, eliminating hiss, hum, crackle, and other annoying noise problems from your setup.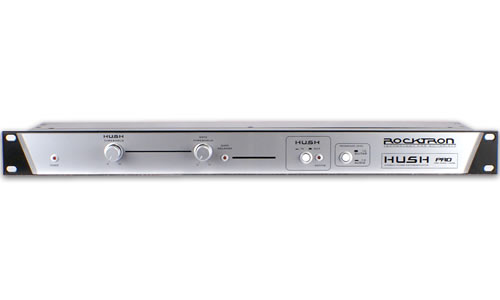 Rocktron Hush Pro
Nothing beats a HUSH when it comes to reducing, eliminating and exterminating noise problems. The HUSH PRO continues the tradition of over three decades of Rocktron's world famous HUSH products used by professionals. The HUSH PRO provides BOTH 1⁄4" and XLR inputs and outputs, and is easy to setup and use. Wipe out noise, eliminate hiss, crackle and other noise problems with the very best, award-winning, noise reduction circuitry possible.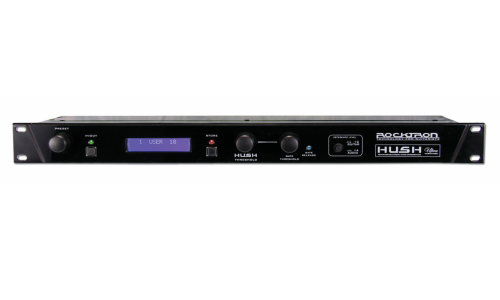 Rocktron Hush Ultra
The HUSH Ultra's innovative digital stereo noise exterminator provides two channels of the same world renowned professional noise reduction patented by Rocktron and used for years in thousands and thousands of guitar rigs and recording studios! The HUSH Ultra features True Bypass, an LCD display and programmable presets with MIDI control allowing you to tailor your HUSH settings on individual presets to suit your needs. The HUSH Ultra provides BOTH 1/4" and XLR inputs and outputs, and is easy to setup and easy to use.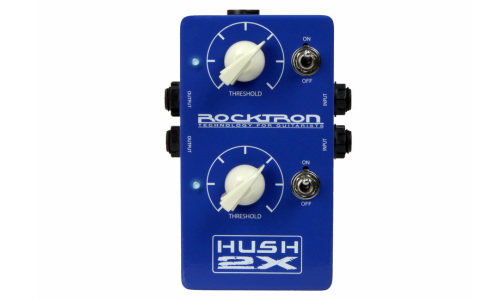 Rocktron Hush 2x
Essentially a "double HUSH", the 2X offers two completely separate channels of HUSH noise reduction in a single small unit designed to sit right on top of your guitar amp/head or in a rack drawer, freeing up space on your pedal board. The HUSH 2X is also TRUE BYPASS.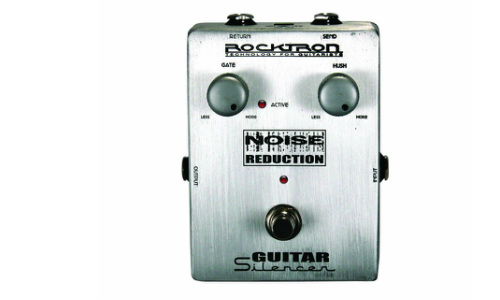 Rocktron Guitar Silencer
Now you can achieve noise exterminating bliss with Rocktron's incredible new Guitar Silencer stomp box that combines HUSH noise reduction technology with a noise gating process. This combination of two means to achieve noise elimination provides one outrageous noise killing device!
Rocktron Hush the Pedal
If you aren't using the HUSH, you aren't using real noise reduction for guitar. When used properly, the HUSH will wipe out hiss, unwanted feedback and pickup buzz. The HUSH pedal delivers 65dB of signal cleanup, while your music signal integrity remains unaffected. In other words, get rid of the noise without altering your tone!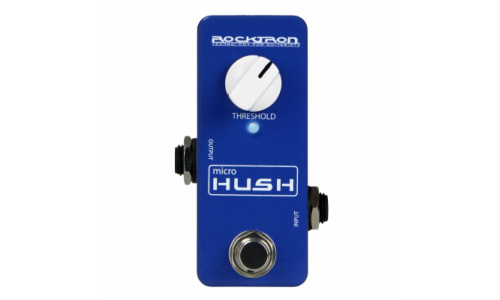 Rocktron MicroHush
With pedal board space at a premium these days, and smaller pedals in demand, Rocktron is pleased to provide the MicroHUSH to wipe out hiss, unwanted feedback and pickup buzz by providing up to 65dB of signal cleanup, while maintaining your music signal integrity. Guitar Player Magazine wrote that a "HUSH pedal will work for all guitar-related noise problems: it's perfect" and "its potent noise-killing abilities will be fully appreciated."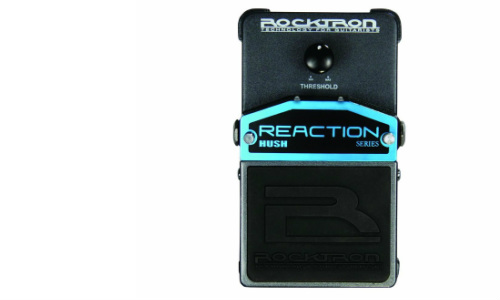 Rocktron Reaction Hush
You asked, and now you receive. The Reaction HUSH, when used properly, will wipe out hiss, unwanted feedback and pickup buzz. The Reaction HUSH pedal delivers 65dB of signal cleanup, while your music signal integrity remains unaffected. In other words, get rid of the noise without altering your tone!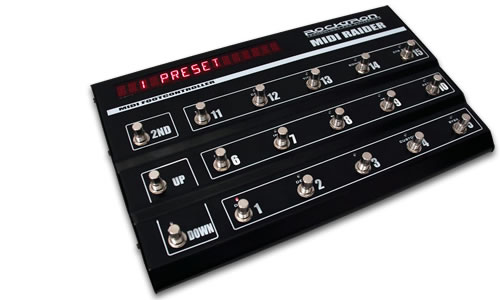 Rocktron MIDI Raider
Long the professional standard in MIDI controllers, Rocktron introduces the newest in a long line of MIDI products that have been used on more pro tours than any other controllers. The Rocktron MIDI Raider has evolved from the All Access units and the earlier Rocktron/Bradshaw systems.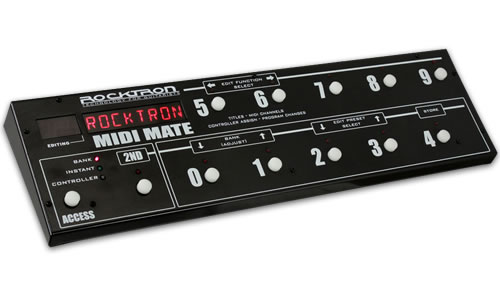 Rocktron MIDI Mate
The MIDI Mate has been designed with one concept in mind: allow the performing musician complete and easy control over their MIDI equipment. The MIDI Mate is an intelligent controller allowing you to send up to six preset changes on six different channels and five control changes while controlling one realtime parameter via a volume pedal ALL AT ONCE. Unlike other "dumb" foot controllers that send one MIDI command on one channel, the MIDI Mate lets you take full advantage of your MIDI gear in programming and most importantly, on stage.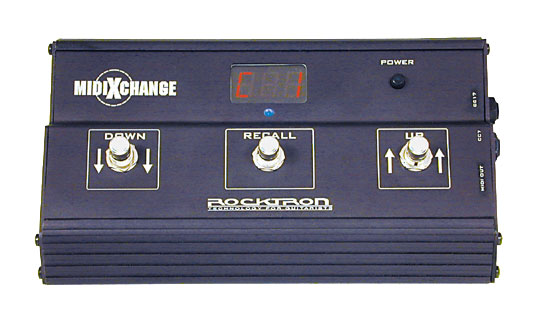 Rocktron MIDI Xchange
The MIDI Xchange is a simple to use, yet multi-functional MIDI switcher that not only controls Rocktron products, but other MIDI switchable products as well. Two built-in expression ports allow you to plug in up to two Rocktron HEX expression/volume controllers for continuous controlling of all sorts of parameters.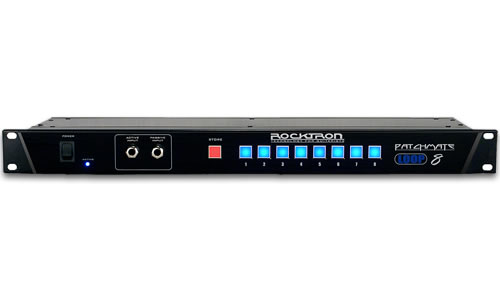 Rocktron Patchmate Loop 8
The PatchMate Loop 8 provides 128 programmable presets. Eight loops can be configured for multiple purposes. Channel switching, effects loops, guitar routing and more are provided in the PatchMate Loop 8. The PatchMate Loop 8 is easy to set up and program with real time user controls. Program the unit from the front panel using the lighted buttons. Recall presets using MIDI program changes. Control any loop in real time using MIDI Continuous Controllers.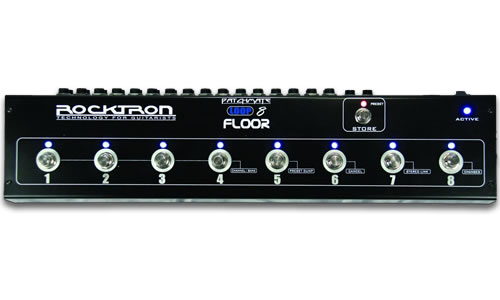 Rocktron Patchmate Loop 8 Floor
The PatchMate Loop 8 Floor provides 8 discrete Loops all with True Bypass, buffered and non buffered signal paths, 128 programmable presets with Real time control using the 9 high quality metal foot switches. The eight loops may be configured for multiple purposes including Channel switching, effects loops, guitar routing and more. Add preset programmability along with pedal True Bypass to any standard pedal board with ease!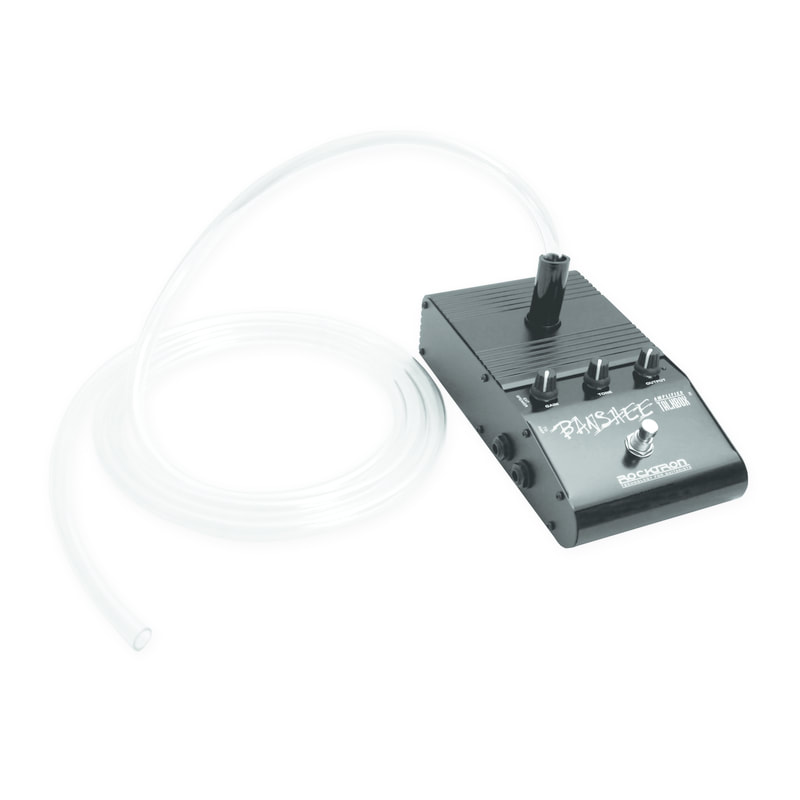 Rocktron Banshee Talkbox
Rocktron's Banshee Talk box is a unique device that provides the ability to let your music do the "talking". Words and phrases that you speak or sing while playing your guitar or keyboard will flow from your mouth, through the Banshee, out the Banshee tubing, into your microphone, and finally, out your amplification!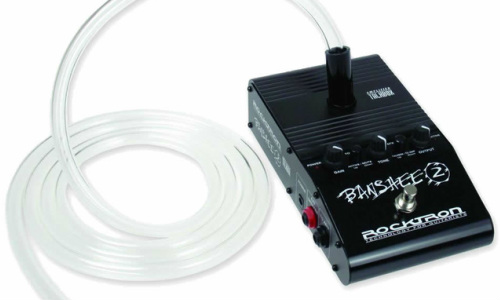 Rocktron Banshee 2 Talkbox
The Banshee 2 gives you the ability to let the guitar signal feed your amplifier at the same time that the talkbox effect is turned on!! This way you get your normal guitar signal through your amp while the talkbox effect runs through a mic (and your sound system). Rocktron has brought an exciting new dimension to the talkbox with the Banshee 2 by providing an effects loop which now lets you add other effects into the talkbox signal path, or through your guitar signal path at the same time! These new features allow you to get some wild new sounds never before done with a talkbox!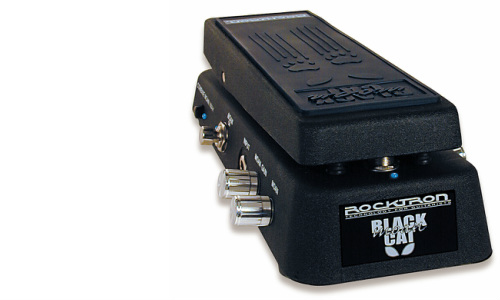 Rocktron Black Cat Moan Wha
Rocktron's new Black Cat Moan is a multi-functional wah pedal that offers extremely useful and musical features. Built-in germanium diodes provide a unique sweepable sonic effect (THE MOAN) that can act as a stand alone distortion and can be combined with the wah for an effect that cries harder and sweeter than a baby.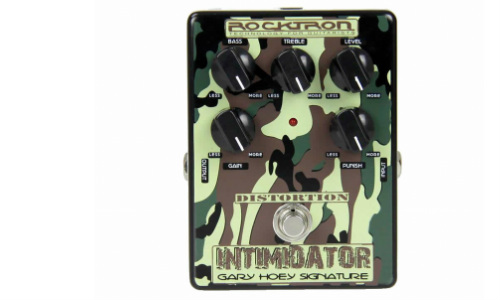 Rocktron Gary Hoey Intimidator Distortion
Gary Hoey has provided many preset sounds in various Rocktron products over the years. This time, he helped create his very own Signature stomp box with the Intimidator Distortion. Get ready for a pedal that delivers what this professional player expected.
Rocktron HEX Expression/Volume
The Hex Expression/Volume Pedal is a multi-function, high-impedance (250K ohm) pedal that can be used both as a volume pedal (with smooth volume transitions) and as an expression pedal that works with a large variety of processors and MIDI controllable equipment. The design of the pedal allows you to use a simple stereo to stereo cable for expression connection, minimizing cable use on stage.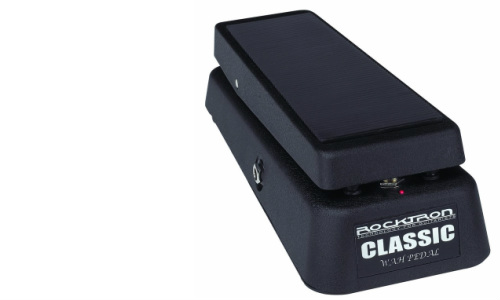 Rocktron Classic Wha
Looking for a rugged, great sounding wah pedal for less money? Check out Rocktron's Classic Wah. This wah has a sweet, musical, vintage tone and buyers are surprised at just how well this wah pedal delivers the goods.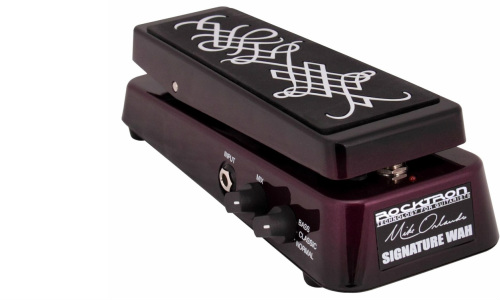 Rocktron Mike Orlando Signature Wha
Guitar virtuoso Mike Orlando has teamed up with Rocktron to produce a unique new wah pedal, the Rocktron Mike Orlando Signature Wah.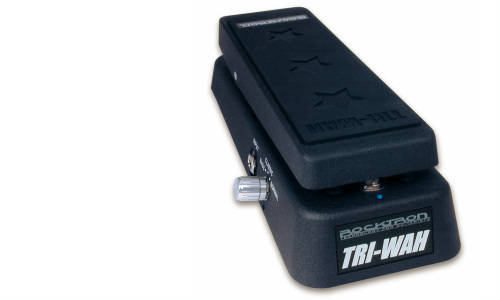 Rocktron TriWah
Here's your dream wah pedal from Rocktron providing excellent multi-function performance for a budget price. You will love the wah voicing modes. In fact, there are three voicing modes in all. A three-position switch allows you to choose voicing between Normal, Classic and Bass.