The concept behind Rocktron has always been to deliver quality sound to the guitar player through exciting and often very innovating products. Many of the Rocktron products seek to marry a vintage style to modern technology and bear the mark of actual longtime musicians who understand and appreciate the needs of guitar players and then design and develop products accordingly.

**PLEASE NOTE**:Not every item on this page is in stock at all times. Some models we offer by special order only. Others are on back order with the vendor. Please email us to check availability of any product shown here.
---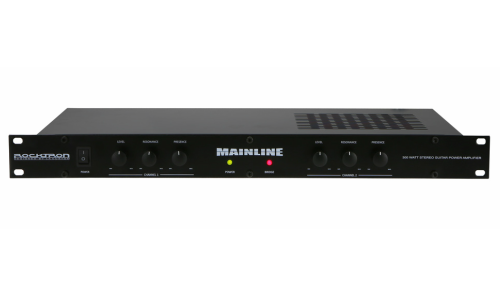 Rocktron Mainline 300 Watt Amplifier
The Mainline is a solid state power amp with a new front end circuit that emulates that sought after tube "feel" found in classic tube amps. With a LA Custom designed filtering in the front of the amplifier, the sweet spot in tube emulation has been achieved. The Mainline has a proprietary circuit that truly emulates the way a tube amp interacts with a speaker. Typical solid state power amps do not know or care what they are connected to, so they tend to always have a flat response. The Mainline amps possess an enhanced frequency response that is very much like a tube amp connected to a speaker. This adds a level of warmth and clarity not usually found in solid state power amps. The Mainline Power Amplifier features additional circuitry providing an "instrument/line level" (INST/LINE) switch. The INST input allows you to run your pedals - or pedal board - directly into the amp without having to utilize a separate preamp. The LINE input allows use of a preamp in combination with the Mainline power amp, providing plenty of flexibility with the Mainline.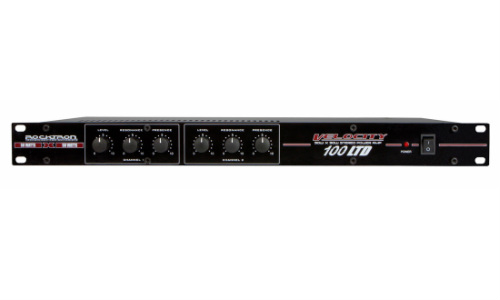 Rocktron Velocity 100 Watt Amplifier
The Velocity 100 LTD was designed to provide great flexibility and high reliability. This single-rackspace amplifier provides 55 watts of power per channel into a 4 ohm load, or 40 watts per channel into an 8 ohm load. The Velocity 100 LTD utilizes thermal protection circuitry, along with protection from over voltage, under voltage or any shorts to the power supply. This allows reliable performance night after night without the stress of losing your sound. A front panel power switch and two front panel volume control knobs make operation as easy as possible. The Channel 1 Level knob adjusts the output level (or overall volume) of channel one. The Channel 2 Level knob adjusts the output level of channel two. The Resonance control particularly beefs up the lower range, giving the Velocity 100 LTD extra performance at the low end of the sonic spectrum. The Presence control opens up the treble and higher end, offering more "voice" for solo playing.