Guitar building is an ongoing process of discovery. PRS is devoted to the guitar's rich heritage while committed to new technologies that will enrich their products with uncompromising tone, playability and beauty. Their success has depended on an ability to listen, implement positive change and continually refine the craft.

**PLEASE NOTE**:Not every item on this page is in stock at all times. Some models we offer by special order only. Others are on back order with the vendor. Please email us to check availability of any product shown here.
---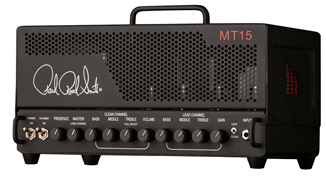 PRS Signature MT15 Head
The MT 15 is a commanding two channel amp with balanced aggression and articulation. Now upgraded with JJs 5881 power tubes, the MT 15 punches above its weight class with a large, bold sound, so you can dig in heavy with rhythms but also get singing lead tones out of one amp. Whether recording, practicing, writing, or playing a small room, this amp has everything you need. The MT 15's design started with heavier players in mind, but in the end, it has a lot to offer players of all genres. Like the PRS Archon amplifier, the MT 15 features five gain stages before the Master for full, lush distortion. The gain channel gets big, chunky tone with massive, tight low end, but it never loses its articulate note definition or great lead tone. The clean channel is bright and chimey, good with chords and fingerstyle playing – whether with a pic or not. The clean channel also features a push/pull boost control that adds a little overdrive for old school crunch. No matter what tone you dial in, the MT 15 stays balanced across the spectrum with a sweet, smooth tone that won't bite your head off. Additional features include an effects loop and bias adjusters that are accessible from the back panel for ease of servicing. Despite its 15 watts, the MT 15 sounds more like 50, so a half power switch that takes the MT to 7 watts is a welcome addition. Bottom line, the amount of features, the hugeness of the sound, and the raw horsepower of the circuit make the MT 15 an impressive lunchbox hero.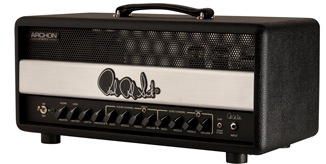 PRS Archon 50W Head
The PRS Archon is powered by two 6L6 tubes, offering full, articulate tone with smooth high end and tight low end. They chug, distort, and get heavy without over-saturating, and they sing without becoming harsh. Utilizing a 'no flash or trash' approach, the Archon's control layout allows for detailed and intuitive tone shaping. Each channel features volume, treble, middle, bass, and master volume controls as well as a bright switch. The 3-band EQ lets players better dial-in their desired tone, while the volume and master controls work together to command the amp's distortion and loudness. The bright switch acts almost as a treble boost, putting a shine on the amp's high-end without going into icepick territory. The global presence and depth controls in the Archon's power amp section both work to modify the feedback network of the amp to unleash the potential of the high- and low-end respectively. Turning up the Presence control releases more high- mid and treble frequencies, bringing the amp's tone forward. Depending on the tone stack and volume settings, the Presence can change the gain/ texture and loudness of the high-end, making your tone wilder and more 3-dimensional (or more "present" sounding). In addition to adding low-end, Depth adds a resonance to those frequencies that more 3-dimensionally shapes the Archon's tone.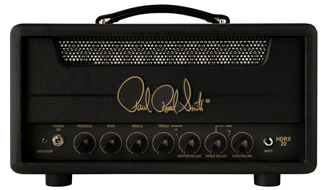 PRS HDRX20 Head
The PRS HDRX 20 captures the flexibility, power, and balance of late 60's British-inspired tone in a lower wattage package. The PRS HDRX 20 features a newly-documented "Authentic Hendrix" Touring Circuit. This circuit is heavily inspired by one of Hendrix's personal amps, purportedly used at Woodstock, which Paul Reed Smith and PRS Amp Designer Doug Sewell were able to study in 2018. Designed to push the high-end so it is very clear, but not so much that it's harsh, the PRS HDRX shines without glaring and allows for aggression that can be backed off for smooth, sweet tones. The PRS HDRX 20 is driven by two 5881 power tubes. Chosen for their lower power, smaller size, and organic voice, the 5881 tubes bring thick but articulate tone that drives well and breaks up beautifully in this lower-wattage amp. The PRS HDRX 20 features a 3-band TMB tone stack, 2-way bright switch, high-mid gain switch, and presence controls. These features mirror the historic amp and give players flexibility and increased control of their tone. The PRS HDRX 20 is also designed with internally bridged channels with individual treble and bass volume controls. This eliminates the need for a jumper cable (historically used on the outside of the amp) and allows players to dial in their distortion level and tone more easily by blending the lead and bass channels' individual volume controls, bringing more modern convenience to the amp. The addition of a Master Volume control on the HDRX 20, a new feature for HDRX amps, is another modern convenience. Players can use the Master Volume to control the power amp section of the HDRX, making it more user friendly for players who do not want to add a volume attenuator to their setup.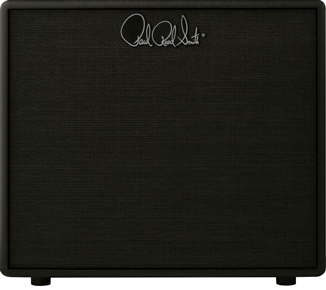 PRS Archon 2x12 Closed Back Cabinet
PRS Archon speaker cabinets feature a closed back design, delivering punch and tight low end. The Celestion V-Type speaker was chosen for its ability to maintain a balanced tonal signature from the Archon's exceptional clean channel through classic crunch and modern metal gain. Wrapped in black vinyl and outfitted with British-style knitted weave grill cloth and PRS Signature logo, Archon speaker cabinets have a clean and powerful look. Their rugged construction means players can trust them out on the road for years to come. 140 watts at 8 Ohms.
PRS Signature MT 1x12 Closed Back Cabinet
A Celestion Vintage 30 speaker, 60 watts at 16 Ohms