**PLEASE NOTE**:Not every item on this page is in stock at all times. Some models we offer by special order only. Others are on back order with the vendor. Please email us to check availability of any product shown here.
---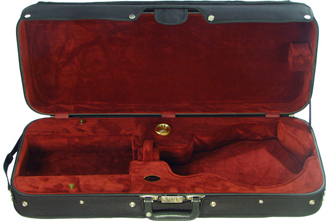 Bobelock Model 1019 Oblong Mandolin Case
For F style Mandolin. Velour interior. Accessory compartments inside. Music pocket outside. Wood shell construction with screw-attached Black canvas cover. Subway handle.
This model made in:
Gray Interior
Wine Interior
Green Interior
Blue Interior
Tan Interior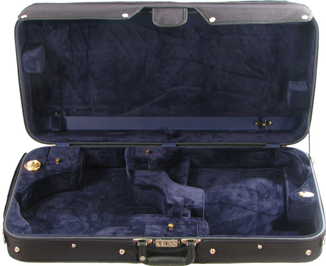 Bobelock Model 1022 Combination Mandolin and Violin Case
Wood shell with screw-attached Black nylon cover. Velour Interior. For 4/4 Violin and F Style Mandolin. Exterior Music Pocket. Two small interior compartments.
This model available in:
Blue interior
Wine interior
Green interior
Gray interior
Tan interior