Line 6 began life in the mid 90s and quickly became a top brand for guitar amps and multi-effects. Yamaha Guitar Group acquired the company in 2014 and since then has expanded the product offerings while continuing to maintain the high value Line 6 is known for.

**PLEASE NOTE**:Not every item on this page is in stock at all times. Some models we offer by special order only. Others are on back order with the vendor. Please email us to check availability of any product shown here.
---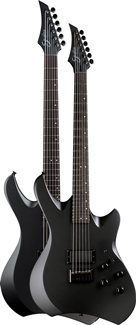 Line6 Shuriken Variax Guitar
Shuriken Variax guitars are available in two scale lengths. The Shuriken Variax SR270 features a longer 27" scale length that will feel familiar to many players using lower tunings, while the Shuriken Variax SR250 features a traditional 25.5" scale length. Variax HD technology makes it possible to instantly access the sounds of dozens of legendary electric guitars, acoustic guitars, and other fretted instruments with the twist of a knob—and switching between alternate tunings is just as easy. You can also design custom instruments and tunings, then load them into your guitar as presets using the free Workbench HD application.

Line6 JTV 69S Electric Guitar
By combining patented, industry-leading Line 6 digital modeling technology with boutique-style craftsmanship, James Tyler® Variax® is the only guitar in the world that can sound like an entire collection of vintage instruments – 28 models, plus the James Tyler-designed guitar itself. No more dragging piles of instruments to gigs or recording sessions. JTV-69S gives you an endless variety of guitar sounds – from classic acoustic and vintage electric tones all the way to sitar and banjo, plus the onboard SSS pickup configuration – in a double-cutaway, 25-1/2″ scale-length guitar designed by one of the world's finest luthiers.