Perhaps the most important aspect of your signal chain, preamps can dramatically impact what you send to an audience or to a recording. We offer a comprehensive selection from the top brands in acoustic instrument amplification.

**PLEASE NOTE**:Not every item on this page is in stock at all times. Some models we offer by special order only. Others are on back order with the vendor. Please email us to check availability of any product shown here.
---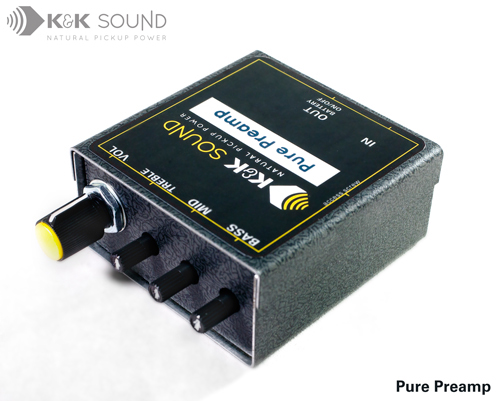 K&K Pure Preamp
The Pure Preamp is K&K's time-tested external preamp, featuring +/-20 db bass, mid, and treble controls plus an internal gain trimmer. This belt clip unit has been specifically designed for the frequencies of the acoustic guitar but it is also great for many other instruments. The Pure Preamp features a special super wide band midrange filter, which is absolutely great in combination with the Pure pickups. Its simple and noiseless circuitry provides unsurpassed clarity and power and the internal gain trimmer allows you to dial in the precise amplification factor needed for your instrument. Frequency response is 10-30,000Hz. The bass control is set to roll off at 100Hz, the midrange at 1.5kHz with extra large bandwidth and the treble are set at 10kHz. Input impedance is 1 meg and the output is low ohmic. Battery life is about 180+ hours. The Pure XLR Preamp has the same great sound and low noise circuitry as our best-selling Pure Preamp with the addition of a DI balanced XLR output and a phase switch.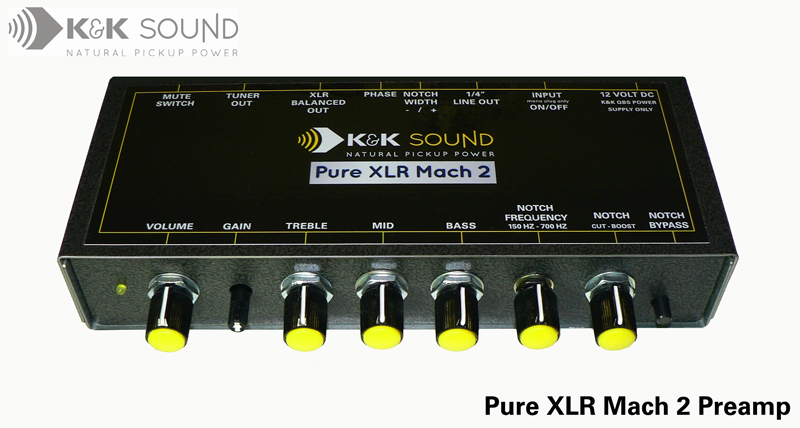 K&K Pure XLR Preamp Mach2
This version of the Pure Preamp runs on a "voltage doubler" that provides 18 volts to the internal components even though it uses standard 9 volt input voltage. The result is high-powered clarity that simply cannot be achieved with a regular 9-volt circuit. The Pure XLR Mach 2 Preamp preserves harmonics and overtones and provides a more open and true acoustic sound response. The additional parametric band allows you to fine-adjust the low mid / high bass band for optimum tone and feedback control.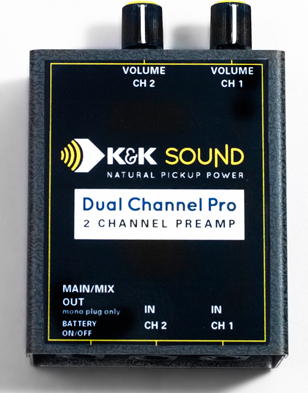 K&K Dual Channel Pro Preamp
The Dual Channel Pro Preamp is a two-channel, belt clip mixer that allows you to blend two pickups. It is compatible with both piezo and magnetic pickups. The Dual Channel Pro Preamp features extremely low-noise operation. It can process high input peaks without distortion and offers an incredible dynamic range. The Dual Channel Pro ST Preamp has a stereo input and two outputs (a main/mix out and individual channel outputs)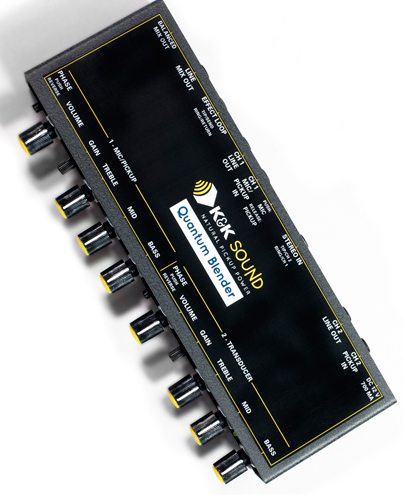 K&K Quantum Blender Preamp
The Quantum Blender is K&K's top-of-the-line two-channel preamp/mixer that provides all the control and features you could ever want to combine a piezo transducer with a microphone, magnetic pickup, or another piezo pickup. Channel 1 is switchable between microphone and pickup impedance. This means it can be used with any 2-wire powered lavalier type condenser mic or with a piezo or magnetic pickup. A dynamic mic can be used as well with an appropriate microphone impedance matching transformer. Channel 2 is designed with K&K's Pure pickup in mind, but it works well with most piezo transducers.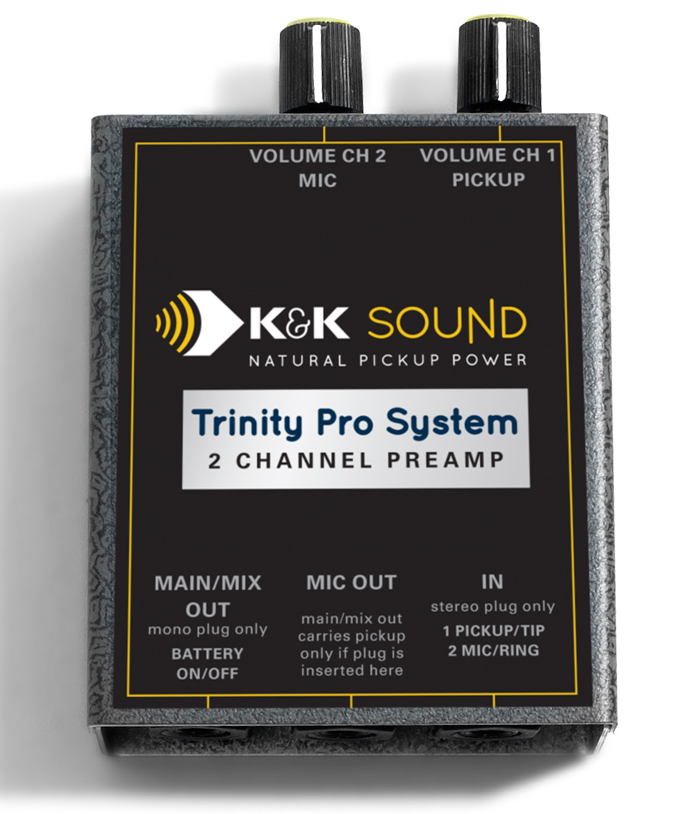 K&K Trinity Pro Preamp
The Trinity Pro Preamp allows for perfect balancing of a microphone and a pickup/transducer. Channel 2 is a designated mic channel with phase switch and supplies 9-volts to a lavalier type microphone. Each individual channel features volume, gain, +/- 20 dB bass, midrange, and treble filters. The EQ is accessible inside the box with trimpots. A convenient belt clip is included with this compact preamp, which weighs a mere ten ounces with the battery installed.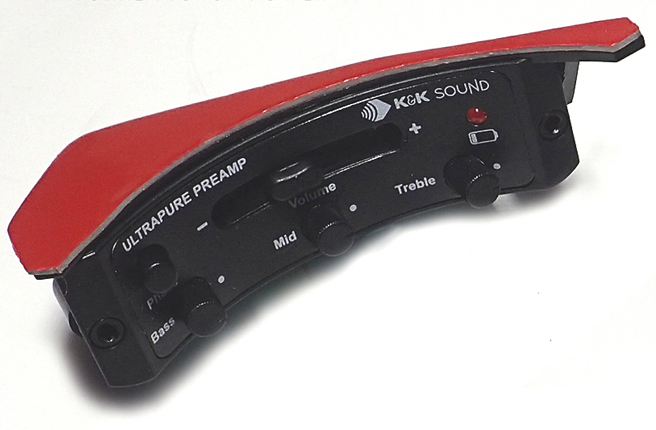 K&K UltraPure Preamp
The newly designed UltraPure Preamp features +/-20 db bass/low, K&K's proprietary wide band midrange, and treble/high controls, plus internal gain trimmer. The addition of a phase switch is one of the most important tools for live sound amplification. Also includes a volume control and low battery indicator. All features are easily accessed at the soundhole.