---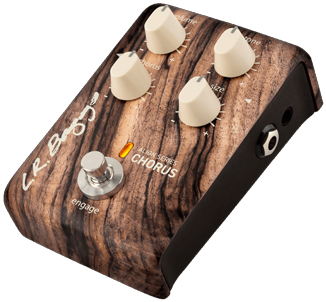 LR Baggs Align Series Chorus
Proprietary Chorus Tailored Specifically for Acoustic Instruments. In the same way a choir enhances the foundation of a melody, the Align Chorus complements your acoustic guitar rather than placing the effect in the limelight. With the purity of LR Baggs' circuitry and the effect in side chain, the Chorus adds fullness behind your guitar without any signal degradation. We designed the pedal with simple and intuitive controls that help you dial in a pleasing effect quickly and easily. A unique Size control blends two chorus voicings that interact with one another as you turn the knob. It's essentially like adding more instruments as you increase the size. Additionally, a Tone control shapes only the affected signal, enabling you to dial in the perfect balance for your instrument.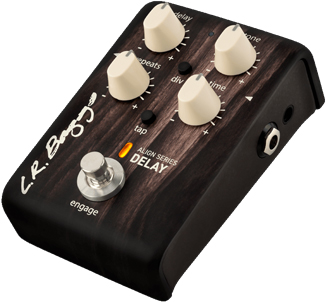 LR Baggs Align Series Delay
The Align Delay brings a classic effect to acoustic musicians by optimizing the signal for high-fidelity instruments. By expanding the range of your sonic profile while underlining your primary acoustic sound, the Delay augments both rhythm and melody for a larger dimensional sound and feel. We've combined the most desirable qualities of both analog and digital circuitry to create the best possible sound with the convenient features of a modern platform. The Tap button sets your desired tempo or the Tap Tempo input can be used with an external time control device. The Tone control only effects the repeats, ranging from warm and analog-like to clear, digital-like echo—for a versatile effect that can be tailored to fit any musical context.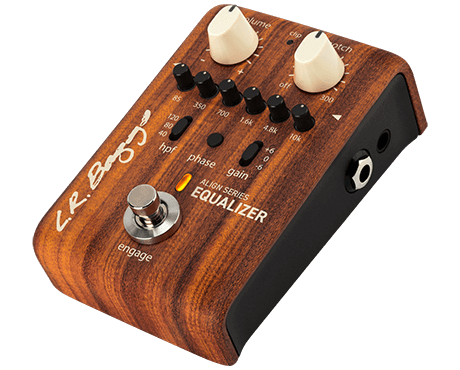 LR Baggs Align Series Equalizer
Acoustic Preamplifier with 6-Band EQ and Anti-feedback Notch Filter. Based on the circuit of the esteemed Para Acoustic DI, the Align Equalizer combines LR Baggs' signature, high-graded FET gain stage with powerful tone-shaping EQ that injects richness and balance to any acoustic pickup signal. A 6-band EQ shapes the frequencies we found most useful for improving acoustic guitar pickups with the flexibility needed to cover other acoustic instruments effectively. Multi-instrumentalists can incorporate dedicated EQ pedals for level matching a variety of instruments and tailoring a specific EQ for each one.
LR Baggs Align Series Reverb
Proprietary Reverb Tailored Specifically for Acoustic Instruments. The Align Reverb was built from the ground up to complement the natural body dynamics and warmth of acoustic instruments that we love so much. The circuit seamlessly integrates the wet and dry signals with the effect in side chain so that it never overwhelms the original signal. We shaped the reverb with analog EQ to reflect the natural voice inherent in acoustic instruments. Additionally, the tone control adds versatility by sweeping from warm and muted to open and present. The result is an organic reverb that maintains the audiophile purity of the original signal with the controls set in any position.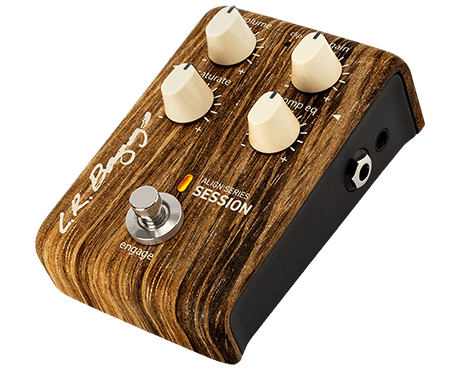 LR Baggs Align Series Session
Align Session brings the LR Baggs signature studio sound to your live rig. Session circuitry enhances your acoustic pickup and imparts the rich sonic character that you'd expect from an experienced audio engineer using some of the world's finest studio gear. We've captured this studio magic and put it into a compact, easy-to-use acoustic pedal that will transform your live sound. Often used by studio engineers in post-production, saturation adds warmth, dimension, and pleasing harmonics while smoothing the signal for an enhanced mix. The Session's proprietary saturation is voiced specifically for the acoustic guitar and transports studio analog warmth and inspiring playability to the stage. Unlike standard compression that can squash the entire range of your signal, the Session's Comp EQ features 3 narrowly focused bands of compression that tame common problematic frequencies and uncover the voice of your guitar. The low, mid, and high frequency compressors are essentially "touch-sensitive" EQs that respond in real-time to your dynamics. The harder you strum, the more they compress and vice versa.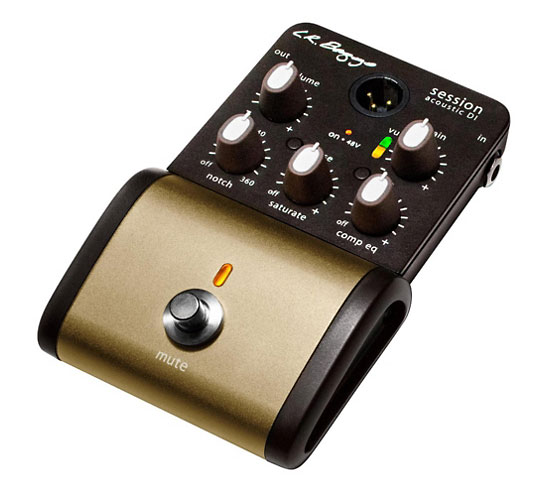 LR Baggs Session DI
Acoustic Guitar DI with Saturation and Compression EQ. The Session DI enhances your acoustic pickup and imparts the rich sonic character that you'd expect from an experienced audio engineer using some of the world's finest studio gear. We've captured this studio magic and put it into a compact, easy-to-use DI that will transform your live sound. The Session DI's proprietary saturation is voiced specifically for the acoustic guitar and transports studio analog warmth and inspiring playability to the stage. Unlike standard compression that can squash the entire range of your signal, the Session DI's Comp EQ features 3 narrowly focused bands of compression that tame common problematic frequencies and uncover the voice of your guitar. The low, mid, and high frequency compressors are essentially "touch-sensitive" EQs that respond in real-time to your dynamics. Variable high-pass filter attenuates extraneous low frequencies. VU meter visually optimizes gain for passive and active pickups. Ground lift switch effectively eliminates ground-loop noise. All discrete signal path with XLR and quarter inch outputs. 48V phantom power, 9V battery or 9V DC powering options. Rugged enclosure constructed of aluminum, steel and ABS plastic. Mute footswitch for ¼" and XLR outs. Includes custom LR Baggs carrying case.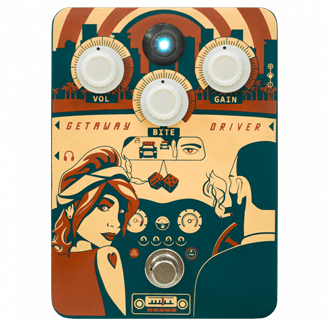 Orange Getaway Driver
The Getaway Driver is an amp-in-a-box type pedal with just three dials – Volume, Bite (tone) and Gain. While the pedal adds its vintage vibe on all amplifiers, it really excels when used with the amplifier's clean channel, even ones with a bright cap. It also makes a great clean boost, with lower Gain and higher Volume settings pushing amps over the edge into classic overdrive. The gain structure is produced using single-ended JFET circuitry running in Class A, just like a valve amp. The input buffer, output buffer and Cab Sim are handled using op-amps, using a charge pump to give 18v of headroom. The pedal features the same transparent, buffered output used on the Orange Two Stroke and Kongpressor pedals. While the second output is a buffered Cab Sim/headphone amp which can also work into a PA (via a DI box) or directly into a recording interface. The first output is transparent when bypassed, however, when using the second output, the Cab Sim remains engaged. This means that the Getaway Driver can be used as just a Cab Sim on its own if needed. The voicing and gain structure of this pedal is based on a cranked modded '70s valve amp. Running at 9 Volts, the pedal will have the character of EL84 valves, whereas 12 Volts will give an EL34 flavour. Use a regulated 9-12V DC centre-negative power supply.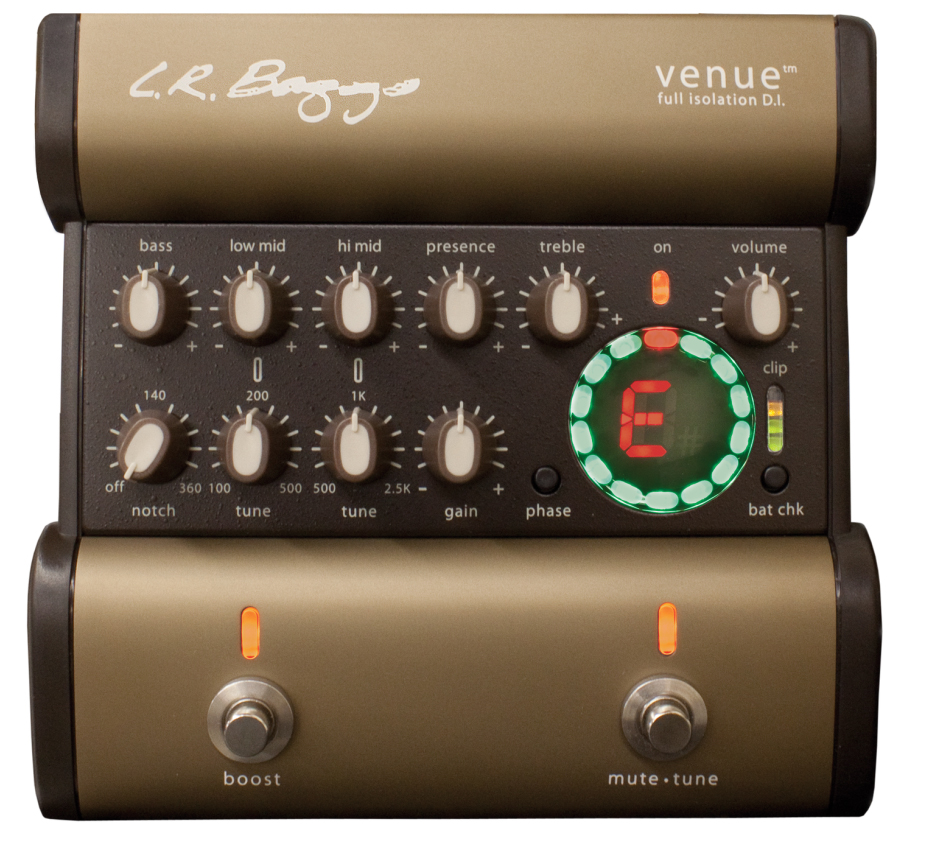 LR Baggs Venue DI
Every Tool You Need in One Acoustic Pedal. Baggs created the Venue DI so you can travel light, set up fast and sound incredible anywhere you plug in. The Venue DI gives you complete control by combining a full-isolation DI output, 5-band EQ with adjustable low & hi-mid bands, variable clean boost and chromatic tuner all in one acoustic pedal. With its all-discrete signal path, hi-graded semiconductors and exclusive use of audiophile grade film capacitors, the Venue DI is on par with the world's elite preamps and provides a studio quality sound for the stage. Adjustable gain for both passive and active pickups. 5 band EQ with tunable low-mid and high-mid bands. Garret Null notch filter for effective feedback control. Phase inversion for best sound and feedback control. Full chromatic tuner with footswitch mute/tune function. Adjustable volume boost footswitch. Full isolation audio transformer couple DI. 4 segment clip meter to visually optimize gain setting. 4 segment battery status gauge. XLR and ¼" outputs. Series FX loop (separate jacks for send and return). Works with 9V battery or DC adapter (not provided).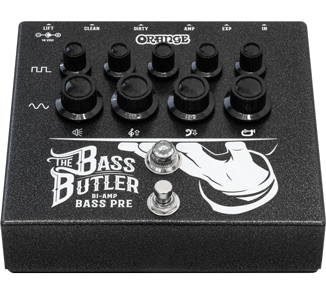 Orange Bass Butler
Back in the good ol' days, it was a popular practice to send a bass guitar signal to a bass amp and a guitar amp at the same time – known as Bi-Amping. This allows the player to keep their low end deep, clean and defined whilst amplifying the mids and top end separately, adding distortion or crisp highs with total control. This type of setup can produce some enormous tones but typically requires a huge and complicated rig, only possible if you're Rock 'n' Roll royalty. But, if you have to get all this together by yourself? Forget it! Enter The Bass Butler…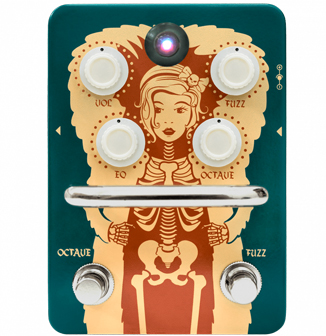 Orange Fur-Coat
Loosely based on the vintage Foxx Tone Machine, the Orange Fur Coat Fuzz takes its inspiration from the great fuzz pedals of the 70's. The Fur Coat gives you a fully controllable octave fuzz pedal. Separate switches mean you can choose between Fuzz or Octave Fuzz. The controllable Octave up fuzz means you can bring in the fuzz to whatever level you need and the EQ allows you to boost your Treble or Bass. This truly is a fuzz you control. This is our only True Bypass pedal. This is because a Fuzz is better at the beginning of the chain where it interacts directly with your guitar. Placing the pedal further into your signal chain or after a buffer will give the fuzz a more distorted tone.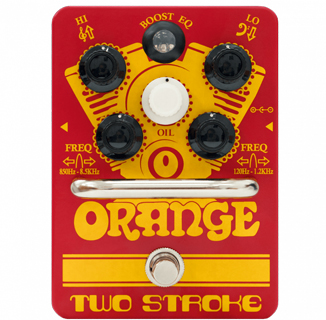 Orange Two-Stroke
The Two Stroke Boost EQ is our take on the essential 'clean boost' pedal, but with even more versatility. Combining an active dual-parametric EQ and up to 12dB of output boost, the Two Stroke is the perfect tool for fine-tuning your sound or pushing your amp's front end with unsurpassed control. Subtle Two Stroke tweaks can add an extra dimension to solos, whilst more aggressive use of the pedal's EQ can sculpt entirely new sounds. Use the Two Stroke to add an extra channel to your amplifier or re-voice your guitar's pickups completely. Crank the high mids to jump through the mix, cut the low end to remove the woolliness that normally occurs with traditional boost pedals, or leave the EQ flat to hear more of what you already like. However you set it, thanks to the pedal's charge pump circuit (which doubles the internal voltage and massively increases the headroom), the Two Stroke works brilliantly placed before or after other pedals, or even in your effects loop. It's also suitable for bass and acoustic guitars as a practical tool to remove unwanted 'honk' or feedback, making this pedal a valuable addition to any musician's setup. If you've flirted with EQ pedals before but been immediately put off by excessive noise and underwhelming results, the awesome Two Stroke Boost EQ may just change your mind.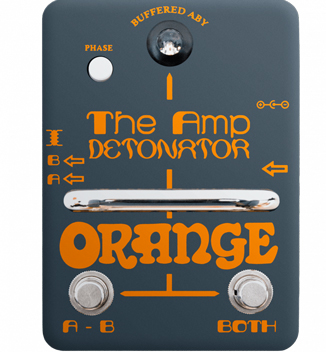 Orange Amp-Detonator
It's a well-known fact that running two amps is not only enormous fun, but also a time-honoured way of achieving bigger tones on stage and in the studio. Whether it's switching between two different amplifiers for their individual characteristics (rhythm and lead, for example) or using them simultaneously for huge walls of sound, pros have been employing this setup for decades. Achieving this easily, however, has always been a problem for guitar players. Poor quality passive ABY boxes/line selectors load the guitar signal down, degrading the tone and rendering the whole exercise almost pointless. Not to mention ground hum issues caused by non-isolated outputs. On the other hand, active ABY pedals are in short supply and are usually quite cumbersome. Step forward: The Amp Detonator. Featuring two buffered outputs, one with a custom designed isolating transformer, we are pretty confident that the Amp Detonator is the smallest active, fully functional, buffered ABY pedal on the market. What's more, it's the only active ABY switcher that can be powered by a 9V battery. The transformer output has been meticulously engineered to be as transparent as possible, whilst both outputs are buffered with a low noise, linear circuit. Drive any length of cable to your amps with no loss of clarity and switch silently between them. No more unnerving 'thumps' for you or the sound guy! The Amp Detonator also has a push-button polarity switch to correct common phase issues between amplifiers, keeping the tone fat and full. Finally, the tri-colour LED is a handy feature, especially on dark stages, indicating your current switching setting at a glance.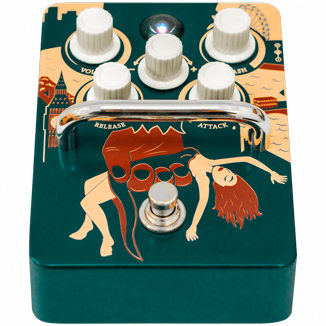 Orange Kongpressor
The Kongpressor is an analogue Class A compression pedal which adds an organic three dimensional quality to any rig. The pedal takes its inspiration from some of the world's most iconic vintage optical studio units, employing a re-issue of the famous vactrol VTL5C3 optocoupler that was responsible for the sound heard on countless hit records. At lower compression levels the Kongpressor's effect is transparent but somehow fattening. It adds mojo and a glossy sheen to your core tone that you'll truly miss when it's bypassed. Even at extreme settings, the tone always remains musical with great feel under the fingers. With controls for attack and release time, the Kongpressor can be tweaked to fine tune the transients and the bloom. We worked hard to make these parameters as forgiving as possible whilst still allowing players full control over the compression response. The pedal's internal charge pump doubles the headroom of the unit, so however the dials are set, the compression tracks seamlessly and remains clean across its range. There's also an active treble control for adding in extra chime and jangle, making the compression even more transparent. So whether you are new to compression or a seasoned studio user, it's impossible to get a bad sound from this comp. Of course it's outstanding for crystal clean country pickin', but the Kongpressor also maintains the bottom end that seems to gets lost in many compression pedals. This means it behaves impeccably with overdrive pedals or the lead channel of your amplifier, adding fullness and sustain.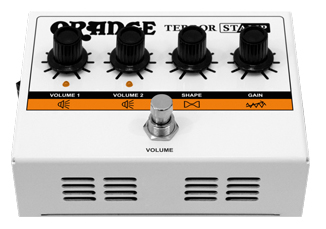 Orange Terror Stamp
Packing all of the punch of the minuscule Micro Terror and Micro Dark amps into an even smaller pedal format, this Valve/Solid State hybrid amp brings 20 Watts of killer Orange tone right onto your pedalboard. The Terror Stamp's tiny footprint, 8/16 Ohm Speaker Output, fully-buffered FX Loop and CabSim headphone output integrate seamlessly with your other pedals, whether you're rocking a loud stage, recording direct or practising into the early hours.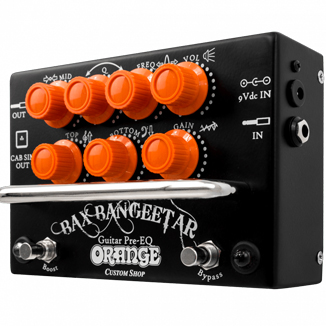 Orange Bax Bangeetar
For years, we were hounded by our customers and retailers to make a pedal. It may have taken a while for us to join the pedal party but it had to be right and, in 2015 we finally settled on a design of which we were truly proud – our first pedal since the 1960s, the Custom Shop Bax Bangeetar Guitar Preamp & EQ. The Bax Bangeetar is a Custom Shop grade Orange preamp coupled with a studio-style Baxandall active EQ in a stompbox enclosure. As a traditional stompbox, the Bax Bangeetar is in a class of its own, boasting a unique and hugely versatile gain structure and extensive EQ control. Dial in an enormous range of overdriven and distorted tones, delivered with a feel and responsiveness rarely found in pedals. Beyond that, though, this preamp pedal is an invaluable tool, allowing you to tailor your tone to any setup with absolute precision via its parametric mid controls. Find and eliminate problem frequencies in certain guitars and amps, shape broad mid 'scoops' or boost anywhere on the mid spectrum to suit any style. Kick in the 6dB clean Boost and you're covered for any situation. Plug straight into the front of an amp as a standalone drive pedal, or plug into the FX Return to make the donor amp 'disappear'! Whatever your rig, the possibilities are virtually limitless. For even more flexibility, the second output takes your sound and passes it through our CabSim circuit, recreating the frequency response of a mic'd Orange 4×12 cab, ideal for direct recording or even connecting to a PA. Whether on stage or in the studio, the nature and scope of its controls mean there isn't a situation where the Bax Bangeetar doesn't excel.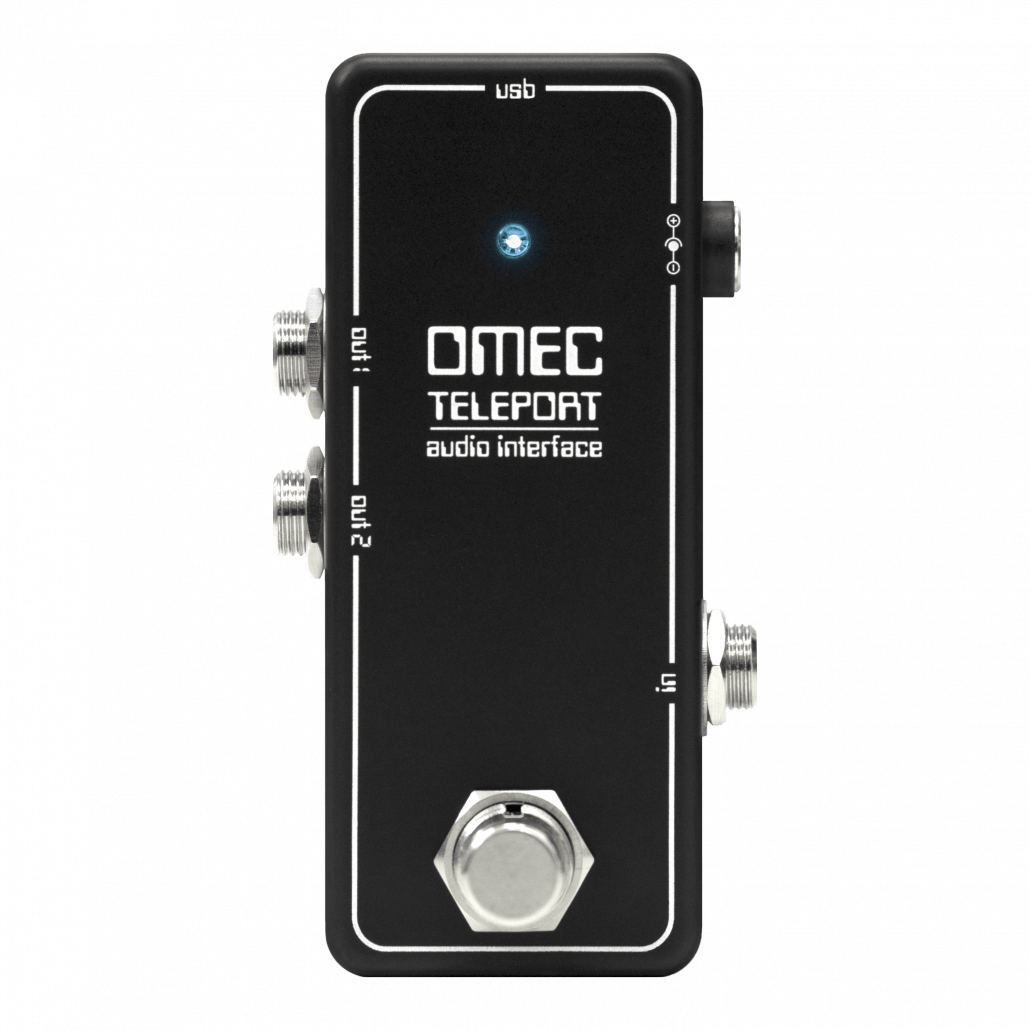 Orange OMEC Teleport Interface
The OMEC Teleport interface is a universal connection device (IOS, Android, Mac, PC) without any specific drivers or software requirements. It features high quality ADC/DAC converters – through a USB B connector – housed in a small effect pedal enclosure, first of its class, it´s loaded with a buffer and the right impedance to transfer all your interpretation´s subtle nuances to the digital domain and back. The Teleport allows you to convert analog audio signals to digital, to be processed with the many apps and software available, and digital audio signals to analog to be reproduced through mixers, D.I. boxes, amplifiers, etc. With this versatility the Teleport can be used for a wide range of applications for musicians that want to play, record, mix or process their sound, with the autonomy provided by mobile devices.