Perhaps the most important aspect of your signal chain, preamps can dramatically impact what you send to an audience or to a recording. We offer a comprehensive selection from the top brands in acoustic instrument amplification.

**PLEASE NOTE**:Not every item on this page is in stock at all times. Some models we offer by special order only. Others are on back order with the vendor. Please email us to check availability of any product shown here.
---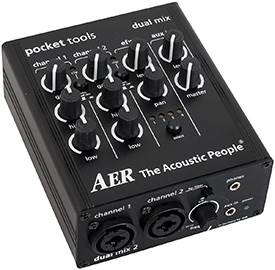 AER Dual Mix 2
The dual mix is a high-quality "two-channel" preamplifier for instrument/line or microphone signals. The unit offers simple, efficient features just like a small mixing console. Two inputs, each for one microphone or instrument
and line-level signal with switchable 24V-phantom-power. Separate active two-band EQ networks for each input. 4-preset multi-effects-unit with two reverbs, one echo and one chorus. Stereo aux-in. Line-out and DI-out. Stereo-headphone-preamplifier.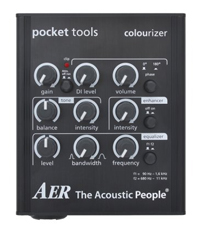 AER Colourizer 2
The AER Colourizer 2 is a preamplifier for instrument or microphone. Simply insert The Colourizer into the signal chain between source and next point in the audio path (e.g. amplifier or mixing desk ) and your signal will be stronger, richer and more stable. It is an ideal recording companion, or for use in a live environment.