AER is the German-made, ultra high end line known for compact, premium quality combo amplifiers. Don't let the small size fool you.

**PLEASE NOTE**:Not every item on this page is in stock at all times. Some models we offer by special order only. Others are on back order with the vendor. Please email us to check availability of any product shown here.
---
AER Alpha
One channel but two independent input stages (line and microphone/line). The Alpha offers you various options in signal processing. 40 Watts plus the 8"-twin-cone speaker-system of the Alpha provide you with a well-balanced tone at all sound pressure levels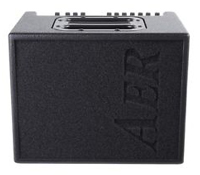 AER Compact 60
The Compact 60/4 has proven that there is an all-round, small, powerful and yet simple to use complete solution for stage, studio and home use that works up to the highest demands and standards of acoustic players. 60 watts, dynamic control. 8" (200 mm) twin cone speaker. Twin channel, 3 and 2 band EQ. Digital effect processor with 4 presets. DI out with pre-fx/post-fx switch. (3 x reverb, chorus). 6,5 kg (14.30 lbs)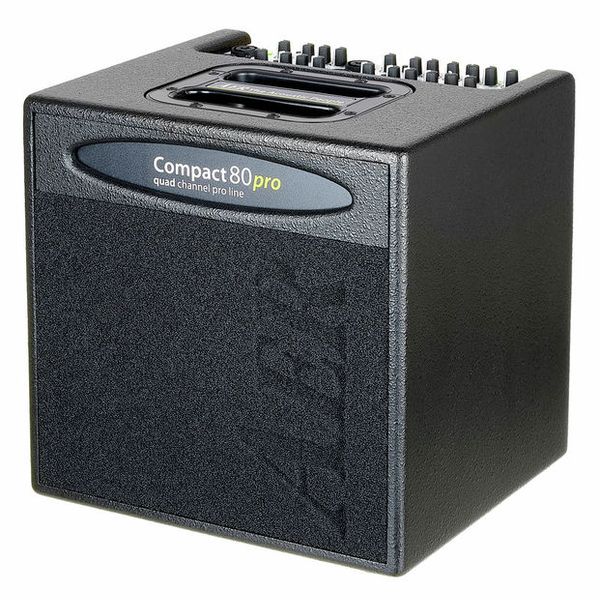 AER Compact 80 Pro
More channels, more power, an innovative couple system for optimal cooperation in stage situations. Two DI outs for intuitive processing in FOH systems, and that with the simple and proven operation of all AER Compact systems. Its innovative power amp design offers more headroom for all live requirements. Four channels for instruments and e.g. B. high-quality condenser microphones, 8 ", 200 mm AER Custom Twin Cone ensure additional expansion of the input signals and their implementation. The adjustable AUX interface ensures safe PlayAlongs via CD or smartphone.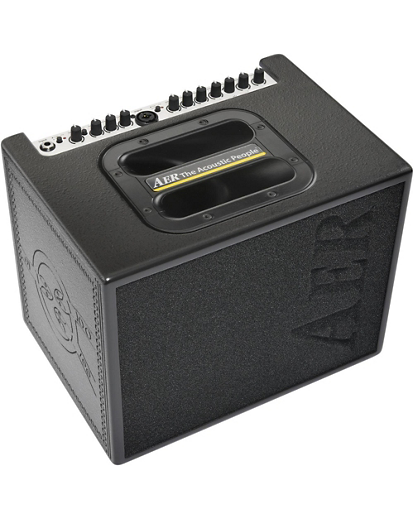 AER Tommy Emmanuel Signature Combo
Tommy Emmanuel is one of the most influential guitar players of our time. For over a decade, he has relied on AER amplifiers to deliver his music to millions. To acknowledge that commitment, AER introduces the Compact-TE Tommy Emmanuel signature amplifier. Based on the original Compact 60, the Compact-TE features Australian aboriginal artwork and his signature with the coveted "CGP" (Certified Guitar Player) certification, bestowed upon Tommy by Chet Atkins himself, carved into the sides of the cabinet. The Compact-TE further diverges from the original Compact 60 by offering its onboard effects through to the DI-Out, and by replacing the onboard Delay effect with a replica of Tommy's original Alesis Midiverb 2 Delay/Reverb effect that has defined his sound all these years. 60 Watts, Two channels, 1x8 dual-cone speaker, reverb, Midiverb delay/reverb, DI output, deluxe carrying bag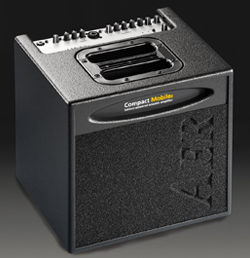 AER Compact Mobile
Musicians often asked us for a system for acoustic instruments that provides AER sound and quality everywhere ... independent from the mains. This is exactly what the Compact Mobile has been developed for. Based on the Compact 60, thus identical in sound, but with adapted technology and slightly changed dimensions, you can play up to 4 hours without the mains. Whether you choose to play in the old town or on a glacier, the sound is always clear and omnipresent. In case of insufficient battery power the intelligent power control gives a warning and saves you from lack of power during performance. Moreover it prevents the batteries from being completely exhausted. 60 watts, battery powered 8" (200 mm) twin cone speaker twin channel, 3-/2-band eq digital effects up to 4 hours performance independent from the mains
AER Compact Slope
The Compact 60 Slope is a professional, compact and powerful amplifier system. Especially developed for the enhancement of acoustic instruments it is nonetheless suitable for other instruments, even electrical ones. Our design concept was focused on the singer-/songwriter who requires outstanding reproduction of his instrument and vocals and prefers the sound source on the floor addressing him in an angle. (45°) The Compact Slope accomplishes this by combining well approved Compact 60/3 with a wedge design cabinet. 60 watts, dynamic control. 8" (200 mm) twin cone speaker. Twin channel, 3 and 2 band EQ. Digital effect processor with 4 presets (2 x reverb/delay/chorus) 7,2 kg (15.87 lbs)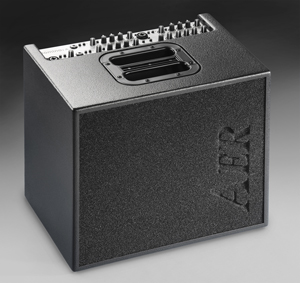 AER Domino 2A
The Domino started out as mono, multi-channel acoustic solution for bigger stages. It allows 4 signals at the same time and is fully equipped to work as a PA for small sized venues. To maintain almost the same sound quality we decided to multiply the sound systems rather than using standard configurations like 12" and tweeter for higher volumes. Thus the Domino is equipped with two 8" twin cone speakers plus tweeter and two combined 60 watt amps working as a 100 watt power unit. This gives him accuracy in the midrange and the speed for a realistic and vivid sound. 100 watts, dynamic control. 2 x 8" twin cone mono speaker system plus 1" neodym tweeter. Quad-channel acoustic system. Digital effect processor with 16 presets. 12,8 kg (28.2 lbs)/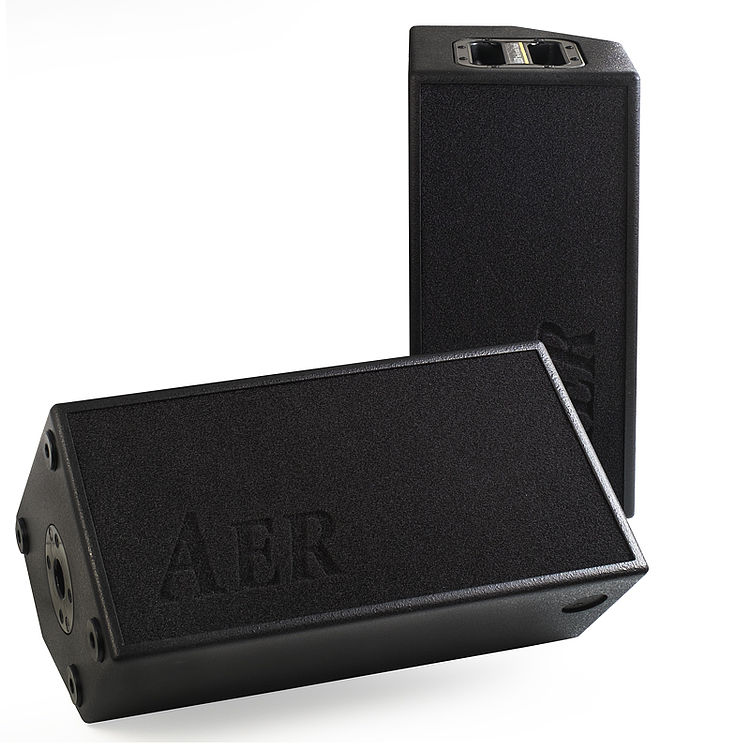 AER AS281/4 Active Full Range System
AS 281_4 is a small full range 2 way active system in D'Appolito construction, based on 2x8" low mid speakers with polypropylen cone embracing a bi-radial horn (LM-H-LM). The main advantage of the D'Appolito-concept is constant directivity especially in the 'hang over' range of the speakers. It is equipped with a high-quality hybrid power amplifier that delivers 200 watts at 8 ohm with substantial power reserve due to oversized power supply. It is a stand alone system for general reinforcement/installation purposes or any monitor application. It is perfectly matched to complement AER products as the AcoustiCube 3 or the Dominos 2/3 into full stereo systems. In combination with AS 550 D/Sub it forms a PA-system for small clubs and/or acoustic, jazz or fusion ensembles.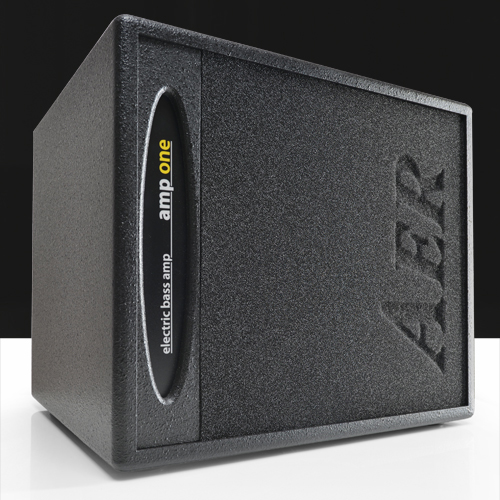 AER Bass Amp One
Over many years you have asked us for something small for electric bass. Simple, powerful and with a performance hard to believe. Based on a superb 10" in a bass reflex enclosure, in combination with a serious 200 watt power amp, more than sufficient power-supply and extended dynamic headroom. Single channel Bass combo. 200 watts, dynamic control. 10" loudspeaker neodymium magnet. Compressor with adjustable ratio and threshold. 13,50 kg (29.80 lbs)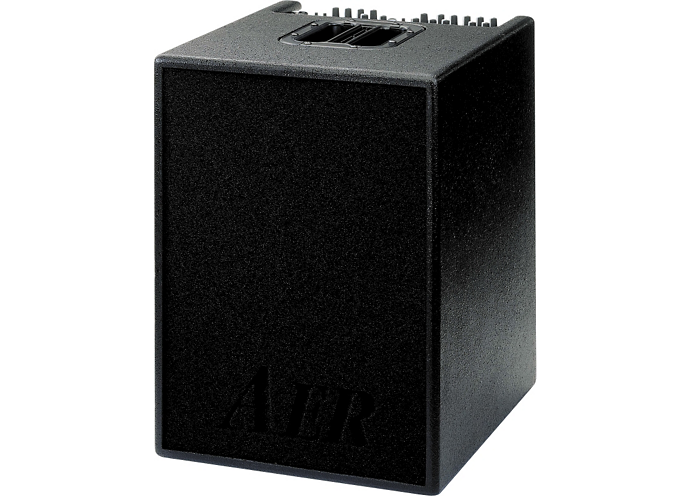 AER Basic-Performer 2
The Basic Performer Acoustic Guitar Amp with its specially designed construction and its 4 x 60 watt power is an ideal tool for acoustic and electric bass-amplification. More than that, it suits very well for all instruments with strength in the low register, e.g.: cello, harp etc. Apart from its two channels with three-band tone- control and mute-switch it offers a compressor and a notch filter.Long scale lengths, huge body sizes, and resonance problems are only some trouble zones of the acoustic instrument. The small twin-cone system is perfect - it is fast, provides a superior coverage for the critical mid-range and has got enough substance in the bass range. The AER Basic Performer has four 8"-twin-cone speakers which are individually powered by four 60W power amps provide for the required surface area and the necessary sound pressure level. The special AER band-pass / bass-reflex cabinet design supports the reproduction of even the lowest frequencies with definition. Hi-end preamps, proper filters and additional professional sound design make the Basic Performer amplifier a multi-talented all-round solution.